Easiest Roasted Vegetable Soup with Cheese Crostini
Published on Aug 26, 2020
by
Kristina Stosek
Prep Time:

15 minutes
Cook Time:

35 minutes
Serves:

4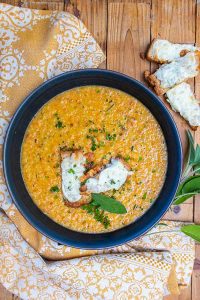 ​This post may contain affiliate links, please see our
privacy policy
for details
This healthy Roasted Vegetable Soup with Cheese Crostini is the most delicious bowl of vegetable soup. Summer zucchini, ripe tomatoes and sweet carrots are roasted with onions, garlic, fresh sage and olive oil. Then the veggies are pureed with coconut milk and fresh lemon juice into the most delicious creamiest bowl of soup.
Each bowl of soup is topped with a crusty gluten-free crostini brushed with veggie and herb-infused olive oil and melted cheese.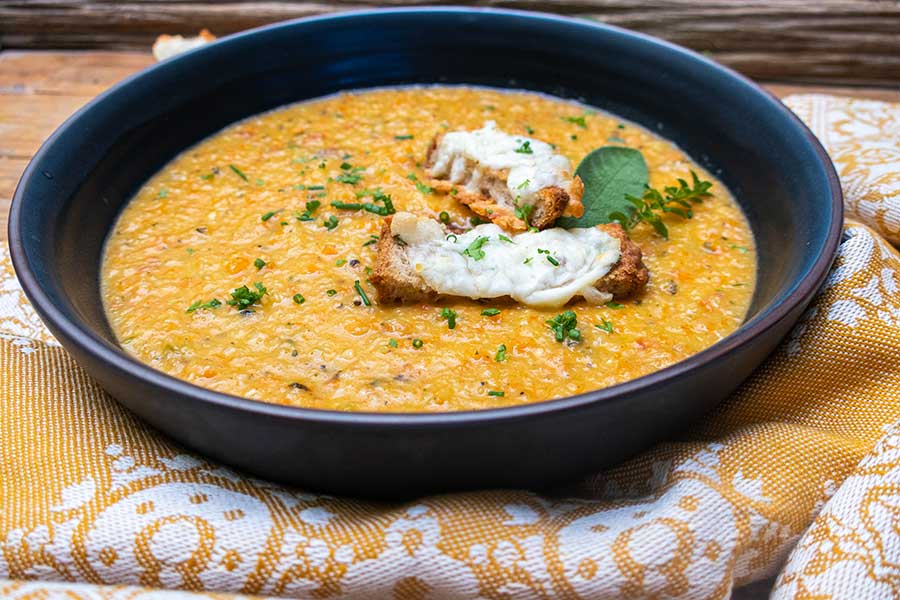 There is nothing basic about this soup!
Vegetable soup may seem basic, but once you try a spoonful of this flavour infused roasted vegetable soup, you will find that there is nothing basic about this soup. And the gluten-free cheese crostini turns a bowl of vegetable soup into a light meal.
For me, it's all about the cheese crostini 🙂 You have to have it, it makes all the difference between a basic bowl of vegetable soup to something extra special. This roasted vegetable soup with cheese crostini will even impress your guests.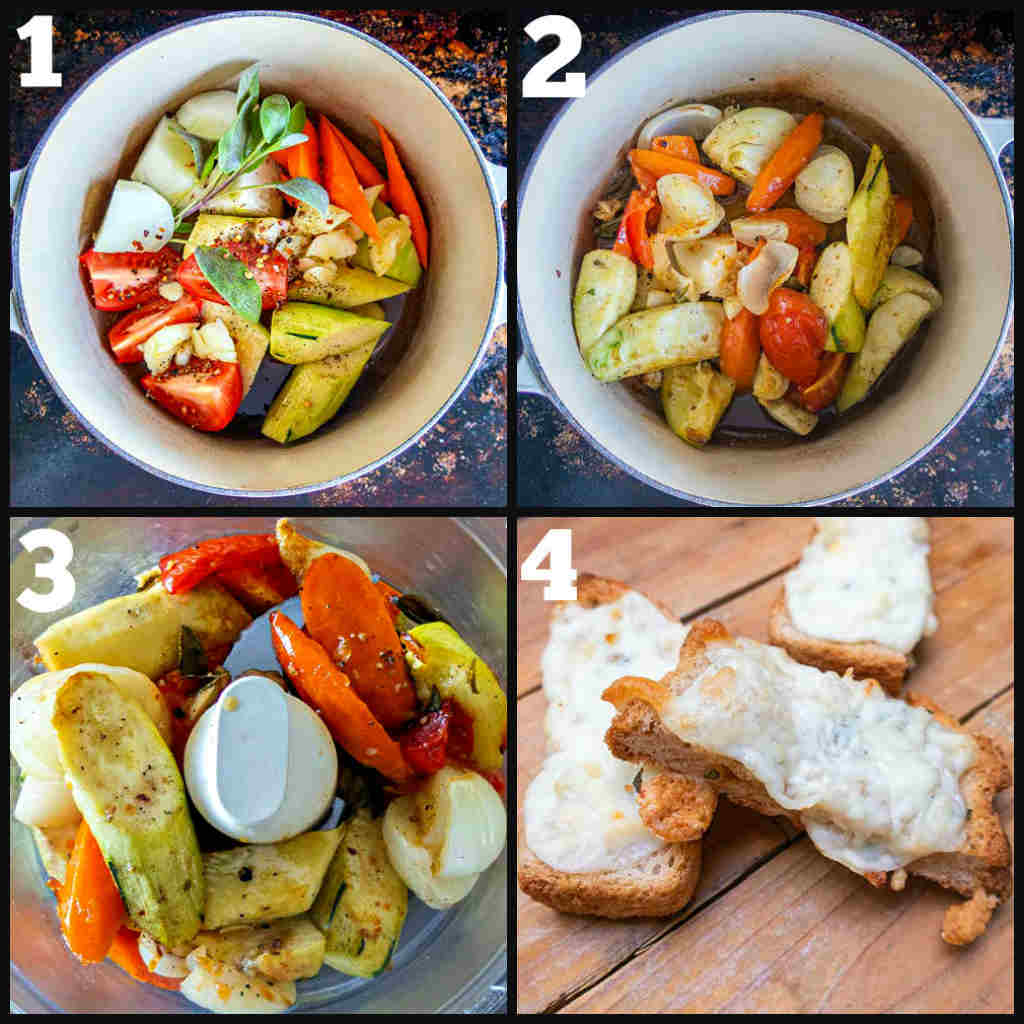 Easy steps for the best, roasted vegetable soup
You start with adding the zucchini, tomatoes, carrots, onions, garlic, olive oil, fresh thyme and the spices to an oven-safe pot. The dutch oven is best for this because you can finish the soup in the same pot. If you don't have one, you can use a baking pan.
The vegetables are roasted at a high temperature of 425 F. This will allow the veggies to char and release their flavourful juices. By roasting them, the flavours intensify, giving this vegetable soup all that deliciousness!
Once the vegetables are ready, transfer them into a food processor. But keep the leftover oil in the pot. This flavour infused oil is used to brush the bread used to make crostini.
The oil is what gives the crostini tremendous flavour. The vegetables are pureed, however, I like to keep some texture in the soup, so I don't fully puree them.
Now transfer the vegetable mixture into the same pot that you used to roast them in and add the coconut milk with fresh lemon juice and reheat. While the soup is reheating, pop crostini topped with cheese in the oven. Bake until the cheese is melted and bubbly. Serve immediately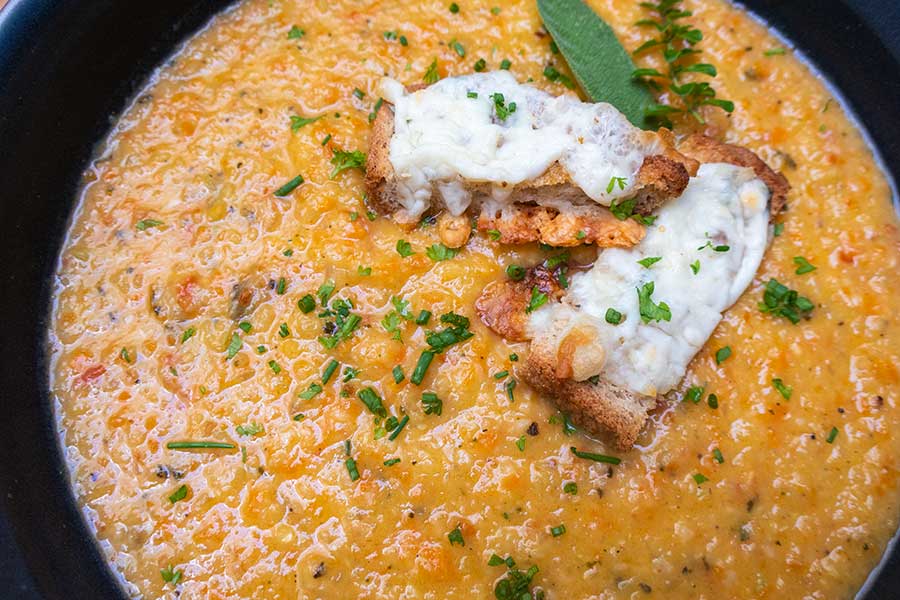 Substitutions:
You can change the veggies if you like. Some that come to mind are cauliflower, broccoli, sweet potato, squash and shallots.
If you don't have coconut milk, you can use dairy-free milk of choice.
For the sage, feel free to use your favourite herbs, such as thyme, oregano or basil.
If you are dairy-intolerant, use vegan cheese or sprinkle the crostini with nutritional yeast.
Need more soup recipes? Check out our complete list of gluten-free soups. One of my most favourite soups is the Mexican Chicken Rice Soup…YUM!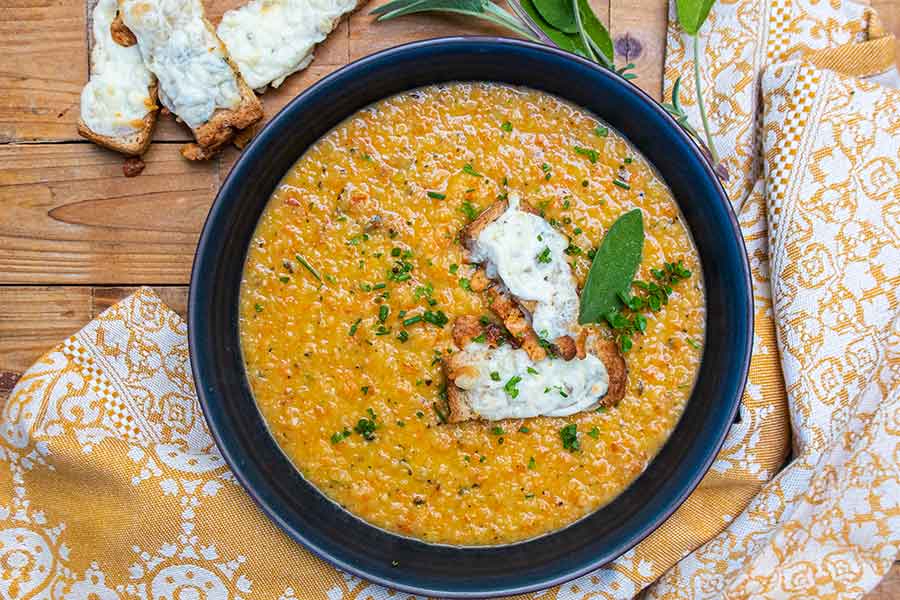 Let's Connect!
Be sure to FOLLOW US on FACEBOOK and PINTEREST.
Many thanks!
Kristina xx
Easiest Roasted Vegetable Soup with Cheese Crostini
Published on Aug 26, 2020
by
Kristina Stosek
Instructions
1.

2.

Using a large oven-safe pot, combine zucchini, tomatoes, onion, carrots, garlic, olive oil, sage, red pepper flakes, salt and pepper.

3.

Transfer to the oven and roast for 30 minutes, stirring halfway

4.

Transfer veggies into a food processor, saving the oil in the pot. Process until almost smooth.

5.

Meanwhile, lightly toast the slices of bread. Place the bread on a baking pan. Lightly brush both sides of the bread with the reserved oil from the veggies and slice into strips. Top with the cheese. Set aside

6.

Return vegetable mixture back to the same pot, add coconut milk and lemon juice. Give it a good stir and heat until the soup is hot but not boiling.

7.

Just before serving, place the crostini in a preheated oven at 425 F for about 5 minutes until the cheese has melted.

8.

To serve, ladle soup into bowls, sprinkle with chopped sage or any fresh herbs you have on hand and serve with cheese crostini.
Leave a Comment
Kristina
thats wonderful to hear! Enjoy!
I made this last week and we loved it! It was even tastier warmed up the next day. I am making it again this coming weekend when my son's family comes to visit. It's very delicious and sure to please your crowd!