Creamy Carrot and Rice Pudding (gluten-free)
Prep Time
5 Minutes
Difficulty
Easy
Cook Time
30 Minutes
Serves
6
Average Rating: 4.5 | Rated By: 3 users
Super Creamy Carrot and Rice Pudding sweetened naturally with carrots, raisins and just a splash of pure maple syrup. For the outstanding flavour, some freshly minced ginger, vanilla, cinnamon and cardamom.
This naturally gluten-free rice pudding makes for a delicious snack, breakfast, brunch or dessert. The best part, it is probably one of the most popular sweet snacks for kids.
If you are looking for a dairy-free option, substitute full-fat coconut milk for whole milk. Enjoy!
Ingredients
4 – 5 cups whole milk or full fat coconut milk for dairy free option
1 cup short grain rice
½ cup finely grated carrots
½ cup raisins (preferably sulfite free)
¼ tsp. sea salt
1/3 cup pure maple syrup
1 tsp. pure vanilla
1 tsp. minced fresh ginger
1 tsp. GF ground cinnamon plus some for topping
½ tsp. GF ground cardamom
*As an Amazon Associate and member of other affiliate programs, I earn from qualifying purchases. Please check out my sponsorship and disclosure policy page for more details
Instructions
Using a large saucepan, add 3 cups of milk, rice, carrots, raisins and salt. Bring to a boil and then reduce heat to low. Cook stirring frequently for approximately 30 minutes, or until rice is tender, adding milk as needed until the pudding thickens. The pudding will thicken more as it cools
Stir in maple syrup, vanilla, ginger, cinnamon and cardamom
Remove from the heat and transfer pudding into serving bowls. Top with extra cinnamon
Serve chilled
Similar Recipes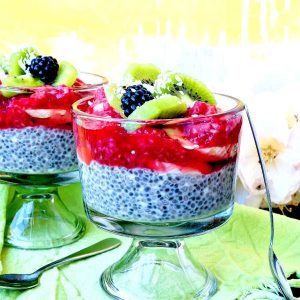 Coconut Chia Pudding with Raspberry Sauce
Starting your day with chia pudding is a way to go since this super seed is known to be one of the most nutritious foods. In this delightful creamy coconut chia pudding, I have added maca powder to boost health benefits even more. Studies have shown that maca reduces chronic fatigue syndrome, boosts energy and […] Read More
Prep Time
10 Minutes
Difficulty
Easy
Cook Time
3 Minutes
Serves
4
Indian Spiced Creamy Rice Pudding, Dairy Free
This Indian Spiced Creamy Rice Pudding is the perfect gluten-free dessert or a sweet and satisfying snack…perfect for any time of the day. This dairy-free rice pudding is super creamy with a hint of cardamom, nutmeg and cinnamon with dried fruit and pistachios throughout. The thing about rice pudding is you can serve it chilled […] Read More
Prep Time
5 Minutes
Cook Time
30 Minutes
Serves
4 - 6
Turmeric Chia Pudding
Turmeric chia pudding is a favourite of mine. The healing power of turmeric combined with chia and added fruit is considered a super food. If you are looking for gluten-free or paleo healthy breakfast, you will love this recipe. No more excuses for unhealthy breakfast that consists of doughnuts or unhealthy muffins! The best part is […] Read More
Prep Time
10 Minutes
Difficulty
Beginner
Serves
4