Butternut Squash With Roasted Pistachios And Pomegranate
Published on Oct 15, 2019
by
Kristina Stosek
Prep Time:

15 minutes
Cook Time:

30 minutes
Serves:

6 - 8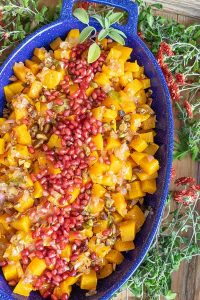 ​This post may contain affiliate links, please see our
privacy policy
for details
Delicious, healthy and most delicious Butternut Squash With Roasted Pistachios And Pomegranate. I am super excited about this butternut squash dish because it has so many little flavour nuances.
Tender roasted sweet squash, warm onion and sage sauce, salty and sweet roasted pistachios and healthy pomegranate seeds. With so much complex flavour and exciting textures this butternut squash recipe is outstanding.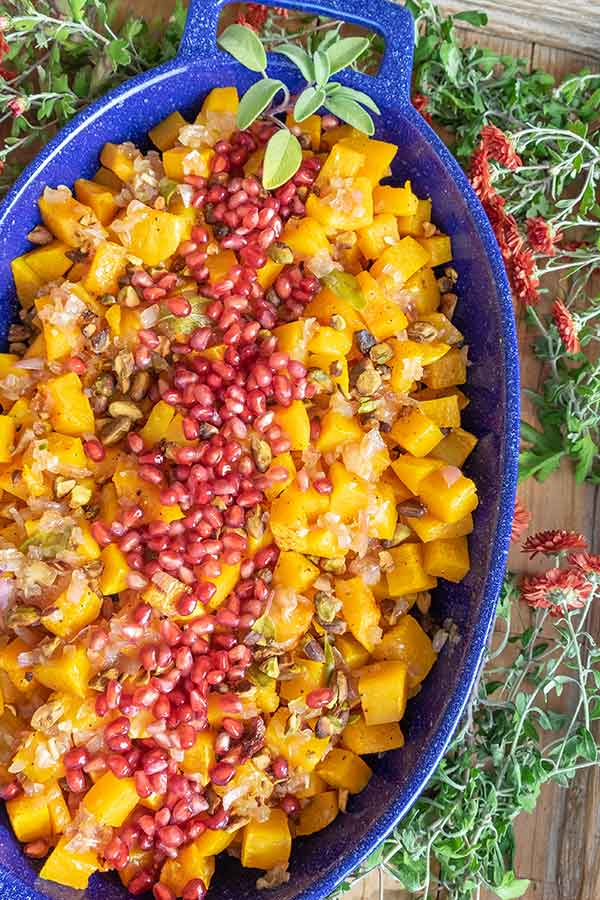 How to transform a simple squash into an exotic dish?
Start with roasting the squash with seasoning and olive oil.
While the squash is roasting, you prepare the warming sauce by sautéing the onions with sage in olive oil, then add fresh lemon juice and maple syrup and simmer for a couple of minutes.
roast the pistachios
For the indulgent pistachios, combine raw pistachios with olive oil, pure maple syrup, coconut sugar, cinnamon and salt and pepper, then roast for 10 minutes.
To assemble, top the squash with roasted pistachios and fresh pomegranate.
serve warm or at room temperature
The best part, this dish can be served warm or at room temperature, leaving your oven free to prepare other dishes.
This is one of my favourite squash side dishes because it is festive and beautiful, making it an excellent addition to Thanksgiving, Christmas or Easter dinner.
Although this is meant to be a side dish, you can serve it as a main because it is hearty and nutritionally balanced.
What is butternut squash?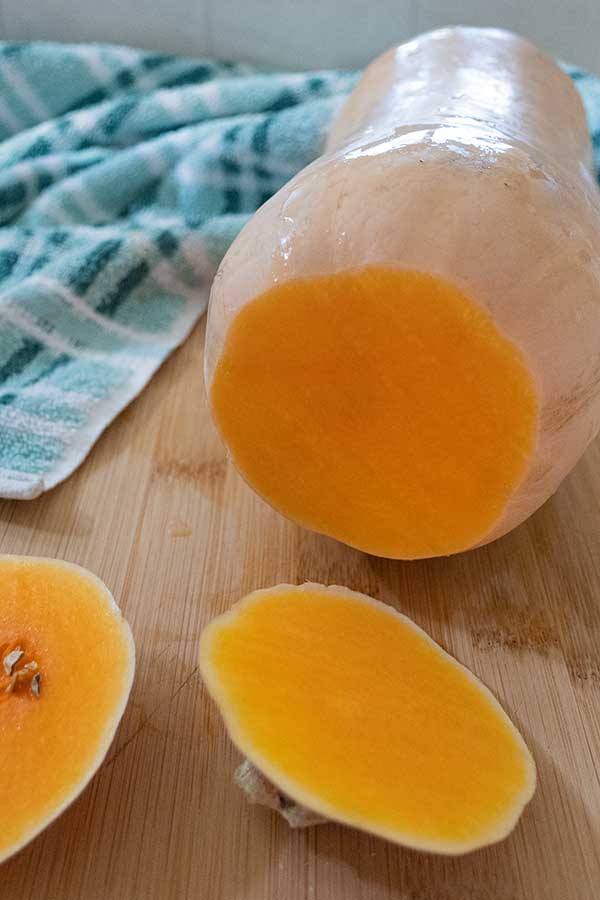 A little about butternut squash. This winter squash has a mild pumpkin flavour, but it is a lot sweeter, making the squash versatile because it can be used for savoury and sweet dishes.
One serving of butternut squash has about 82 calories, about 10 net carbs and is rich in vitamins A and C. Another favourite squash recipe of mine is the warm harvest salad with sticky pecans, definitely a must try recipe!
Butternut Squash With Roasted Pistachios And Pomegranate
Published on Oct 15, 2019
by
Kristina Stosek
Instructions
1.

2.

In a large bowl combine butternut squash, 2 tablespoons of olive oil, nutmeg and season with salt and pepper. Scatter squash on a large rimmed baking sheet lined with parchment paper. Bake for 15 - 20 minutes, until fork tender, not mushy. Transfer onto a platter

3.

While the squash is roasting, using a small saucepan, sauté shallots with sage leaves in 2 tablespoons of olive oil until the shallots start to caramelize. About 5 minutes. Add maple syrup, lemon juice and a pinch of salt and pepper. Simmer for 2 minutes. Set aside

4.

Reduce oven heat to 350 F. Combine pistachios, olive oil, maple syrup, coconut sugar/brown sugar, cinnamon and a pinch of salt and pepper. Place on a baking sheet lined with parchment paper and roast for 10 - 12 minutes. Cool and roughly chop

5.

To assemble, drizzle sauce over butternut squash, top with roasted pistachios and then pomegranate seeds. Serve warm or at room temperature