Cheese & Rosemary Buttermilk Biscuits (Gluten-Free)
Prep Time
15 Minutes
Difficulty
Easy
Cook Time
18 Minutes
Serves
12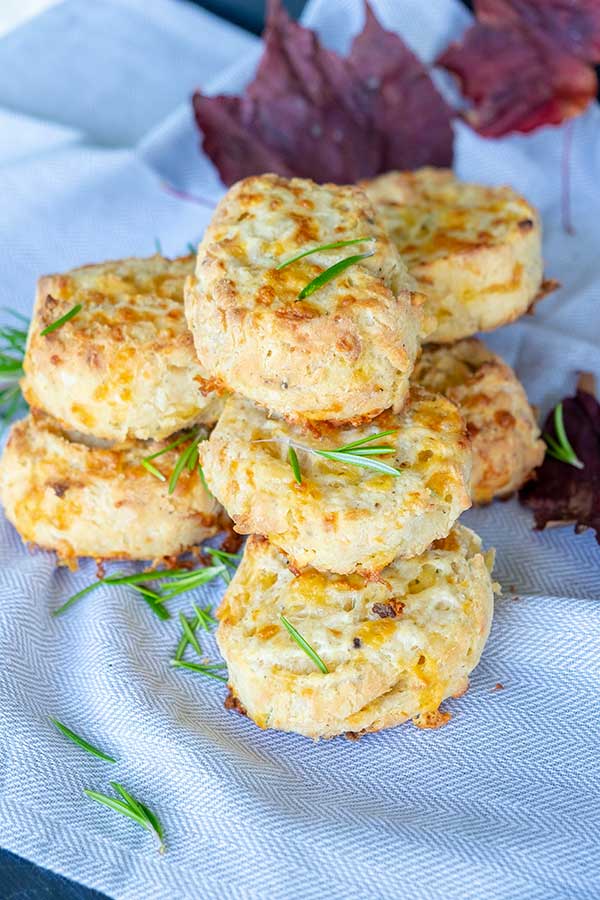 Average Rating: 5 | Rated By: 6 users
If you love biscuits, you're going to love these gluten-free cheese and rosemary buttermilk biscuits. At our house, anything that has gravy must have biscuits. I promise you will fall in love with these buttery, cheesy, soft on the inside biscuits. I have also added rosemary and black pepper to this recipe both of which add so much flavour. For my family, there is nothing more comforting then a family get together with cozy comfort food, and this includes these savoury biscuits. Another way to serve these biscuits is for brunch with bacon and eggs or with hearty soups. If you have leftover turkey, chicken, ham or beef and a little gravy…well you know where I am going here, simply the best combo! Honestly, I cannot think of a more delicious gluten-free sandwich made from leftovers and these biscuits. The best part, this is still a 30-minute recipe.
Ingredients
2 1/2 cups all-purpose gluten-free flour blend
1 Tbsp. Baking powder
2 Tbsp. Fresh chopped rosemary or 1 Tbsp. GF dried rosemary
1/2 tsp. Sugar, (I used coconut sugar)
1/2 tsp. Xanthan gum (if your flour blend does not include xanthan gum use 1 1/2 tsp.)
1/2 tsp. GF ground black pepper
1/2 tsp. Pure sea salt
1/2 cup (I stick) cold salted butter, grated
2 cups grated cheddar cheese
1 1/2 cups buttermilk
1 large egg
*As an Amazon Associate and member of other affiliate programs, I earn from qualifying purchases. Please check out my sponsorship and disclosure policy page for more details
Instructions
Preheat oven to 450 F and line a large rimmed baking sheet with parchment paper or Silpat. Since I do so much baking I started to use only Silpat instead of parchment paper. I love it!
In a large bowl whisk together flour, baking powder, rosemary, sugar, xanthan gum, pepper and salt
Add grated butter and using a pastry blender or a large fork, mix until the mixture resembles small lumps. Add cheese and mix together
In a small bowl whisk together buttermilk and egg. Add to dry ingredients and using a spatula stir just enough until the dough comes together. Do not over stir
Transfer dough on a large piece of parchment paper lightly sprinkled with gluten-free flour. Roll the dough using the parchment paper into a cylinder about 2-inches in diameter. Then slice by cross-section into 12 even pieces and place on the prepared baking sheet about 1-inch apart. Or you can roll the dough with your hands into 12 equal balls, then using your hand slightly flatten them
Bake for 16 - 18 minutes until the tops are golden and the bottoms lightly browned. Transfer to a cooling rack
Similar Recipes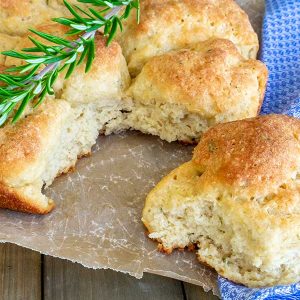 Best Gluten-Free Pull-Apart Soft Rolls
Best Gluten-Free Pull-Apart Soft Rolls – soft, pillowy, and most addictive rolls you will find. They are that good! At my house, when it comes to holidays such as Thanksgiving or Easter, rolls are one thing that is a must-have on our dinner table. In this pull-apart soft rolls recipe, there are no complicated flours, […] Read More
Prep Time
10 Minutes
Difficulty
Easy
Cook Time
25 Minutes
Serves
9 rolls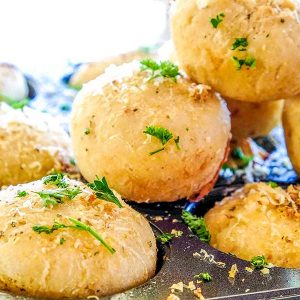 Gluten Free Cheesy Garlic Rolls
I would describe these gluten-free cheesy garlic rolls as crusty garlic bread with melted cheese in the center. Garlic bread never tasted this good. The tasty gluten-free rolls go especially well with Italian food or hearty stew Read More
Prep Time
15 Minutes
Difficulty
Moderate
Cook Time
40 Minutes
Serves
12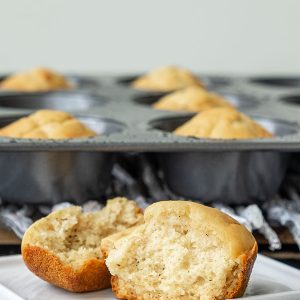 Easy Gluten-Free Butter Rolls
Gluten-Free Butter Rolls – buttery, easy, yeast-free and made in 30 minutes. A delicious roll perfect for serving alongside a bowl of soup or stew. But, my favourite way of serving the butter rolls is for brunch. Add a poached egg, cream cheese or your favourite marmalade. YUM! Who doesn't love soft buttery rolls? This […] Read More
Prep Time
10 Minutes
Difficulty
Beginner
Cook Time
20 Minutes
Serves
12