Making Breakfast Easy: Fast And Delicious Gluten-Free Recipes
BY JANE SANDWOOD
Breakfast is the most important meal of the day. It gives you energy to power you through the morning and also sets you up for making better food decisions hours later.
In fact, people who eat breakfast are 12.3% healthier throughout the day than those who skip it, Fast Company reports. And when you're gluten-free, it's important to find easy, delicious, reliable recipes, so you're never stuck for what to eat first thing in the morning.
Here are three sweet gluten-free breakfast recipes you can make with minimal effort.
Soaked quinoa flakes
Light and fresh, soaked quinoa flakes make the perfect summer breakfast. These tasty flakes are a great alternative to oats and are packed with protein, riboflavin, and iron. In a lidded-tub combine: ⅓ cup quinoa flakes, ⅓ cup frozen blueberries, maple syrup, chia seeds, and ½ cup almond milk.
Mix, close the lid, and refrigerate overnight. In the morning, you'll have a sweet, refreshing breakfast ready to eat! Or try our gluten-free, nut-free quinoa granola bar
Yogurt parfait
Yogurt parfait is like eating a healthy dessert for breakfast. For this recipe, you'll need one cup of vanilla yogurt, sliced strawberries, and ¾ cup of gluten-free granola.
Spoon ¼ cup of yogurt into a bowl. Add sliced strawberries followed by ¼ cup of granola. Keep layering the bowl with yogurt, strawberries, and granola — then eat.
Making your own yogurt for breakfast makes this meal even more delicious. It's not as complicated as it sounds and once you get the hang of it, you'll never go back to store-bought.
Heat milk in a large saucepan for five minutes — cool to 115 degrees. Mix together one cup of milk and yogurt, and add to the pan. Transfer to a jar and leave in a warm place to thicken. Refrigerate and eat once cool.
Superfood smoothie
Brimming with fruits and veggies, smoothies are one of the most nutritious meals you can make. Adding your favorite superfood ingredient will further energize your body and mind throughout the day. This could be maca powder — balances hormones and adds a caramel taste — hemp seeds — offering the perfect ratio of omega 3 to omega 6 — or green powder — to boost your vitamin B and magnesium levels.
But, really, your options are endless. Into a high-speed blender add: one cup of almond milk, one frozen banana, ½ cup spinach, ice cubes, and your superfood powder of choice. Blend until smooth. Enjoy! Or try one of our healthy smoothie bowls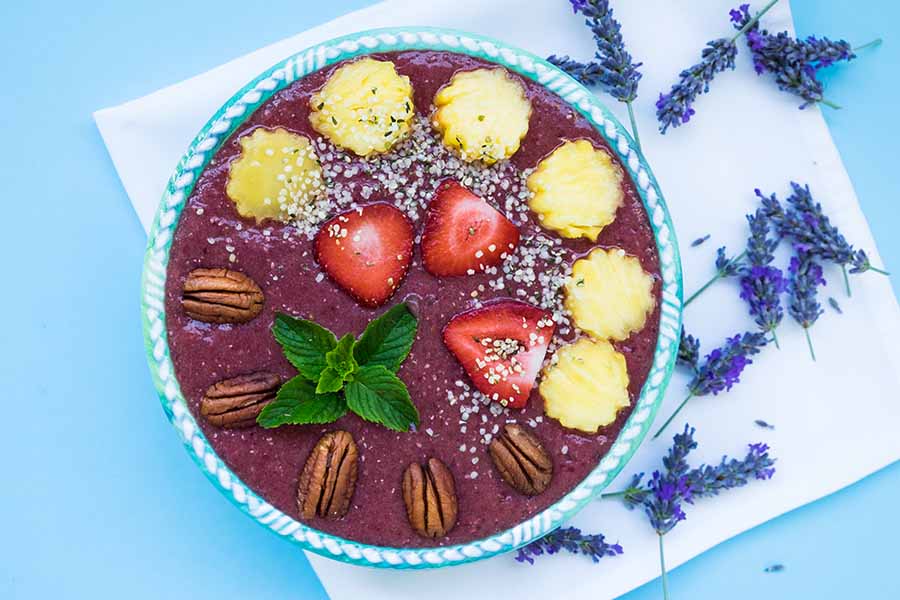 Pineapple Blackberry Chia Smoothie Bowl
Gluten-free eating is anything but restrictive. It opens you up to new tasty, healthy alternatives you may not have tried otherwise. Give these breakfasts a go and discover a new favourite!
Disclaimer: This article is not intended to provide medical advice, diagnosis or treatment. Views expressed here do not necessarily reflect those of only gluten-free recipes or its staff.
SaveSave
SaveSave
SaveSave
SaveSave