Roasted Potato Greek Salad
Prep Time
15 Minutes
Difficulty
Easy
Cook Time
30 Minutes
Serves
6
Roasting adds flavour to just about anything, especially to potatoes. The sweetness of the cucumber is sharpened by the feta cheese and is cooled by the refreshing mint. The potatoes add a whole new twist on Greek salad. This naturally gluten free salad is a must at any barbecue. Apolamvano!
Ingredients
DRESSING:
¼ cup raw apple cider vinegar
½ cup extra virgin olive oil
1 garlic clove, minced
2 Tbsp. chopped fresh parsley
2 Tbsp. chopped fresh mint
Himalayan pink salt and pepper to taste
SALAD
1 lb. medium sized red potatoes, with skin and quartered
1 Tbsp. extra virgin olive oil
1 tsp. paprika
1 tsp. Himalayan pink salt
1 tsp. chopped fresh rosemary
½ tsp. coarse black pepper
2 tomatoes, quartered
1 English cucumber, diced
1 orange or red bell pepper, cut to bite-sized pieces
½ cup pitted black olives
1/3 cup feta cheese (preferably reduced salt)
Instructions
Preheat oven to 400 F and line a baking sheet with parchment paper
Whisk together dressing ingredients and set aside
In a medium size bowl toss together potatoes, olive oil, paprika, salt, rosemary and black pepper and place on the prepared baking sheet. Bake for 25 - 30 minutes or until potatoes are done. Remove from the oven and cool
Place potatoes, tomatoes, cucumber, bell pepper, olives and feta cheese in a large salad bowl and toss with the dressing
Similar Recipes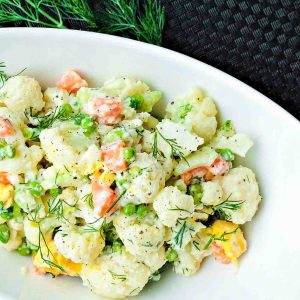 Gluten Free Cauliflower Salad
This cauliflower salad is certainly different from the usual potato salad. For a cookout, this creamy cauliflower salad can add a bit of zing to grilled meats or fish and is also diet friendly. Feeling adventurous? Substitute curry powder for dill to kick it up a notch. Healthy and delicious it doesn't get any better! Read More
Prep Time
15 Minutes
Difficulty
Easy
Cook Time
10 Minutes
Serves
6 - 8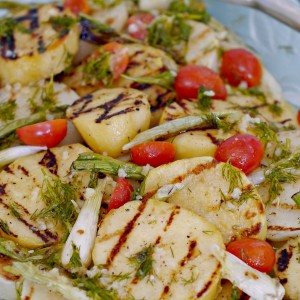 Grilled Potatoes with Mustard Dill Vinaigrette
Grilled potatoes give an added flavour to simple potatoes, and the mustard dill vinaigrette finishes it perfectly. This recipe is especially enjoyable during summer barbecues or large gatherings Read More
Prep Time
15 Minutes
Difficulty
Moderate
Cook Time
20 Minutes
Serves
6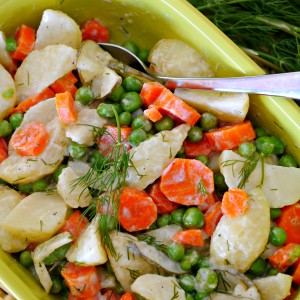 Potato Salad with Yogurt Dill Dressing
The beauty of this salad is its simplicity, its wonderful textures and flavours giving this salad earthy taste sensation with a zesty twist. This salad is perfect for barbecues. Read More
Prep Time
15 Minutes
Difficulty
Easy
Cook Time
15 Minutes
Serves
4
© Copyright 2017 Only Gluten Free Recipes. All Rights Reserved.