Paleo Cauliflower Rice Pudding Recipe
Prep Time
10 Minutes
Difficulty
Easy
Cook Time
10 Minutes
Serves
4
Light is never a word that associates itself with rice pudding. Until now. I promise you will never know that this rice pudding is made with cauliflower.
The pudding is creamy with the same texture as rice pudding but without the heavy cream and processed sugar. The best part is, this is an allergy friendly dessert that will accommodate most diets. This healthy dessert is a must try recipe!
Ingredients
¾ cup cauliflower rice (recipe below)
1 ½ cups coconut milk
1 Tbsp. GF ground flaxseed
3 Tbsp. pure maple syrup
1 ½ tsp. GF ground cinnamon
1 tsp. pure vanilla extract
½ cup raisins (preferably sulfite free)
Instructions
To make cauliflower rice, place cauliflower florets into a food processor and pulse until it forms rice like texture. Or you can roughly grate cauliflower florets
Place all ingredients except raisins in a medium size saucepan and set aside for 10 minutes
Cook the pudding over medium heat for 10 minutes, stirring frequently. Fold in raisins and transfer to 4 serving bowls. Refrigerate overnight
To serve, sprinkle with cinnamon and top with fresh berries and or coconut ice cream if desired
Similar Recipes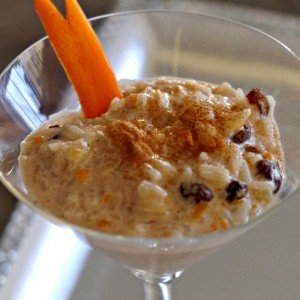 Carrot and Rice Pudding
This is one of the best rice pudding recipes. The carrots add natural sweetness to this deliciously spiced creamy rice pudding. Read More
Prep Time
5 Minutes
Difficulty
Easy
Cook Time
20 Minutes
Serves
6
Chocolate Chia Pudding
Indulge in this heavenly gluten-free dessert. This creamy chocolate chia pudding is rich in fiber, protein and antioxidants Read More
Prep Time
5 Minutes
Difficulty
Beginner
Serves
4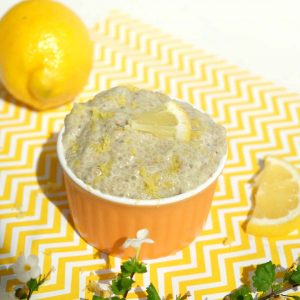 Gluten Free Lemon Cream Chia Pudding
Chia seeds are known to be among the most nutritious foods on the planet. Packed with omega-3 fatty acids, protein and fiber, to name just a few. Chia seeds are also gluten-free. In this scrumptious lemon cream chia pudding, I have added avocado and fresh lemon juice giving it a creamier texture and a bit […] Read More
Prep Time
10 Minutes
Difficulty
Beginner
Serves
6
© Copyright 2017 Only Gluten Free Recipes. All Rights Reserved.