One Pot Curried Rice Noodles with Chicken
Prep Time
15 Minutes
Difficulty
Easy
Cook Time
15 Minutes
Serves
4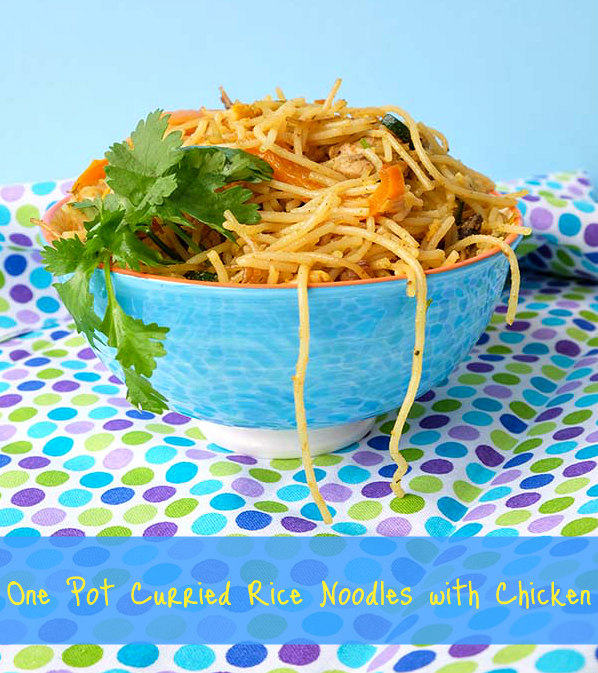 Keep it simple tonight with this one pot wonder. This gluten free Asian inspired dish is affordable innovative and delicious. Quick and easy to prepare makes this curried rice noodles with chicken dish a big hit on busy nights. No need for take-out food after you taste this delicious gluten free noodle dish.
Ingredients
12 oz. rice vermicelli noodles (about ¾ of a package)
2 Tbsp. coconut oil divided
2 eggs, whisked
6 skinless, boneless chicken thighs, sliced into ½ inch strips
1 red bell pepper, thinly sliced
1 bunch green onions (spring) white and green part, cut into 1-inch long pieces
1 cup sliced mushrooms
3 garlic cloves, chopped
2 Tbsp. GF curry powder
1 Tbsp. minced ginger
GF cayenne pepper to taste (optional)
¼ cup GF tamari sauce
Instructions
Cook noodles as per package instructions. Set aside
Heat 1 tablespoon of coconut oil over medium heat in a large wok or a non-stick frying pan. Add eggs and scramble until cooked. About a minute. Remove eggs from the wok, cut into ½-inch thick strips and set aside
Add remainder of coconut oil to the wok and turn the heat to high. Add chicken and stir-fry until no longer pink. About 5 minutes. Remove from the wok and set aside
Add bell pepper, onions, mushrooms, garlic, curry powder and ginger. Stir-fry over medium heat for 1 minute. Add tamari sauce and chicken and cook for 5 more minutes, stirring occasionally
Add cooked eggs and noodles and mix until all the ingredients are well combined. Serve hot
Similar Recipes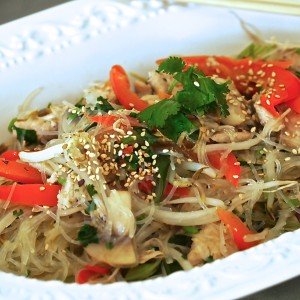 Super Easy Chicken Pad Thai
This is a light Thai noodle dish. The many flavours used in this dish like garlic, ginger, chicken and vegetables infuse the gentle noodles making it a delicious one pot meal that is super easy to make. Serves 4 Read More
Prep Time
15 Minutes
Difficulty
Easy
Cook Time
10 Minutes
Serves
4
Vegetable Stir-Fry With Rice Noodles
This delicious vegetarian gluten free dish has a rainbow of super healthy vegetables that are tossed with rice noodles and infused with a tasty sauce. The entire meal takes 15 minutes to make including prep time. Although this dish is a meal on it's own, you can serve it with chicken or fish. Serves 4 Read More
Prep Time
20 Minutes
Difficulty
Intermediate
Cook Time
10 Minutes
Serves
4
Gluten-Free Sticky Garlic Noodles Recipe
A subtle noodle dish, which is deliciously addictive. Sticky Garlic Noodles recipe is fast and easy to prepare making it an easy weeknight meal. This vegan dish is often eaten as a main or a starter Read More
Prep Time
5 Minutes
Difficulty
Easy
Cook Time
15 Minutes
Serves
4
© Copyright 2017 Only Gluten Free Recipes. All Rights Reserved.