Low Carb Singapore Cauliflower Rice
Prep Time
15 Minutes
Difficulty
Easy
Cook Time
14 Minutes
Serves
4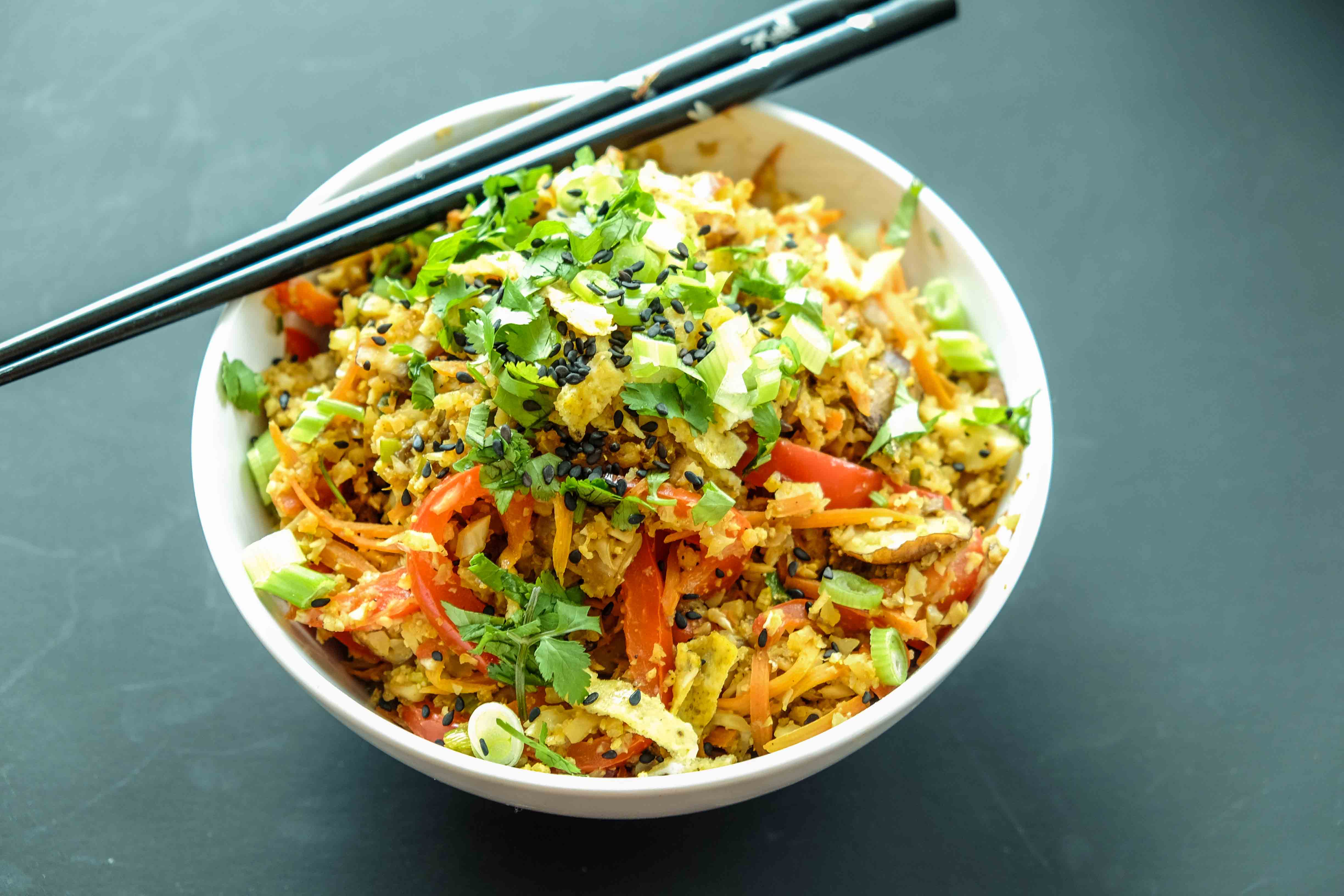 This is a simple but utterly delicious cauliflower rice dish. If you are on the hunt for low carb ethnic food, this recipe is for you. I have enhanced this vegetarian recipe with delicious spices and medley of vegetables that bring this mouthwatering dish to a new level. It is a great dish that can be eaten by itself or as a side to lamb, chicken or pork. This recipe comes together fast and easy with many added health benefits
When following a low carb diet cauliflower is on top of the low carb list. If you are counting carbs, cauliflower has 5 g of carbs per 1 cup vs. 46 g of carbs per 1 cup of brown rice. Cauliflower is a protein packed vegetable with added benefits of fiber. Cauliflower is an excellent option when you crave fried rice. You should try this recipe, and you may never go back to eating fried rice again. I especially love this in a lettuce wrap. Enjoy!
Ingredients
1 medium head of cauliflower, separate into small florets
2 Tbsp. GF low sodium Tamari sauce
1 Tbsp. fresh minced ginger
1 Tbsp. GF curry powder
½ tsp. sesame oil
½ tsp. agave syrup
2 Tbsp. coconut oil or peanut oil, divided
2 eggs, beaten
4 green onions sliced (white and green part)
4 garlic cloves, minced
1 red bell pepper, thinly sliced
1 medium size carrot, julienned
1 cup sliced mushrooms (about 8 oz.)
Garnish: 1 Tbsp. sesame seeds, chopped fresh cilantro
Instructions
Place cauliflower in a food processor and chop until it resembles rice. Should make about 4 cups
In a small bowl mix tamari sauce, ginger, curry powder, sesame oil, agave syrup and 1 tablespoon of water. Set aside
Heat one tablespoon of oil over medium heat in a wok or large skillet. Add the eggs and scramble until just cooked. Cool and dice into small pieces. Set aside
Add remaining oil to the wok and heat over medium-high heat. Add green onions, garlic, bell pepper, carrots and mushrooms. Stir-fry for 4 - 5 minutes
Stir in cauliflower and sauce mixture and cook 3 – 4 minutes while stirring
Stir in eggs and serve. Garnish with cilantro and sesame seeds if desired
Similar Recipes
Cauliflower and Chickpeas In Light Curry Sauce
This tasty curry dish takes only minutes to make. The combination of cauliflower and chickpeas with the addition of yams and red peppers creates a delicate flavour which compliments the coconut milk infused with curry. Incorporating vegetables in our diet will promote good health and this is a delicious way to eat them. Enjoy! Read More
Prep Time
20 Minutes
Difficulty
Easy
Cook Time
20 Minutes
Serves
4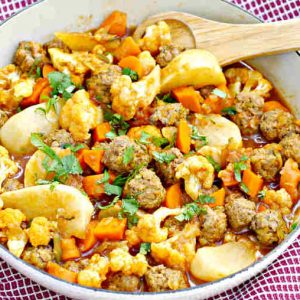 Cauliflower and Meatballs Ragout
I have added cinnamon to this ragout, which creates an unforgettable flavour. The meatballs are moist, and the vegetables are simmered in a mouthwatering sauce to perfection. When you are craving comfort food on a light note, this ragout will satisfy that craving, and it can be made in less than 45 minutes Read More
Prep Time
10 Minutes
Difficulty
Easy
Cook Time
35 Minutes
Serves
4
Roasted Cauliflower Bites With Dip ~ Gluten Free
Appetizer or a snack, these delicious little parcels are coated in a delicately flavoured crunchy topping. You can serve them with or without dip. Serves 4 – 6 Read More
Prep Time
5 Minutes
Difficulty
Easy
Cook Time
18 Minutes
© Copyright 2017 Only Gluten Free Recipes. All Rights Reserved.