Kale Salad with Ginger Salad Dressing
Prep Time
15 Minutes
Difficulty
Easy
Serves
4
For many it is the dressing that makes a good salad. Salad must also provide variety and balance. A good salad does not become simply a bowl of everything. In this salad, I have used baby kale, creamy avocados, and sweet tomatoes and ended it with sweet red onion. But it is the dressing that ties everything together. A good salad is fresh, light and refreshing. Enjoy!
Ingredients
THE DRESSING (1-cup)
1 Tbsp. finely chopped shallot
1 Tbsp. (1-inch) peeled and grated fresh ginger root
1 garlic clove, minced
½ cup extra virgin olive oil
3 Tbsp. gluten free tamari sauce
1 ½ Tbsp. rice vinegar
1 Tbsp. gluten free ketchup
1 Tbsp. water
THE SALAD
½ lb. baby kale
1 small red onion, thinly sliced
2 avocados cut to 1-inch cubes
½ lb. tomatoes (preferably cherry), quartered
1 Tbsp. chopped parsley for garnish
Instructions
Whisk all the salad dressing ingredients together and set aside. This will keep for a few days when refrigerated
Toss the salad with the salad dressing and sprinkle with parsley
NOTE: You don't have to use all the salad dressing
Similar Recipes
Winter Salad with Maple Ginger Chicken
This healthy salad is topped with tender chicken and maple ginger glaze. Adding a light vinaigrette and slightly blackened sweet peppers add a little warmth to this delicious winter salad. Winter salads don't have to be heavy to be hearty. This salad has an Asian twist making it one of a kind. Enjoy! […] Read More
Prep Time
15 Minutes
Difficulty
Moderate
Cook Time
40 Minutes
Serves
4
Broccoli Slaw with Citrus Dressing
In this lively healthy slaw, the delicious citrus dressing is soaked up in a colorful medley of healthy vegetables and fresh herbs. Serve this naturally gluten free slaw as a main or with fish, chicken or pork. In summer time, this salad is a winner at any barbecue get-together Read More
Prep Time
20 Minutes
Difficulty
Easy
Serves
4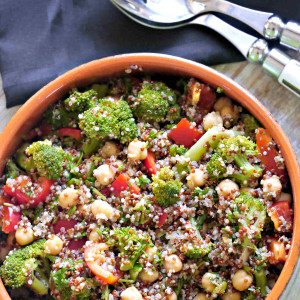 Broccoli, Quinoa and Chickpea Salad
This hearty salad is deliciously flavoured with light vinaigrette and fresh herbs. Serve as a side with your favourite main, or as a vegetarian entree. Read More
Prep Time
15 Minutes
Difficulty
Easy
Cook Time
10 Minutes
Serves
4
© Copyright 2017 Only Gluten Free Recipes. All Rights Reserved.