Gluten Free Quinoa Pork Risotto
Prep Time
15 Minutes
Difficulty
Easy
Cook Time
35 Minutes
Serves
4
Average Rating: 3 | Rated By: 1 users
Not sure if you like quinoa? Try this easy to make risotto. This packed with flavour gluten free quinoa pork risotto is made with pork tenderloin, black beans, red pepper and parsley. With all of the ingredients combined this quinoa recipe is a winner! Quinoa is a well known superfood, not only it is gluten free, but it is high in fiber, protein and many minerals. Enjoy!
Ingredients
1 tbsp. coconut oil
1 lb. pork tenderloin, thinly sliced
1 organic red pepper, cut to bite size
1 organic medium size sweet onion, cut to bite size
1 tsp. organic GF cumin
1 tsp. organic GF sweet paprika
1 x (13.5 oz) canned black beans, drain and rinse
½ cup water
2 cups cooked organic red and white quinoa (as per package instructions)
1 cup chopped organic parsley
1 tsp. sea salt
Instructions
Heat coconut oil in a non-stick sauté pan, add pork and brown on all sides
Add red pepper and onion and stir-fry for 2 minutes, then add cumin and paprika and cook one more minute
Add beans and water, cover and simmer for 30 minutes
Stir in quinoa, parsley and sea salt and enjoy!
Similar Recipes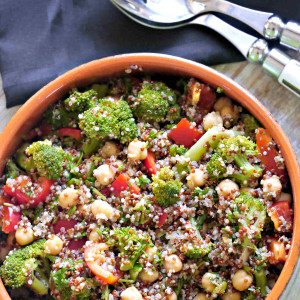 Broccoli, Quinoa and Chickpea Salad
This hearty salad is deliciously flavoured with light vinaigrette and fresh herbs. Serve as a side with your favourite main, or as a vegetarian entree. Read More
Prep Time
15 Minutes
Difficulty
Easy
Cook Time
10 Minutes
Serves
4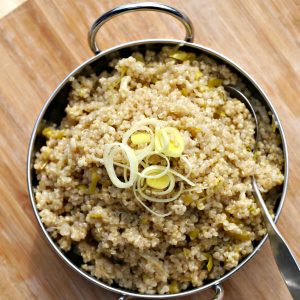 Coconut and Leek Quinoa
The inherent creaminess of coconut milk and the mild onion-like leek works wonders for flavour in this delicious gluten free quinoa dish. Quinoa is a complete protein, has a good amount of fiber and is rich in folate and minerals. Including this superfood in your diet will promote good health. Serve with steamed veggies, in […] Read More
Prep Time
5 Minutes
Difficulty
Easy
Cook Time
25 Minutes
Serves
4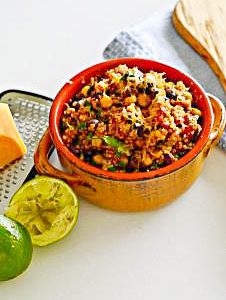 Gluten-Free Mexican Inspired Quinoa
Discover flavours of Mexico in this deliciously spiced gluten-free quinoa recipe. This dish makes an excellent addition to chicken or pork but can also be served as a main for a vegetarian option. This is a budget friendly quinoa recipe packed with healthy nutrients rich in fiber and protein. Quinoa never tasted this good before! […] Read More
Prep Time
5 Minutes
Difficulty
Easy
Cook Time
20 Minutes
Serves
6