Gluten Free Pizza with Cauliflower Crust
Prep Time
25 Minutes
Difficulty
Moderate
Cook Time
35 Minutes
Average Rating: 4 | Rated By: 1 users
This is a wonderful gluten free pizza recipe for those who are following paleo and low-carb diet. The cauliflower crust is nice and crispy, and the exotic toppings make the pizza especially delicious. Now you can have your pizza without the guilt of carbs. The thing about pizza you can let your own toppings shine. Enjoy!
Ingredients
FOR THE CRUST
1 medium size organic cauliflower (about 4 cups roughly grated)
½ cup grated white cheddar cheese
¼ cup grated Parmesan cheese
½ tsp. organic, gluten-free dried basil leaves
¼ tsp. organic, gluten-free garlic powder
2 organic eggs whisked or egg substitute
FOR THE TOPPINGS
4 oz. double cream Brie cheese, thinly sliced
1 medium size organic fennel, thinly sliced
½ tsp. organic, gluten-free coarse black pepper
1 tbsp. extra virgin olive oil
6 oz. organic blackberries halved
Seeds of 1 pomegranate
½ cup raw pecans, chopped
1 tbsp. pure maple syrup
Instructions
Preheat oven to 400 F
Roughly grate the cauliflower or use a food processor, and then steam for 5 minutes, drain and place on a clean dishcloth to cool and remove excess moisture
In a bowl combine cheese, basil, garlic and eggs, and then stir in cauliflower.
Transfer to a baking sheet lined with parchment paper, form a rectangle about a ½ inch thick and bake for 20 minutes.
Add the toppings in the same order as listed and bake 12 -15 more minutes
This pizza is best when cut into small pieces. Serve room or warm temperature
Similar Recipes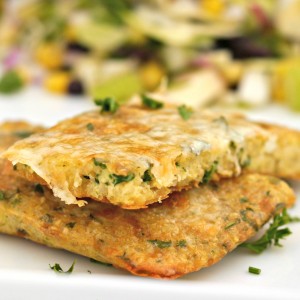 Gluten Free Quinoa and Cheese Flatbread
This is a scrumptious gluten-free version of original garlic cheese flatbread. By using quinoa instead of wheat flour we are adding protein, fiber and minerals. Just imagine a garlic cheese bread that is healthy, it does not get any better than this. Serve with soup, stew, salad or just as a snack Read More
Prep Time
10 Minutes
Difficulty
Easy
Cook Time
35 Minutes

Gluten Free Pizza Crust
This easy to make pizza crust comes out crunchy every time, just add your favourite toppings. Makes  two 16 " pizza crusts Read More
Prep Time
20 Minutes
Difficulty
Moderate
Cook Time
17 Minutes
Gluten Free Margherita Pizza
Margherita pizza is everyone's favourite, all you need is fresh basil, organic tomatoes and good quality bocconcini cheese. But if you want more than just gluten free Margherita pizza, personalise your pizza with a selection of healthy toppings. Such as spinach, mushrooms, onions, artichokes, olives, mozzarella the choices are endless. The secret to a delicious pizza […] Read More
Prep Time
10 Minutes
Difficulty
Moderate
Cook Time
15 Minutes