Gluten Free One Pot Singapore Noodles
Prep Time
5 Minutes
Difficulty
Easy
Cook Time
15 Minutes
Serves
4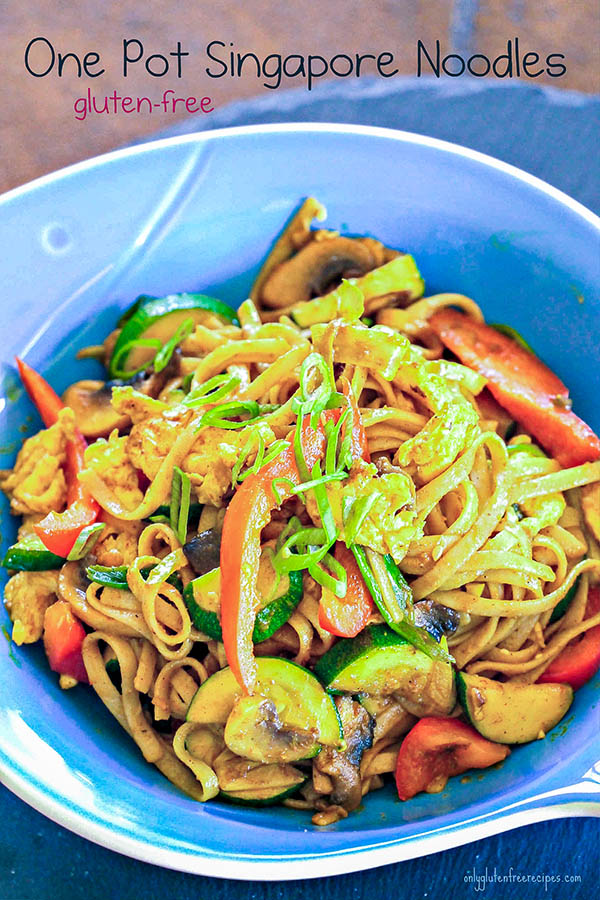 See how easy to make this gluten free Singapore noodle dish. Deliciously coated noodles in a spicy curry flavour, and vegetables cooked to perfection. Fast and affordable and all you need is twenty minutes to cook this outstanding Singapore dish.
In this authentic Singapore recipe, I used eggs, but you can substitute them with leftover chicken, cooked shrimp or tofu. I call this a weeknight wonder pot. Quick and easy dinner recipe with wonderful blended flavours
Ingredients
8 oz. gluten free rice fettuccini noodles
2 Tbsp. coconut oil, divided
2 large eggs, lightly beaten (you can substitute the eggs for cooked chicken, shrimp or tofu)
3 garlic cloves, chopped
1 cup sliced mushrooms
1 red bell pepper, julienned
1 medium size zucchini, sliced in half circles about 1/4-inch thick
1 Tbsp. curry powder
¼ tsp. cayenne pepper or to taste
¼ cup low sodium gluten free tamari sauce
1 Tbsp. minced ginger (1-inch)
4 green onions, sliced plus some for garnish
Instructions
Cook fettuccini noodles according to package instructions. Drain and set aside
Heat coconut oil in a large non-stick pan or wok. Add eggs and scramble until cooked. Set aside
Heat balance of coconut oil over medium heat and add garlic, mushrooms, bell pepper and zucchini and stir-fry for 3 minutes. Reduce the heat to low and stir in curry powder, cayenne, tamari sauce, ginger and green onions. Cook for 1 more minute
Add noodles and eggs back to the pan and stir to coat with the vegetable mixture
Garnish with green onions
Similar Recipes
Gluten-Free Sticky Garlic Noodles
These noodles are deliciously addictive. Serve as a starter or top with chicken or fish Read More
Prep Time
5 Minutes
Difficulty
Easy
Cook Time
15 Minutes
Serves
4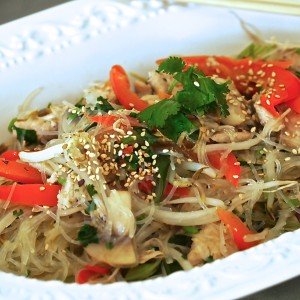 Super Easy Chicken Pad Thai
This is a light Thai noodle dish. The many flavours used in this dish like garlic, ginger, chicken and vegetables infuse the gentle noodles making it a delicious one pot meal that is super easy to make. Serves 4 Read More
Prep Time
15 Minutes
Difficulty
Easy
Cook Time
10 Minutes
Serves
4
Vegetable Stir-Fry With Rice Noodles
This delicious vegetarian gluten free dish has a rainbow of super healthy vegetables that are tossed with rice noodles and infused with a tasty sauce. The entire meal takes 15 minutes to make including prep time. Although this dish is a meal on it's own, you can serve it with chicken or fish. Serves 4 Read More
Prep Time
20 Minutes
Difficulty
Intermediate
Cook Time
10 Minutes
Serves
4
© Copyright 2017 Only Gluten Free Recipes. All Rights Reserved.