Gluten Free Layered Pizza
Prep Time
20 Minutes
Difficulty
Moderate
Cook Time
30 Minutes
Serves
6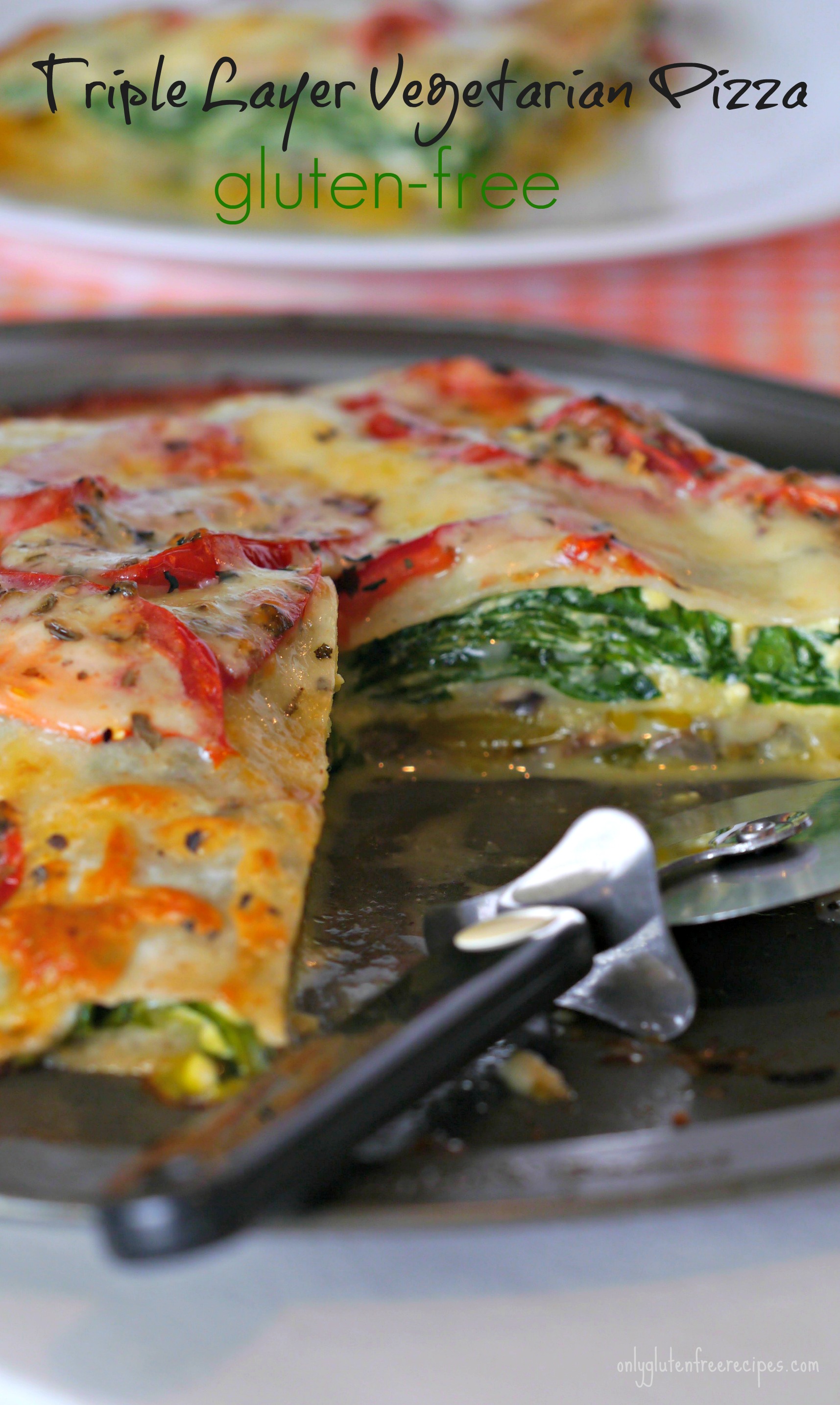 Average Rating: 5 | Rated By: 1 users
This is a variation on the classic pizza. The rainbow of colours in three delicious layers, not toppings are what make this gluten-free pizza a winner. The leftovers are especially delicious the next day.
Ingredients
3 x 10-inch gluten free flour tortillas (rice tortilla works best)
1 tbsp. extra virgin olive oil
1 organic, orange pepper thinly sliced
½ lb. mushrooms, thinly sliced
1 bunch organic green onions diced
1 cup ricotta cheese
2 organic eggs
¼ tsp. organic, gluten-free ground nutmeg
2 garlic cloves, minced
4 oz. organic baby spinach leaves
Sea salt to taste
1 large organic tomato, thinly sliced
Handful chopped fresh organic basil
3 cups grated mozzarella cheese
Instructions
Preheat oven to 375 F
Heat olive oil in a non-stick pan and add pepper, mushrooms and green onion, stir-fry for 3 minutes on high heat, and then turn the heat off and season with salt
Add ricotta, eggs, nutmeg and garlic into a large bowl and vigorously mix, and then fold in spinach and 1 cup of mozzarella
Place one tortilla on a 12-inch pizza pan and top with pepper mix, and then top with 1 cup of mozzarella. Add another tortilla and top with spinach mix. Add another tortilla and top with tomato, basil and last cup of mozzarella cheese.
Bake for 25 – 30 minutes or until cheese is golden.
Rest for 10 minutes before slicing.
Similar Recipes
Gluten Free Pizza with Cauliflower Crust
This is a wonderful gluten free pizza recipe for those who are following paleo and low-carb diet. The cauliflower crust is nice and crispy, and the exotic toppings make the pizza especially delicious. Now you can have your pizza without the guilt of carbs. The thing about pizza you can let your own toppings shine. […] Read More
Prep Time
25 Minutes
Difficulty
Moderate
Cook Time
35 Minutes
Serves
8 servings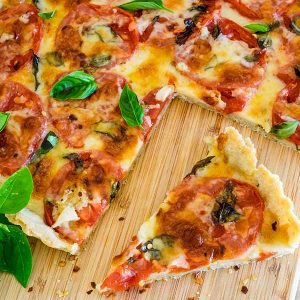 Gluten Free Pizza Crust
This easy to make pizza crust comes out crispy every time. Just add your favourite toppings Read More
Prep Time
20 Minutes
Difficulty
Moderate
Cook Time
17 Minutes
Serves
2x16-inch
Gluten-Free Vegetarian Pizza
When it comes to pizza it is all in the crust, sauce and cheeses. Our simple yet flavourful sauce makes it all come together and the vegetables are particularly tasty when they are teamed with your favourite cheese. Makes two 16 inch pizzas Read More
Prep Time
15 Minutes
Difficulty
Intermediate
Cook Time
20 Minutes