Gluten Free Jalapeno Cheese Cornbread
Prep Time
10 Minutes
Difficulty
Easy
Cook Time
35 Minutes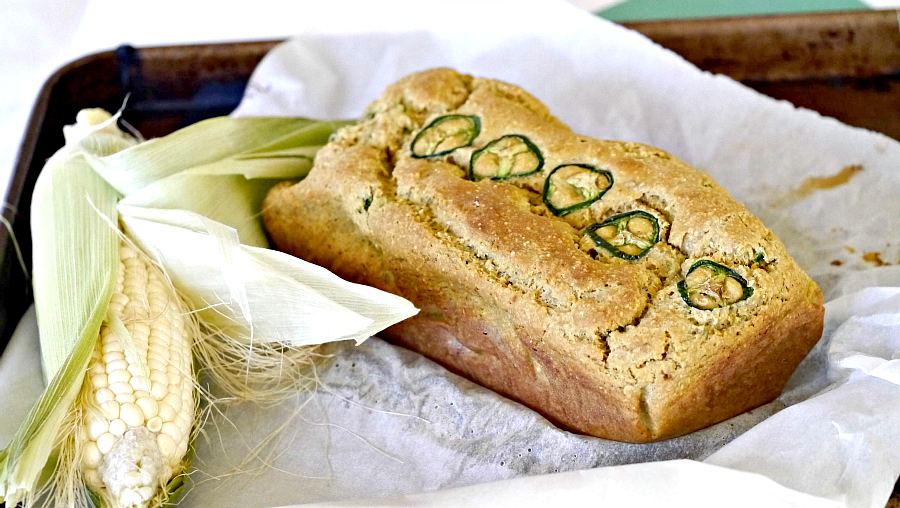 This gluten free cornbread tastes delicious when served with warm soups or stews. Cornbread is especially popular when following a gluten-free diet because of its texture, flavour and diversity. I used jalapenos and cheese, but you can add olives, cranberries, sundried tomatoes or feta cheese, the list is endless for creating your personal cornbread. I recommend buying certified organic cornmeal for GMO-free
Ingredients
1 cup cornmeal
1 cup all-purpose gluten free flour (I used Artisan blend)
1 Tbsp. baking powder
1/2 teaspoon sea salt
1 cup buttermilk
¼ cup extra virgin olive oil
1 Tbsp. agave nectar
1 Tbsp. raw apple cider vinegar
2 large eggs or you may use egg replacer equal to two large eggs
½ cup grated cheddar cheese
1 – 2 Jalapeno peppers (depending how spicy you want the cornbread), divided
Instructions
Preheat oven to 400 F
Line an 8 ½" x 4 1/2" loaf pan with parchment paper, or similar sized dish
In a large bowl, whisk dry ingredients to blend.
In a separate bowl whisk together buttermilk, olive oil, agave nectar, apple cider vinegar and eggs
To prepare jalapeno peppers, remove the seeds and chop into small pieces. Save some thin slices for the topping
Add cheese, chopped jalapenos and wet ingredients to dry ingredients and stir until batter is smooth
Pour batter into prepared pan and top with jalapeno slices
Bake for 30 – 35 minutes or until cornbread is golden brown and toothpick inserted comes out clean
© Copyright 2017 Only Gluten Free Recipes. All Rights Reserved.