Cauliflower and Meatballs Ragout
Prep Time
10 Minutes
Difficulty
Easy
Cook Time
35 Minutes
Serves
4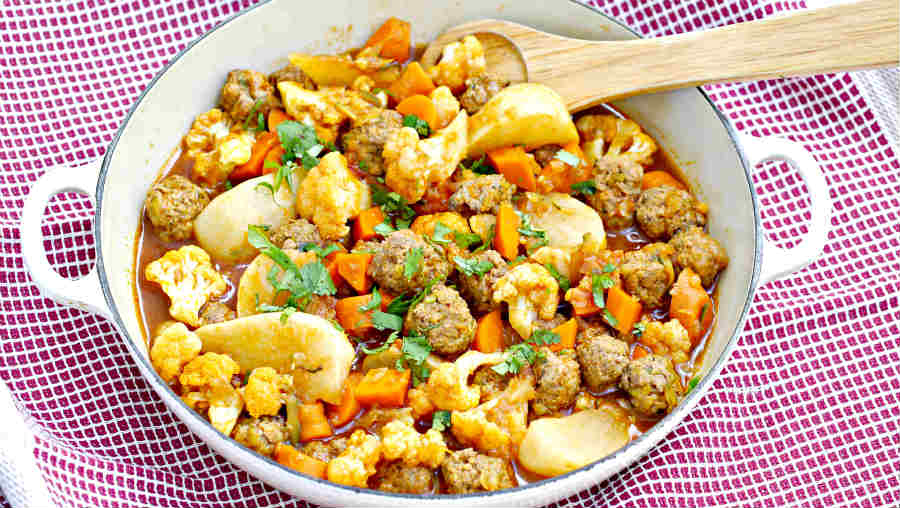 I have added cinnamon to this ragout, which creates an unforgettable flavour. The meatballs are moist, and the vegetables are simmered in a mouthwatering sauce to perfection. When you are craving comfort food on a light note, this ragout will satisfy that craving, and it can be made in less than 45 minutes
Ingredients
1 lb. lean ground beef or lamb
1 cup grated zucchini (1 small zucchini)
1 tsp. ground cinnamon
1 tsp. ground cumin
1 tsp. Himalayan pink salt
1 Tbsp. coconut oil or butter
2 cups finely diced white onion
3 cups gluten free beef broth
2 Tbsp. pure tomato paste
3 medium carrots, cut into 1/2-inch rounds
2 small turnips, peeled and quartered
1 medium head cauliflower, cored and cut into small florets
½ cup chopped fresh cilantro
Instructions
Mix ground beef, zucchini, cinnamon, cumin and salt until all the ingredients are well combined. Using your hands make 1-inch balls and set aside
Heat the coconut oil/butter over medium heat. Add the onion and cook until translucent, about 5 minutes
Add the broth and tomato paste and stir. Bring the broth to a simmer and drop the meatballs into the sauce and cook for 10 minutes
Add the turnip and carrots to the sauce and cook, uncovered for 10 minutes Stir in the cauliflower and cook uncovered for 5 more minutes. Cover and remove from the heat. Rest the ragout for 10 minutes before serving.
Serve in bowls and top with cilantro
© Copyright 2017 Only Gluten Free Recipes. All Rights Reserved.