Cauliflower and Meatballs Ragout
Published on May 04, 2016
by
Kristina Stosek
Prep Time:

10 minutes
Cook Time:

35 minutes
Serves:

4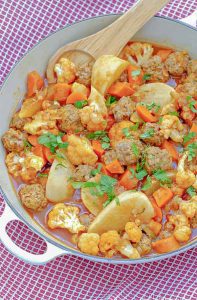 ​This post may contain affiliate links, please see our
privacy policy
for details
Cauliflower and Meatballs Ragout – a fragrant dish, scented with cinnamon, cumin and fresh cilantro. The meatballs are made with grated zucchini and flavoured with a hint of cinnamon and cumin. Keeping them light and flavourful. Once you prepare the meatballs they are cooked with cauliflower, carrots and turnip in a light tomato-based broth. The earthy veggies transform this simple meatball ragout dish into a deceptively hearty and flavourful dish. 
♥

A healthy naturally gluten-free ragout for an easy weeknight meal.
With the weather warming up having a light, yet hearty meal finishes the day beautifully. In this ragout recipe, you have everything, meat, veggies, a light broth and lots of flavours. The entire meal is made in 45 minutes from start to finish, and you don't have to add a side dish, like rice or potatoes. But if you feel you need more, add one of our tasty gluten-free rice sides. This recipe is most certainly for one of those nights when you crave healthy comfort food. 
For the cauliflower, it is a high fiber cruciferous vegetable, nutrient-packed and is naturally high in B vitamins and antioxidants.
Cauliflower and Meatballs Ragout
Published on May 04, 2016
by
Kristina Stosek
Instructions
1.

Mix together ground beef, zucchini, cinnamon, cumin and salt. Using your hands roll into 1-inch balls and set aside

2.

Heat the coconut oil/butter over medium heat. Add the onion and cook until translucent, about 5 minutes

3.

Add the broth and tomato paste and stir. Once the sauce starts to simmer drop the meatballs into the sauce and cook for 10 minutes

4.

Add the turnip and carrots and cook uncovered for 10 minutes. Add cauliflower and cook for 5 more minutes. Cover and remove from the heat. Set aside for 10 minutes before serving. This allows for the cauliflower to soften without being overcooked

5.

Serve with fresh cilantro