Cauliflower and Meatballs Ragout
Prep Time
10 Minutes
Difficulty
Easy
Cook Time
35 Minutes
Serves
4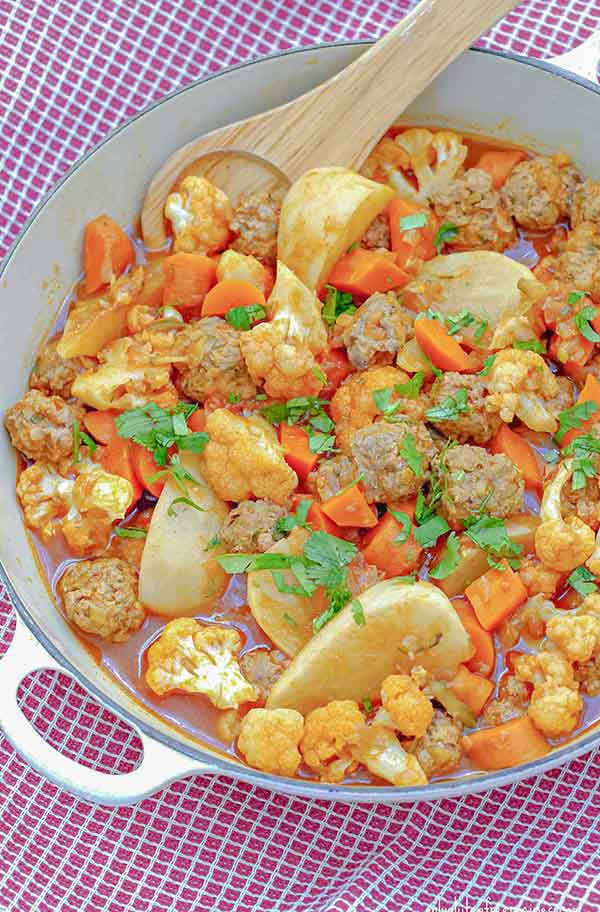 Average Rating: 4.5 | Rated By: 6 users
Cauliflower and Meatballs Ragout is for one of those nights when you crave healthy comfort food. This casual, naturally gluten-free meal is made simply under 45 minutes. The meatballs are made with grated zucchini and flavoured with a hint of cinnamon and cumin. Because the meatballs are made with grated zucchini, they are moist and light. They are cooked in a rich sauce with carrots, turnip, and healthy cauliflower. The meatballs, combined with earthy vegetables, add amazing flavour and nutrients to this most delicious naturally gluten-free meal. 
 Cauliflower, a high fiber cruciferous vegetable, is naturally high in B vitamins and antioxidants.
Serve with one of our delicious gluten-free rice sides or as is. Enjoy!
Ingredients
1 lb. lean ground beef or lamb
1 cup grated zucchini (1 small zucchini)
1 tsp. GF ground cinnamon
1 tsp. GF ground cumin
1 tsp. Sea salt
1 Tbsp. coconut oil or butter
2 cups finely diced white onion
3 cups gluten free beef broth
2 Tbsp. pure tomato paste
3 medium carrots, cut into 1/2-inch rounds
2 small turnips, peeled and quartered
1 medium head cauliflower, cored and cut into small florets
½ cup chopped fresh cilantro
Instructions
Mix together ground beef, zucchini, cinnamon, cumin and salt. Using your hands roll into 1-inch balls and set aside
Heat the coconut oil/butter over medium heat. Add the onion and cook until translucent, about 5 minutes
Add the broth and tomato paste and stir. Once the sauce starts to simmer drop the meatballs into the sauce and cook for 10 minutes
Add the turnip and carrots and cook uncovered for 10 minutes. Add cauliflower and cook for 5 more minutes. Cover and remove from the heat. Set aside for 10 minutes before serving
Serve with fresh cilantro
Similar Recipes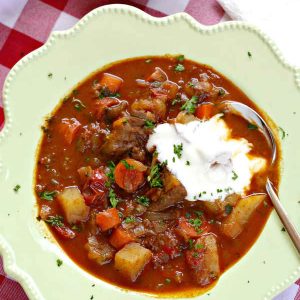 Authentic Hungarian Goulash (Gluten-Free)
Hungarian goulash can be served as a stew or as soup, depending on how much water you add to the goulash. The traditional Hungarian spices are what give this Goulash authentic and robust flavour. When serving the goulash as a stew traditionally you would add pasta, in this case, gluten-free pasta. If you decide to […] Read More
Prep Time
15 Minutes
Difficulty
Easy
Cook Time
120 Minutes
Serves
6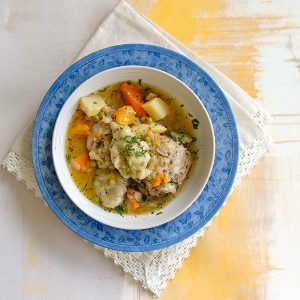 Chicken Stew with Gluten Free Buttermilk Dumplings
Chicken stew with dumplings is one of those old-fashioned favourites. How do you preserve the past while still managing all the flavours you grew up with and still keeping it healthy? This recipe will show you how simple it is to make delicious hearty chicken stew with gluten-free buttermilk dumplings and still keeping it nutritious. […] Read More
Prep Time
15 Minutes
Difficulty
Easy
Cook Time
35 Minutes
Serves
4 - 6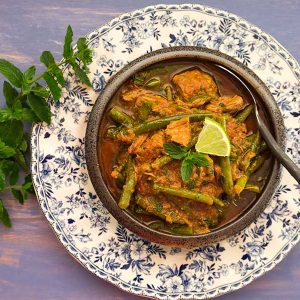 Lamb Stew with Saffron Ginger and Green Beans
The exotic pairing of saffron, ginger, and mint creates a bold flavour in this delicious lamb stew. This hearty lamb stew is based on Moroccan harira soup, but I substituted lentils for green beans. If you wish to serve this dish as soup add extra water and adjust the seasoning. To serve as a stew, add […] Read More
Prep Time
15 Minutes
Difficulty
Easy
Cook Time
90 Minutes
Serves
4-6