Vegetables in Clear Broth Hot Pot
Published on May 27, 2016
by
Kristina Stosek
Prep Time:

10 minutes
Cook Time:

125 minutes
Serves:

4 - 6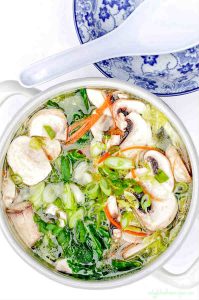 ​This post may contain affiliate links, please see our
privacy policy
for details
Healthy and most delicious Vegetables in Clear Broth Hot Pot to boost your immune system. This recipe is a real reviver. The soothing, comforting and gentle flavours of clear broth, will remind you how very delicate, simple food can be.
This tasty, healthy soup can be served as is, with gluten-free dumplings or over gluten-free bean thread noodles.
What is a hot pot?
Hot pot, or sometimes spelled hotpot, is a Chinese cooking method of cooking soup stock in a large pot containing a variety of East Asian flavours, meats or seafood and vegetables.
In some cases, dumplings are also added. To simplify this most flavourful soup I recommend serving it over gluten-free bean thread noodles or just as is.
Vegetables for Hot Pot.
The vegetables commonly used in a hot pot, are mushrooms, broccoli, green onions, bok choy, savoy cabbage, snow peas, leeks and carrots.
Love Asian cuisine? I recommend checking out my most favourite gluten-free Asian recipes
Vegetables in Clear Broth Hot Pot
Published on May 27, 2016
by
Kristina Stosek
Instructions
1.

Place pork bones in a large pot, cover with cold water (about 8 cups) and bring to boil. Reduce heat to low, add garlic, ginger, pure maple syrup and cinnamon and cook for 2 hours, skimming off any froth that rises to the surface

2.

Remove bones and add all the vegetables except green onions. Increase heat to medium-high and cook for 5 more minutes

3.

Remove from the heat, season with salt and pepper and ladle into soup bowls. Top with green onions