Avocado Pasta Sauce – Vegan Recipe
Published on Apr 13, 2018
by
Kristina Stosek
Prep Time:

10 minutes
Cook Time:

12 minutes
Serves:

4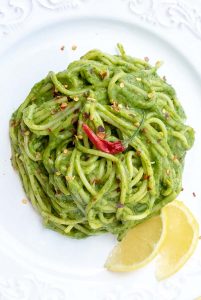 ​This post may contain affiliate links, please see our
privacy policy
for details
This Vegan Creamy Avocado Pasta Sauce is a must-have recipe! The plant based recipe is made with spinach, tomatoes, garlic, olive oil, basil and fresh lemon juice. A healthy, creamy vegan pasta sauce not to be missed!
This nourishing, and most importantly, delicious vegan pasta sauce is super simple to make. The ingredients are fresh and nutritionally packed, making this avocado pasta sauce oozing with freshness!
This avocado pasta sauce does not have to be cooked!
Using fresh ingredients packed with immune-boosting properties such as spinach, avocado, tomatoes, garlic, olive oil, basil, and lemon is what makes this an incredibly healthy avocado pasta sauce.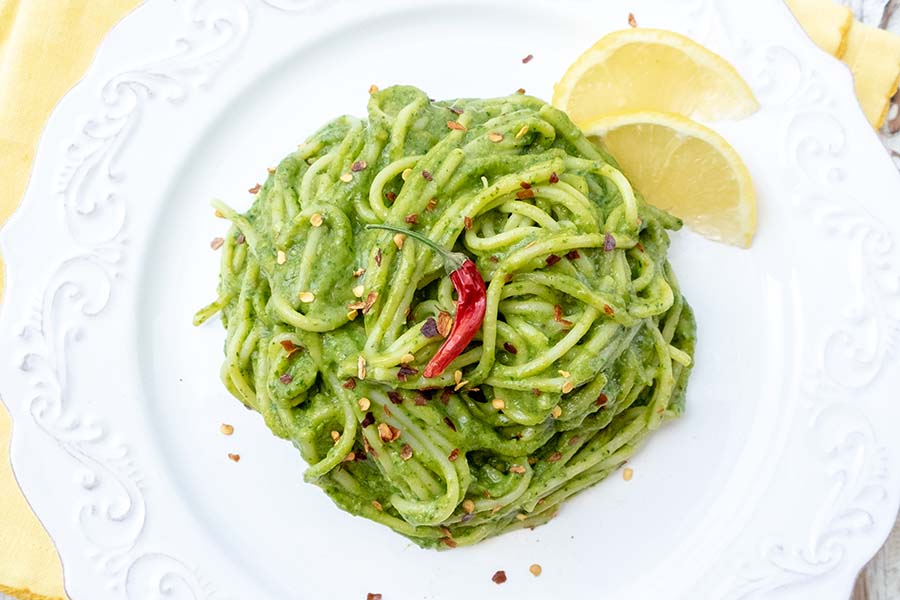 This vegan sauce is most certainly something to get excited about! If you are following a keto, plant-based or gluten-free diet, you should add this recipe to your repertoire.
But don't stop with pasta! This healthy, creamy, bright green sauce goes exceptionally well over fish or chicken.
The best part about this avocado pasta sauce is, the sauce does not have to be cooked. Instead, it is made entirely from fresh ingredients in a food processor, then tossed with hot gluten-free pasta.
If you are looking to get inspired to cook vegan food, check out our selection of gluten-free, vegan recipes
Avocado Pasta Sauce – Vegan Recipe
Published on Apr 13, 2018
by
Kristina Stosek
Instructions
1.

Place spinach leaves, lemon juice, olive oil and garlic in a food processor. Pulse until fine

2.

Add avocados, tomato, basil leaves, and if using cayenne pepper. Process until creamy. Season with salt and pepper, Set aside

3.

Cook pasta as per package directions. Just before you drain the pasta, save 1 cup of pasta water. Do not rinse the pasta

4.

Return cooked pasta to the pot and add the avocado sauce. Toss to combine adding pasta water or broth as needed for desired consistency. You may not need to use the entire cup

5.

Serve immediately with desired toppings.

6.

Note: if you are using spiralized zucchini, use vegetable broth instead of pasta water.
Leave a Comment
Kristina
thank you, very fresh and tasty!