Vegan Creamy Avocado Pasta Sauce
Prep Time
10 Minutes
Difficulty
Easy
Cook Time
12 Minutes
Serves
4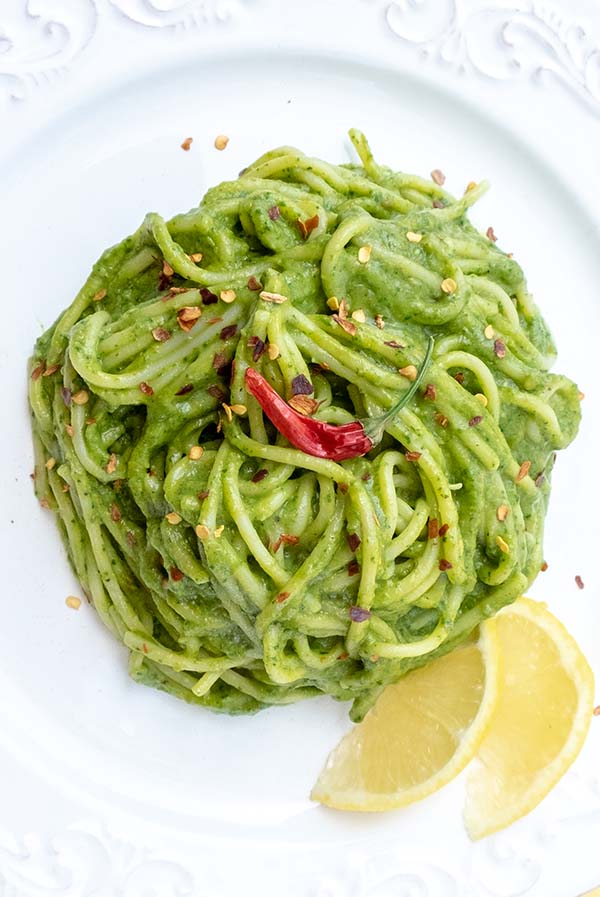 Average Rating: 5 | Rated By: 6 users
Vegan Creamy Avocado Pasta Sauce is a must have recipe! I will show you how easy it is to create beautiful, nourishing, and most importantly, delicious vegan pasta sauce with simple and healthy ingredients.
Using fresh ingredients packed with immune boosting properties such as spinach, avocado, tomatoes, garlic, olive oil, basil and lemon is what makes this an incredibly healthy avocado pasta sauce. This vegan sauce is most certainly something to get excited about! If you are following a keto, vegan and or gluten-free diet, you should add this recipe to your repertoire. For the paleo diet, pour the sauce over your favourite protein.
The best part about this avocado pasta sauce is, the sauce does not have to be cooked. It is made entirely from fresh ingredients in a food processor, then tossed with hot gluten-free pasta.
If you are looking to get inspired to cook vegan food, check out our selection of gluten-free, vegan recipes
Ingredients
2 cups (5 oz.) fresh spinach leaves
1/4 cup fresh lemon juice
1/4 cup extra-virgin olive oil
4 garlic cloves, chopped
2 large avocados, peeled and pitted
1 large ripe tomato, quartered
Hand full fresh basil leaves
Pure sea salt and GF ground black pepper to taste
Pinch of GF cayenne pepper (optional)
1 lb. gluten-free pasta, or spiralized zucchini
Optional toppings; cayenne pepper flakes, nutritional yeast, chopped fresh tomato, fresh basil, olive oil, lemon juice, fresh flat parsley,
*As an Amazon Associate and member of other affiliate programs, I earn from qualifying purchases. Please check out my sponsorship and disclosure policy page for more details
Instructions
Place spinach leaves, lemon juice, olive oil and garlic in a food processor. Pulse until fine
Add avocados, tomato, basil leaves, and if using cayenne pepper. Process until creamy. Season with salt and pepper, Set aside
Cook pasta as per package directions. Just before you drain the pasta, save 1 cup of pasta water. Do not rinse the pasta
Return cooked pasta to the pot and add the avocado sauce. Toss to combine adding pasta water or broth as needed for desired consistency. You may not need to use the entire cup
Serve immediately with desired toppings.
Note: if you are using spiralized zucchini, use vegetable broth instead of pasta water.
Similar Recipes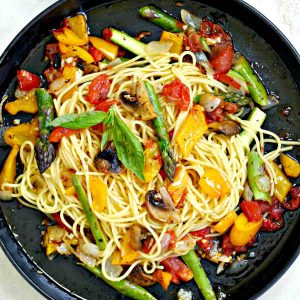 Gluten Free Roasted Veggie Pasta
In this tasty gluten-free vegetarian pasta recipe, the vegetables are roasted al dente in their flavourful juices and then tossed with your favourite pasta. This simple pasta recipe takes just minutes to prepare, making this a favourite anytime vegetarian meal Read More
Prep Time
5 Minutes
Difficulty
Beginner
Cook Time
20 Minutes
Serves
4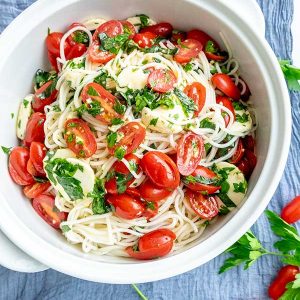 Gluten-Free Italian Pasta Salad
In this Gluten-Free Italian Pasta Salad, the ingredients such as fresh basil, parsley, garlic, cherry tomatoes, olive oil, fresh lemon juice and bocconcini, are making this a beautifully flavoured light pasta salad. Without question, this is one of my favourite pasta salad dishes. And no wonder, the entire dish is made with fresh ingredients. To […] Read More
Prep Time
10 Minutes
Difficulty
Easy
Cook Time
15 Minutes
Serves
6 - 8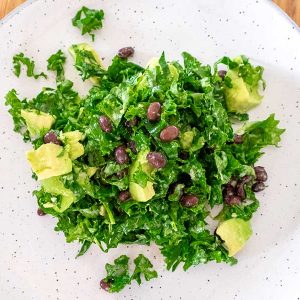 Avocado and Black Beans Kale Salad
I love kale salads, especially during the warmer months. This version uses avocado and black beans. The light garlic vinaigrette is very important because it makes the other flavours more receptive. The parmesan cheese adds a slightly creamy taste making this salad spectacular. For vegan version replace Parmesan cheese with nutritional yeast, just as delicious. […] Read More
Prep Time
15 min Minutes
Difficulty
Easy
Serves
4