Vegan Creamy Avocado Pasta
Prep Time
10 Minutes
Difficulty
Easy
Cook Time
12 (for pasta) Minutes
Serves
4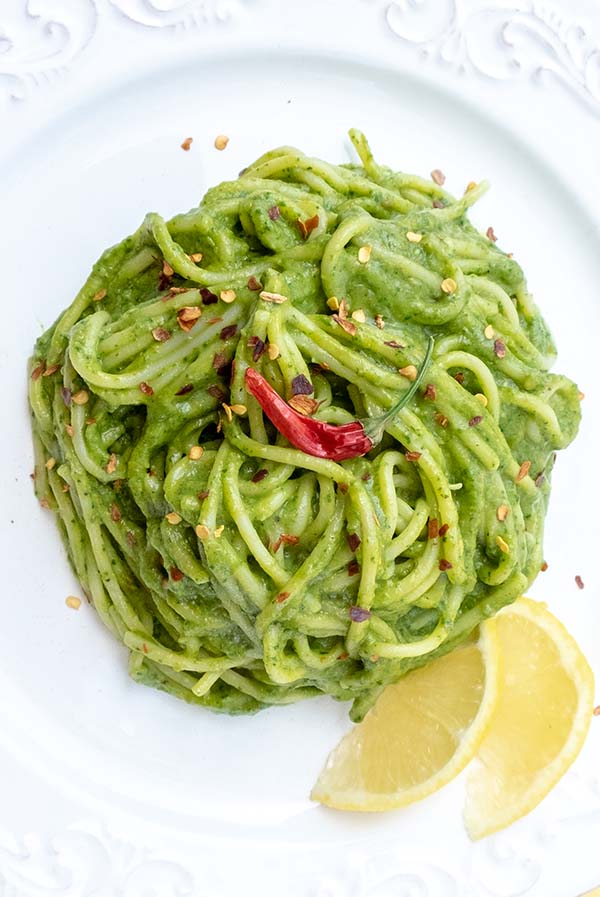 Average Rating: 5 | Rated By: 4 users
I want to show you how easy it is to create beautiful, nourishing, and most importantly delicious vegan pasta sauce with simple and healthy ingredients. This creamy avocado pasta sauce is most certainly something to get excited about! If you are following a keto, vegan and or gluten-free diet, you will add this recipe to your repertoire. If you are following a paleo diet, pour the sauce over your favourite protein
Ingredients
2 cups (5 oz.) fresh spinach leaves
1/4 cup fresh lemon juice
1/4 cup extra-virgin olive oil
4 garlic cloves, chopped
2 large avocados, peeled and pitted
1 large ripe tomato, quartered
Hand full fresh basil leaves
Pure sea salt and GF ground black pepper to taste
Pinch of GF cayenne pepper (optional)
1 lb. gluten-free pasta, or spiralized zucchini
Optional toppings; cayenne pepper flakes, nutritional yeast, chopped fresh tomato, fresh basil, olive oil, lemon juice, fresh flat parsley,
Instructions
Place spinach leaves, lemon juice, olive oil and garlic in a food processor. Pulse until fine
Add avocados, tomato, basil leaves, and if using cayenne pepper. Process until creamy. Season with salt and pepper, Set aside
Cook pasta as per package directions. Just before you drain the pasta, save 1 cup of pasta water. Do not rinse the pasta
Return cooked pasta to the pot and add the avocado sauce. Toss to combine adding pasta water or broth as needed for desired consistency. You may not need to use the entire cup
Serve immediately with desired toppings.
Note: if you are using spiralized zucchini, use vegetable broth instead of pasta water.
Similar Recipes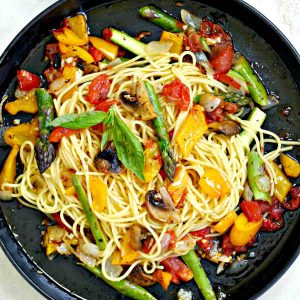 Gluten Free Roasted Veggie Pasta
In this tasty gluten-free vegetarian pasta recipe, the vegetables are roasted al dente in their flavourful juices and then tossed with your favourite pasta. This simple pasta recipe takes just minutes to prepare, making this a favourite anytime vegetarian meal Read More
Prep Time
5 Minutes
Difficulty
Beginner
Cook Time
20 Minutes
Serves
4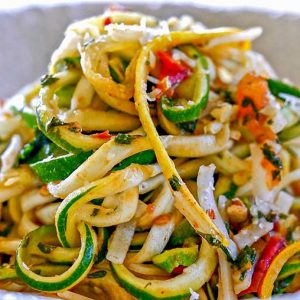 Gluten Free Zucchini and Rice Noodles Pasta
Three words that describe this delicious gluten-free pasta dish! Healthy, simple and delicious! Using only fresh ingredients, this vegetarian pasta dish takes only 15 minutes to prepare. The vegetables are done to perfection and spiced just right Read More
Prep Time
10 Minutes
Difficulty
Easy
Cook Time
5 Minutes
Serves
4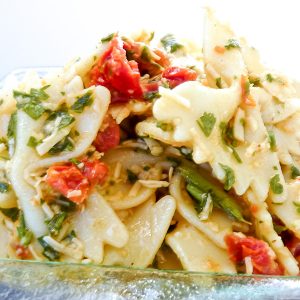 Gluten Free Light Pasta Salad
Pasta salad can be made in many different ways. In this gluten-free vegetarian recipe, the pasta is marinated in a zesty vinaigrette with added sundried tomatoes and topped with tasty Parmesan cheese. This gluten-free light pasta salad is especially popular during the summer season. Serve at picnics or large gatherings, this gluten-free vegetarian salad is always […] Read More
Prep Time
15 Minutes
Difficulty
Easy
Cook Time
15 Minutes
Serves
4-6