Upside-Down Mac & Cheese Pie With Bacon (Gluten-Free)
Prep Time
15 Minutes
Difficulty
Easy
Cook Time
45 Minutes
Serves
6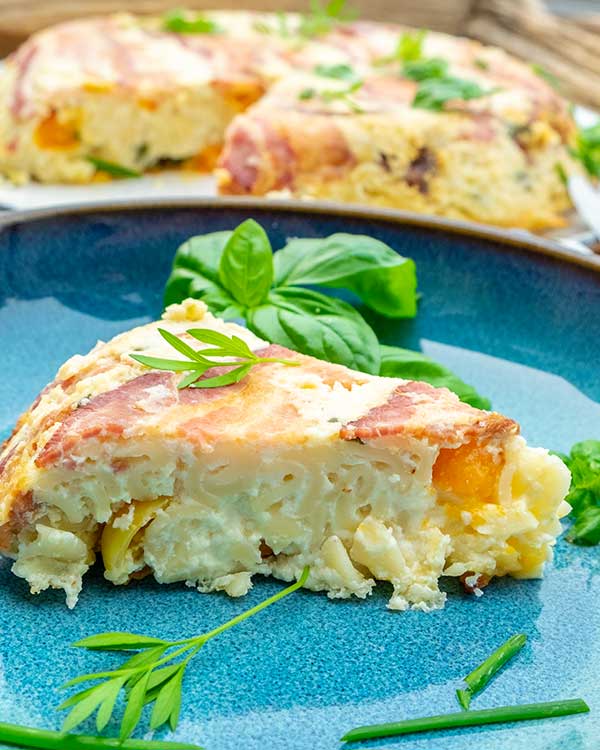 Average Rating: 4.5 | Rated By: 7 users
Inspired by everyone's favourite Mac and Cheese, this twist on the classic Mac and Cheese dish features everyone's favourites, pasta, cheese, bacon and fresh tomatoes. This gluten-free pasta dish is simply put together, baked in a pie dish and then inverted on a plate featuring bacon topping. This true comfort food can be served as a side, or main with a healthy salad. 
Ingredients
6 GF bacon strips
2 cups half and half cream
1 cup grated Gruyere cheese
1 Tbsp. Tapioca starch
1 garlic clove, minced
1/2 tsp. Pure sea salt and GF ground black pepper to taste
1 Tbsp. butter
1 cup halved cherry tomatoes
1/4 cup chopped fresh basil
2 large eggs, whisked
1/2 cup grated parmesan cheese
Garnish: fresh basil, parsley or chives (optional)
*As an Amazon Associate and member of other affiliate programs, I earn from qualifying purchases. Please check out my sponsorship and disclosure policy page for more details
Instructions
Preheat oven to 370 F
Cook pasta as per package directions until al dente. Reserve 1 cup cooking water and drain the pasta. Set aside
While the pasta is cooking, place bacon strips on a baking tray lined with parchment paper, place in the oven and cook until browned.
Brush an 8-inch pie dish with some of the bacon fat, then evenly layer the dish with cooked bacon strips
In a small pan heat butter until lightly brown. Stir in tomatoes, basil and season with salt and pepper. Remove from the heat. Set aside
In a medium saucepan whisk together cream, Gruyere cheese, tapioca starch, garlic and 1/2 teaspoon of salt and pepper to taste. Cook over medium heat until the sauce starts to thicken, about 5 minutes. Stir in pasta, and if needed some of the reserved water to make a thick sauce. Then stir in tomatoes, parmesan cheese and eggs. Pour mixture into the pie dish and bake for 30 minutes. Rest for 10 minutes, then loosen the edges with a sharp knife and invert onto a plate. Garnish with fresh herbs or chives
Similar Recipes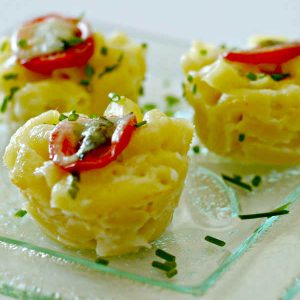 Gluten-Free Caprese Mac and Cheese Bites
Here is a wonderful mac and cheese snack that can also be served as an appetizer. The creamy pasta is topped with fresh tomatoes, basil and mozzarella cheese. At parties, this mini Caprese mac and cheese is always a big hit. Read More
Prep Time
15 Minutes
Difficulty
Easy
Cook Time
15 Minutes
Serves
36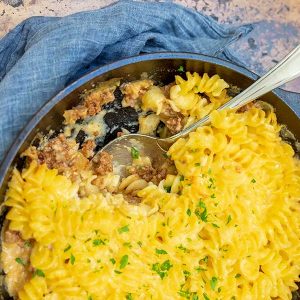 Gluten-Free Cheese Burger Mac & Cheese
This is a lazy night gluten-free dinner that everyone will enjoy! In this dish, the creamy pasta is baked with a tasty burger like beef combined with plenty of cheese. Nothing about this recipe I complicated. This pasta dish is hearty and comforting and an easy back to school recipe. Serve as is, but if […] Read More
Prep Time
15 Minutes
Difficulty
Easy
Cook Time
25 Minutes
Serves
4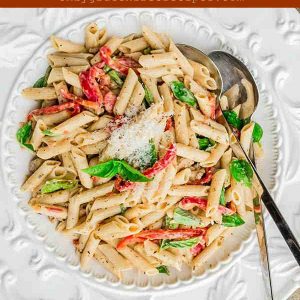 Chorizo With Basil Cream Sauce Penne – Gluten-Free
This Chorizo With Basil Cream Sauce Penne is an easy gluten-free pasta dish made in 30 minutes. The flavourful chorizo balls add spice and warmth, and the bell peppers and fresh tomatoes add freshness. But, it is the basil cream sauce that ties everything together. The sauce is made with chicken broth, cream, Parmesan cheese, […] Read More
Prep Time
10 Minutes
Difficulty
Easy
Cook Time
20 Minutes
Serves
4