Upside-Down Mac And Cheese Pie With Bacon (Gluten-Free)
Prep Time
15 Minutes
Difficulty
Easy
Cook Time
45 Minutes
Serves
6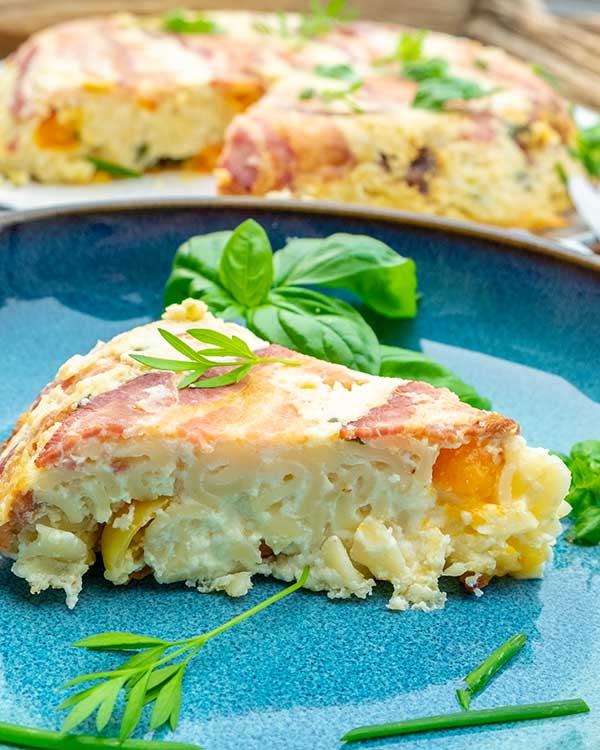 Average Rating: 4.5 | Rated By: 9 users
Nothing beats a good old mac and cheese pie except maybe a gluten-free upside-down mac and cheese pie with bacon!
Pies are great for sharing and perfect for your next dinner party. 
Because pies can be filled with just about anything, there are so many recipes you can create. If you have some free time,  to try out our Upside-Down Gluten-Free Mac and Cheese Pie with Bacon recipe. This gluten-free pasta recipe is inspired by everyone's favourite Mac and Cheese dish — except better!
You've probably had mac and cheese before, but have you tried it upside down?
We combined everyone's favourites – pasta, cheese, bacon, fresh tomatoes, eggs, and made it into one tasty dish in this upside-down mac and cheese pie. For extra flavour, add a sprinkle of fresh basil or chives. This recipe is an easy-to-make gluten-free pasta meal that is perfect for everyone to enjoy!
Is cheese healthy?
Macaroni and cheese is perhaps one of the most popular comfort foods in America, and that's saying something when you think about how much people love to eat hamburgers. Cheese is an integral part of Mac and Cheese, so let's talk about why it's good for you.
Cheese is rich in nutrients that promote health, growth, and development. Cheese is an excellent source of proteins and is easily digestible. Protein is also an excellent energy source and is one of the most crucial human body requirements.
Typically cheese is a rich, creamy, and boosts your body's strength. It is a good source of calcium and contains nutrients such as vitamins A and D, riboflavin, and phosphorus. Cheese is a good source of energy.
Why is this gluten-free Mac and cheese with bacon healthier?
What makes this meal healthier? A typical pasta dish you buy at a supermarket contains high amounts of carbohydrates, fat, salt, and filler ingredients. Our Mac and Cheese is a fresh homemade meal made with gluten-free and fresh ingredients.
And the best part, this gluten-free pasta meal will fill you up and satisfy even big appetites!
The presence of smoky bacon adds to the deliciousness! And, helps to increase the protein content of this upside-down mac and cheese pie. Not only is this gluten-free mac and cheese for kids recipe loaded with protein to keep you full and energized for hours on end, but it's also got all the flavours you love from the classic comfort food, too!
One of the favourite ingredients you will find in this baked mac and cheese recipe is fresh tomatoes. Tomatoes are rich in lycopene, a potent antioxidant. Lycopene promotes skin elasticity and helps protect against UV-induced skin damage that can lead to wrinkles and possibly cancer. Lycopene also increases skin hydration, helps fight free radical damage, and may slow down aging.
Healthy foods can indeed be satisfying and comforting. This gluten-free mac and cheese recipe proves it. This beloved comfort food gets a makeover but still satisfies the taste buds of young (and old) alike.
Delicious pasta dinners are always popular. Have a look at our complete list of gluten-free pasta recipes for inspiration or your next favourite dish. This true comfort food can be served as a side, or main with a healthy salad. 
Ingredients
6 GF bacon strips
2 cups half and half cream
1 cup grated Gruyere cheese or other good melting cheese
1 Tbsp. Tapioca starch
1 garlic clove, minced
1/2 tsp. Pure sea salt and GF ground black pepper to taste
1 Tbsp. butter
1 cup halved cherry tomatoes
1/4 cup chopped fresh basil
2 large eggs, whisked
1/2 cup grated parmesan cheese
Garnish: fresh basil, parsley or chives (optional)
*As an Amazon Associate and member of other affiliate programs, I earn from qualifying purchases. Please check out my sponsorship and disclosure policy page for more details
Instructions
Preheat oven to 375 F
Cook pasta per package directions until al dente. (cooked but firm to bite) Drain the pasta and reserve 1 cup of pasta water. Set aside
While the pasta is cooking, place bacon strips on a baking tray lined with parchment paper, and baked until lightly crispy
Brush an 8-inch pie dish with some of the bacon fat, then evenly layer the dish with cooked bacon strips
In a small pan heat butter until lightly brown. Stir in tomatoes, basil and season with salt and pepper. Remove from the heat. Set aside
In a medium saucepan whisk together cream, Gruyere cheese, tapioca starch, garlic and season with salt and pepper. Cook over medium heat until the sauce starts to thicken, about 5 minutes. Stir in pasta, and reserved pasta water. Then add tomatoes and parmesan cheese and then the eggs. Stir to combine.
Transfer pasta into the bacon lined pie dish and bake for 30 - 35 minutes, until golden. Rest for 10 minutes, then loosen the edges with a sharp knife and invert onto a plate. Garnish with fresh herbs or chives
Similar Recipes
Gluten-Free Caprese Mac and Cheese Bites
Here is a wonderful mac and cheese snack that can also be served as an appetizer. The creamy pasta is topped with fresh tomatoes, basil and mozzarella cheese. At parties, this mini Caprese mac and cheese is always a big hit.     Read More
Prep Time
15 Minutes
Difficulty
Easy
Cook Time
15 Minutes
Serves
36
Gluten-Free Cheese Burger Mac & Cheese
This is a lazy night gluten-free dinner that everyone will enjoy! In this dish, the creamy pasta is baked with a tasty burger like beef combined with plenty of cheese. Nothing about this recipe I complicated. This pasta dish is hearty and comforting and an easy back to school recipe. Serve as is, but if […] Read More
Prep Time
15 Minutes
Difficulty
Easy
Cook Time
25 Minutes
Serves
4
Gluten-Free One Pot Creamy Tomato Pasta Bake

Gluten-Free One Pot Creamy Tomato Pasta Bake made under 30 minutes. The tomato sauce is creamy, with sundried tomatoes and flavoured with oregano, basil, garlic, and a pinch of cayenne pepper, making it slightly spicy. To make the sauce extra creamy, I added Gruyere and cream cheese. Then, I tossed the pasta with the sauce. […] Read More
Prep Time
10 Minutes
Difficulty
Beginner
Cook Time
20 Minutes
Serves
6