Peaches and Cream Chia Smoothie
Published on May 28, 2020
by
Kristina Stosek
Prep Time:

2 minutes
Cook Time:

minutes
Serves:

1 large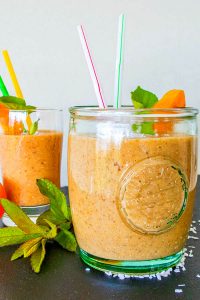 ​This post may contain affiliate links, please see our
privacy policy
for details
A healthy breakfast Peaches and Cream Chia Smoothie…This delicious smoothie is made with fresh peaches, banana, cashew milk, unsweetened coconut flakes, maca, chia seeds and cinnamon.
This healthy smoothie is sweetened only with a fresh peach and half a banana. To add a tropical flavour, I added unsweetened coconut flakes, making this an incredibly delicious peaches and cream chia smoothie.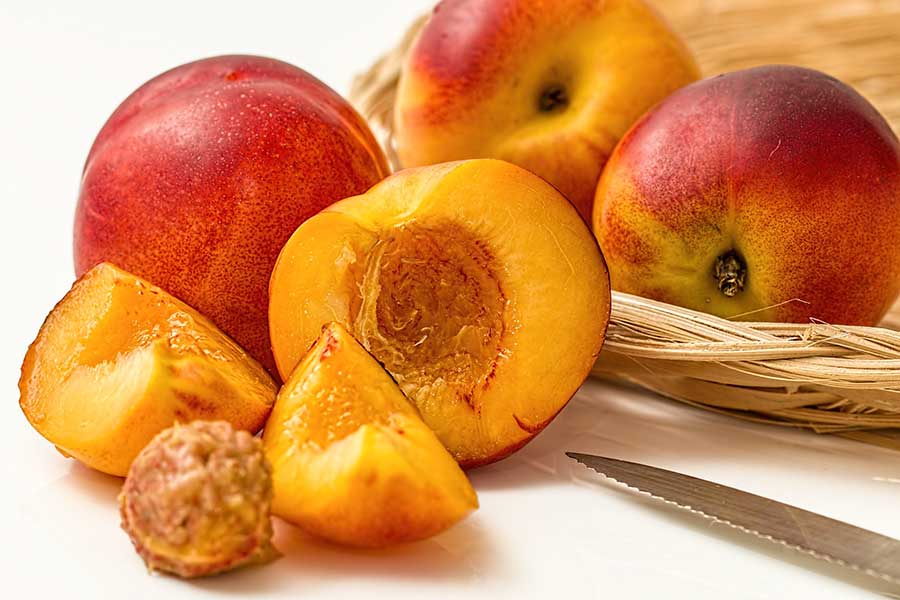 ♥

How to make smoothies?

Smoothies are probably one of the easiest and healthiest way to start your day. Smoothies should be thick, full of flavour, and most importantly, nutrient-packed. To achieve thick and creamy smoothies, the fruit should be frozen.

Some smoothie recipes use ice cubes, but I don't like to add water to my smoothies. To prepare the fruit, chop up fresh ripe fruit and freeze it in portion sizes, about a cup per smoothie.

If you are using berries, keep them whole. This way, your fruit is ready to go whenever you are. Once you have your fruit ready, pop it in a high-speed blender with your favourite milk, spices and flavours such as cinnamon, vanilla, cocoa powder…what ever you desire and blend until smooth and creamy.

I always use in-season fruit because it is fresh and most flavourful. The fruit should be ripe because it will sweeten the smoothie without adding a sweetener. Smoothies are an excellent way to use up super-ripe fruit, you know the fruit that has been sitting in your fruit bowl, and no one wants to eat it anymore.

Bananas are especially delicious in smoothies when they are ripe and frozen. They add a good balance of sweetness to smoothies.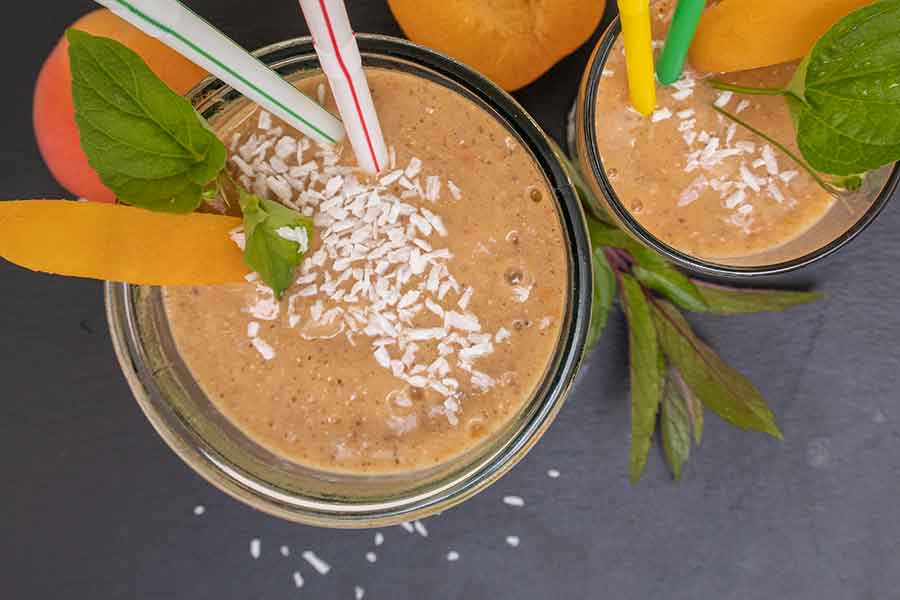 ♥

What to add to smoothies?

The list of ingredients to add to smoothies is endless. Here is a list of my favourites.
Fruit —
Blueberries, strawberries, apricots, blackberries, peaches, bananas, papaya, avocados, raspberries, pineapple, oranges, watermelon, lemons.
Milk —
Cashew, coconut, rice, almond, hemp, soy.
Seeds and grains —
Chia, hemp, flax, certified gluten-free oats.
Sweeteners —
Pure maple syrup, honey, agave, molasses
Spices, herbs and other —
Turmeric, ginger, cinnamon, nutmeg, cloves, mint, parsley, maca powder, protein powder, unsweetened coconut flakes, pure cocoa powder, pure vanilla extract.
The list of ingredients is unlimited. Smoothies are an excellent addition to your diet if you are following a weight loss diet plan. These delicious shakes are packed with nutrition, fiber and protein, keeping you full for hours. If you like smoothies, you may enjoy the pineapple blackberry chia smoothie or the watermelon smoothie
Peaches and Cream Chia Smoothie
Published on May 28, 2020
by
Kristina Stosek
Instructions
1.

Blend everything in a high-speed blender until smooth and creamy. Taste, and if you feel it needs something more like little maple syrup or honey or a squirt of fresh lemon juice, feel free to add some. Top with coconut flakes and a sprinkle of cinnamon. Serve immediately