One Pot Thai Coconut Chicken Rice
Prep Time
10 Minutes
Difficulty
Easy
Cook Time
25 Minutes
Serves
6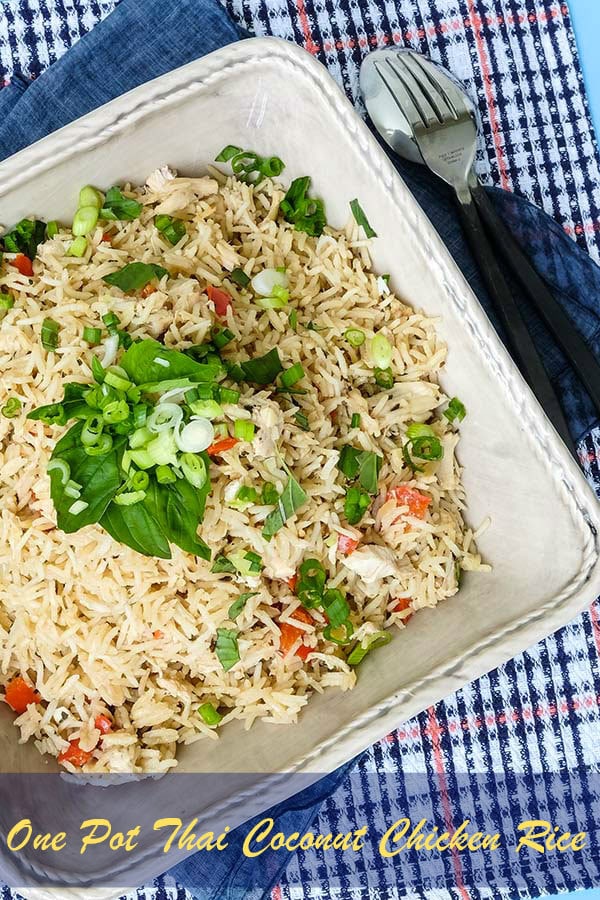 Be the first to rate this recipe.
This One Pot Thai Coconut Chicken Rice recipe is a keeper. A most flavourful Thai rice dish made with leftover cooked chicken, garlic, ginger, bell pepper, basil, tamari sauce and fish sauce. Everything is cooked with coconut milk, adding creaminess to this stunning rice dish. The best rice for this Thai recipe is jasmine rice. However, any long grain rice will work.
This Thai dish is made in one pot, making this a simple recipe. The rice is deliciously flavoured with typical Thai flavours such as ginger, garlic, basil and coconut milk. This Thai coconut chicken rice dish is an excellent way to use up leftover chicken or even turkey. 
How to serve Thai Coconut Chicken Rice?
Thai coconut chicken rice dish can be served as a main with steamed veggies or a classic Thai celery and fennel salad. If your appetite is big, enjoy the coconut chicken rice as a side with your main. 
This Thai coconut chicken rice takes only minutes to prepare, making this an easy gluten-free weeknight meal.
Ingredients
1 Tbsp. coconut oil
1 small yellow onion, finely chopped
3 garlic cloves, minced
1 red bell pepper, cut into small bite size pieces
1 Tbsp. minced fresh ginger
1 Tbsp. GF dried basil
1 ½ cups (400 ml.) canned full fat coconut milk
1 ½ cups GF chicken broth
1 Tbsp. GF tamari sauce
2 tsp. fish sauce
1 tsp. pure maple syrup or coconut sugar
1 tsp. sea salt
GF cayenne pepper to taste (optional)
2 cups cooked bite size chicken pieces (excellent from leftover cooked chicken) You can also use uncooked chicken thinly sliced
Garnish: fresh Thai or regular basil leaves and thinly sliced green onions
*As an Amazon Associate and member of other affiliate programs, I earn from qualifying purchases. Please check out my sponsorship and disclosure policy page for more details
Instructions
In a wok or non-stick pan sauté onions in coconut oil over medium heat until translucent. About 3 minutes. Add garlic, bell pepper, ginger and basil and cook for 1 more minute
Add balance of ingredients and bring to a boil. Cover and reduce heat to low. Cook for 15 minutes
Remove from the heat and fluff the rice with a fork. Cover for 10 more minutes
Garnish with generous amount of fresh basil and cilantro
Similar Recipes
Indian Lemon Rice with Corn Recipe
This golden Indian Lemon Rice with Corn is an aromatic basmati rice side. An undeniably stunning rice dish flavoured with spices such as ginger, cumin, turmeric and basil and cooked in a chicken or vegetable stock with fresh lemon juice and corn. This is one of the best Indian rice dishes I know. ♥ Sucess […] Read More
Prep Time
5 Minutes
Difficulty
Beginner
Cook Time
20 Minutes
Serves
4
5 Spice Rice With Raisins
If you're looking for a delicious and healthy way to spice up your rice, look no further than this gluten-free 5 spice rice with raisins recipe! This dish is packed with flavor, thanks to adding 5 different spices, fresh ginger and sweet raisins. Following a gluten-free diet can be challenging. Many common foods contain gluten, […] Read More
Prep Time
15 Minutes
Difficulty
Easy
Cook Time
30 Minutes
Serves
4