No-Bake Gluten-Free Christmas Cake
Prep Time
15 Minutes
Difficulty
Easy
Serves
6
Average Rating: 5 | Rated By: 3 users
Here is an award-winning No-Bake Gluten-free Christmas Cake. This most delicious moist Christmas Cake is made with dates, cherries, raisins, pineapple and almonds. I used classics such as cinnamon, nutmeg, cloves, ginger, orange zest, and brandy for the rich flavours—so much goodness in one festive gluten-free dessert.
the ingredients,
This festive dessert is probably one of the easiest Christmas Cake recipes. There are no added grains, it is dairy-free, the cake is naturally sweetened with dried fruit and pure maple syrup, and this dessert doesn't need baking. However, you will need a food processor because everything is chopped and creamed briefly in the food processor.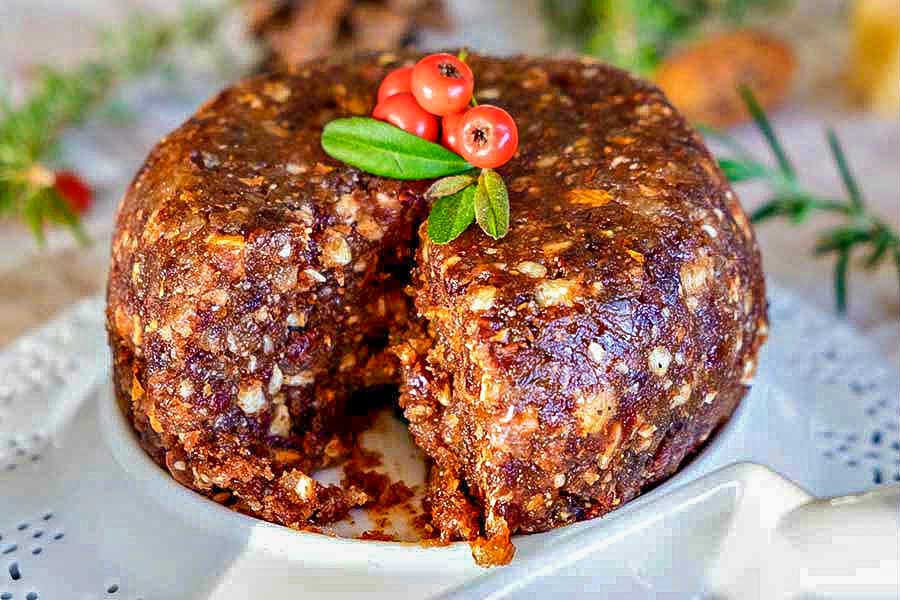 the Christmas Cake details,
Once everything is chopped, mixed and creamed, you will need a bowl. This bow is lined with cling wrap (plastic wrap), and then the mixture is pressed firmly into the bowl. The cake is chilled, allowing all the flavours to meld together and firm up the cake. The best part, this Christmas Cake tastes even better the next and the next day after.
DOWAN Ceramic Mixing Bowls Microwave and Dishwasher Safe, Sturdy & No Scratch
For extra deliciousness, this Christmas Cake has a coconut cream sauce. This holiday dessert is flavoured with a creamy Coconut Brandy Sauce. The creamy sauce is made simply by mixing the ingredients and then keeping it chilled until ready to serve.
If you are not much of a baker or don't have time to make a special Christmas Cake, this no-baked gluten-free Holliday dessert is for you. This no-bake festive dessert can be served cold or warm. Either way, this Christmas dessert is a winner!
Looking for more dessert recipes? Check out these easy to make gluten-free desserts
Ingredients
½ cup dried dates, pits removed
½ cup raisins
½ cup dried cherries without pits
¾ cup roughly chopped dried pineapple
½ cup almonds
3 Tbsp. brandy or rum
2 tsp. lemon or orange zest
½ tsp. GF ground cinnamon
¼ tsp. GF ground nutmeg
¼ tsp. GF ground cloves
¼ tsp. GF ground ginger
1 Tbsp. melted dairy-free butter or coconut oil
½ cup almond flour
COCONUT BRANDY CREAM SAUCE (optional)
1 cup of coconut cream
2 Tbsp. pure maple syrup
1 Tbsp. brandy
*As an Amazon Associate and member of other affiliate programs, I earn from qualifying purchases. Please check out my sponsorship and disclosure policy page for more details
Instructions
Soak raisins and dates in hot water for 5 minutes, then drain
In a small bowl combine cherries, pineapple, almonds and brandy and soak for 5 minutes
Add dates and raisins to a food processor and blend until a paste forms
Add balance of ingredients and pulse until combined, but still leaving small chunks of fruit and nuts. You may have to add a little more almond flour if the mixture is too sticky
Line a 16 oz. bowl with cling film (plastic wrap) and transfer the mixture into the bowl.Firmly pressing down the mixture into the bowl. Cover and refrigerate overnight. Before serving, remove cake with the cling film and place invert on to a plate
COCONUT BRANDY CREAM SAUCE
In a small bowl mix together cream, maple syrup and brandy. Refrigerate until ready to serve with Christmas cake
Similar Recipes
Gluten-Free Cranberry Honey Bread
The BEST Gluten-Free Cranberry Honey Bread…for your holiday baking. Where shall I start? Beautiful, moist, fresh cranberries, dates, pecans and honey, makes for the most delicious holiday bread. In this recipe I am using my favourite ingredient, fresh cranberries, It doesn't get more festive than that. I have added a few dates to add sweetness […] Read More
Prep Time
10 Minutes
Difficulty
Beginner
Cook Time
70 Minutes
Serves
8
Gluten-Free Honey Blackberry Coffee Cake
This golden honey coffee cake is packed with blackberries and has a lovely lemon scent. A nutritious recipe you can feel good about, this gluten-free blackberry honey coffee cake is light and moist and also dairy free. Enjoy this delicious coffee cake healthy enough to serve as breakfast or a snack later in the day Read More
Prep Time
15 Minutes
Difficulty
Easy
Cook Time
60 Minutes
Serves
10-12 pc
Upside Down Apple-Honey Pumpkin Cake (Gluten-Free)
This Gluten-Free Upside Down Apple-Honey Pumpkin Cake is the recipe for fall brunches, snacks, breakfast and anytime you crave something sweet. This gluten-free cake has two layers. First, the moist pumpkin spiced cake and the second layer is all about apples, honey and pecans. With the two layers combined, you have nothing but deliciousness! Now […] Read More
Prep Time
15 Minutes
Difficulty
Easy
Cook Time
35 Minutes
Serves
12