No-Bake Gluten-Free Christmas Cake
Published on Dec 10, 2017
by
Kristina Stosek
Prep Time:

15 minutes
Cook Time:

minutes
Serves:

6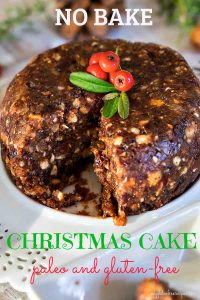 ​This post may contain affiliate links, please see our
privacy policy
for details
Here is an award-winning No-Bake Gluten-free Christmas Cake. This stunning and moist Christmas Cake is made with dates, cherries, raisins, pineapple and almonds. I used classics such as cinnamon, nutmeg, cloves, ginger, orange zest, and brandy to create a rich Christmas cake flavour.
So much goodness in this festive gluten-free dessert!
no-bake Christmas cake…the ingredients,
This holiday dessert is probably one of the easiest Christmas Cake recipes. There are no added grains, and it is dairy-free. The cake is naturally sweetened with dried fruit and pure maple syrup. And, this dessert doesn't need baking.
However, you will need a food processor because everything is chopped and creamed briefly in the food processor.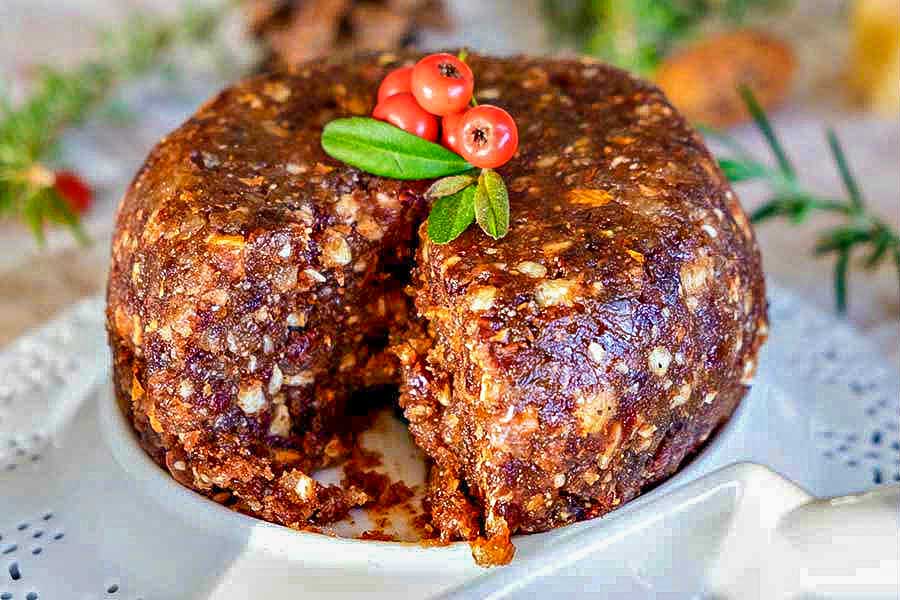 the Christmas Cake brief details,
Once everything is chopped, mixed and creamed, you will need a bowl. This bowl is lined with cling wrap (plastic wrap), and then the mixture is pressed firmly into the bowl. Next, the cake is chilled, allowing all the flavours to meld together and firm up the cake.
The best part, this Christmas Cake tastes even better the next day and the day after.
This no-bake gluten-free Christmas Cake has a coconut brandy cream sauce for extra deliciousness.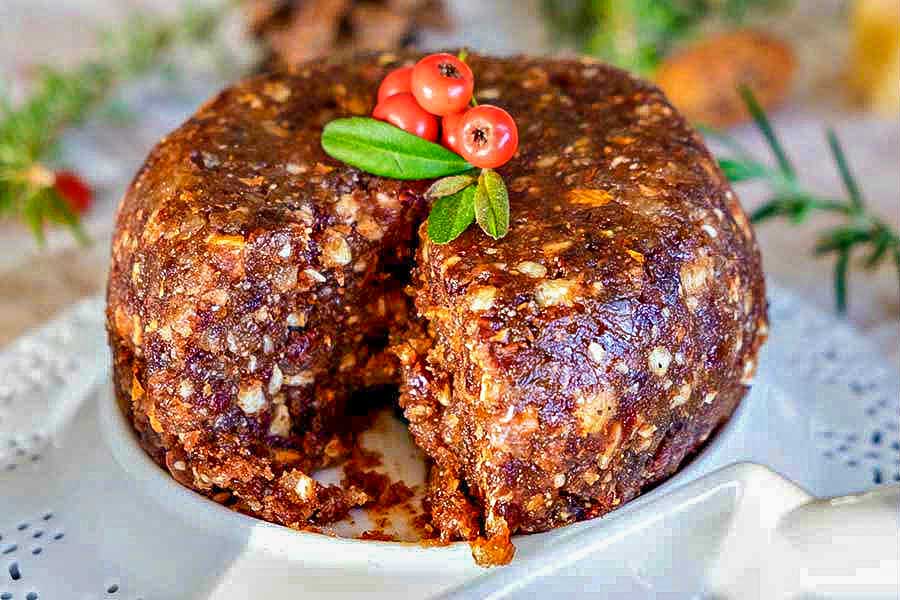 The sauce is made simply by whisking the ingredients and then chilled until ready to serve.
If you don't like baking or have time to make a special Christmas Cake, this no-baked gluten-free Holliday dessert is for you. This no-bake festive dessert can be served cold or warm. Either way, this Christmas dessert is a winner!
Are you looking for more dessert recipes? Check out these easy to make gluten-free desserts.
No-Bake Gluten-Free Christmas Cake
Published on Dec 10, 2017
by
Kristina Stosek
Instructions
1.

Soak raisins and dates in hot water for 5 minutes, then drain

2.

In a small bowl combine cherries, pineapple, almonds and brandy. Rest for 5 minutes

3.

Add dates and raisins to a food processor and process until a paste forms

4.

Add remaining ingredients and pulse until combined. Leaving small chunks of fruit and nuts. You may have to add a little more almond flour if the mixture is too sticky

5.

Line a 2 cup large bowl with cling film (plastic wrap) and transfer the mixture into the bowl. Firmly pressing down the mixture into the bowl. Cover and refrigerate overnight. Before serving, remove cake with the cling film and invert on to a plate

6.

COCONUT BRANDY CREAM SAUCE

7.

In a small bowl whisk together cream, maple syrup and brandy. Refrigerate until ready to serve

8.

Serve the sauce over the cake