Meatballs Stuffed With Jalapeno And Mozzarella
Prep Time
20 Minutes
Difficulty
Moderate
Cook Time
40 Minutes
Serves
18
Average Rating: 5 | Rated By: 5 users
You will love these turkey meatballs stuffed with jalapeno and mozzarella. They are tender and have a little kick to them, making them popular during sports events or entertaining. Meatballs make great appetizers at any party.
The jalapeno and mozzarella filling is what make these meatballs extra special.  Serve with or without the dipping sauce, they are delicious both ways
Ingredients
FOR THE MEATBALLS
1 lb. ground lean turkey
¼ lb. finely chopped mushrooms (mushrooms give moisture to the meatballs)
½ cup roughly chopped fresh cilantro
1 large egg
1 tsp. GF chili powder
1 tsp. GF ground cumin
1 tsp. GF dried basil leaves
1 tsp. sea salt
4 medium size jalapenos, deseeded and sliced into ½-inch wide circles
4 oz. mozzarella cheese, cut to ½-inch cubes
FOR THE DIPPING SAUCE
2 medium size, tomatoes, roughly chopped
1 garlic clove, minced
1 tsp. extra virgin olive oil
4 fresh basil leaves, roughly chopped
Sea salt to taste
*As an Amazon Associate and member of other affiliate programs, I earn from qualifying purchases. Please check out my sponsorship and disclosure policy page for more details
Instructions
FOR THE MEATBALLS
Preheat oven to 400 F and line a baking sheet with parchment paper
Place the meatball ingredients except jalapenos and mozzarella into a food processor and blend until they are well combined
Place cheese cube in the middle of a jalapeno circle
Spoon out meat mixture about the size of a walnut and place jalapeno with cheese in the middle, and then roll into a ball and place on prepared baking sheet. (These can be made a day in advance, just store them in an airtight container and refrigerate. Allow extra cooking time when refrigerated.)
Cook for 35 to 40 minutes or until the meatballs start to brown. Serve hot
FOR THE DIPPING SAUCE
Place all the ingredients in a food processor or blender and blend until it becomes a textured sauce.
Similar Recipes
Gluten-Free Asian Meatballs Recipe
Gluten-Free Asian Meatballs Recipe just like take out – made with lean chicken, water chestnuts, sesame oil, ginger, green onions, tamari and coriander and then smothered in an Asian-inspired tasty sauce.  So much goodness in these gluten-free meatballs. I especially love the crunchy texture of the chestnuts. And no eggs!     The easiest gluten-free […] Read More
Prep Time
15 Minutes
Difficulty
Easy
Cook Time
35 Minutes
Serves
24
Gluten-Free, Egg-Free Italian Meatballs
These tasty gluten-free meatballs are light and tender. A wide selection of spices used in this recipe is what made these meatballs super tasty. Serve them up as an appetizer or add to soups, stews or pasta sauces. Read More
Prep Time
15 Minutes
Difficulty
Easy
Cook Time
25 Minutes
Serves
24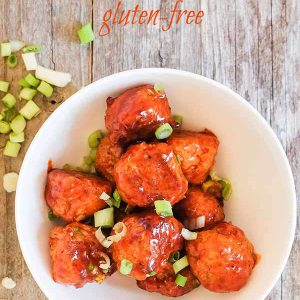 Gluten-Free Firecracker Chicken & Mozzarella Meatballs
Meatballs are always popular appetizers. These gluten-free firecracker chicken and mozzarella meatballs are tender, cheesy spiced up meatballs, making them a big hit at any party! This gluten-free meatball recipe requires very little work and you can make them a day in advance. This is why these firecracker chicken and mozzarella meatballs are so popular […] Read More
Prep Time
10 Minutes
Difficulty
Easy
Cook Time
15 Minutes
Serves
20