Instant Pot Vietnamese Pho Recipe
Published on Apr 30, 2019
by
Kristina Stosek
Prep Time:

10 minutes
Cook Time:

125 minutes
Serves:

6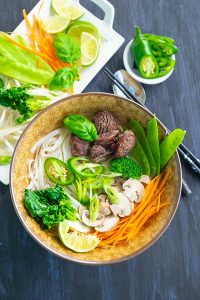 ​This post may contain affiliate links, please see our
privacy policy
for details
When it comes to soups, Vietnamese pho has become very popular. Pho is a type of Vietnamese soup made with a clear, deliciously flavoured beef broth, rice noodles, slices of meat and various toppings.
Instant Pot Vietnamese Pho Recipe Overview
This authentic Vietnamese soup takes anywhere from 6 to 10 hours to cook. By using Instant Pot, you reduce the cooking time and retain more nutrients!
The rich beef broth for the pho takes only 2 hours of cooking time in Instant Pot. And, the exotic Vietnamese flavours are the same as cooking the broth the traditional method.
The spices are coriander, anise, cloves, cinnamon, cardamom, and ginger to get that pho flavour.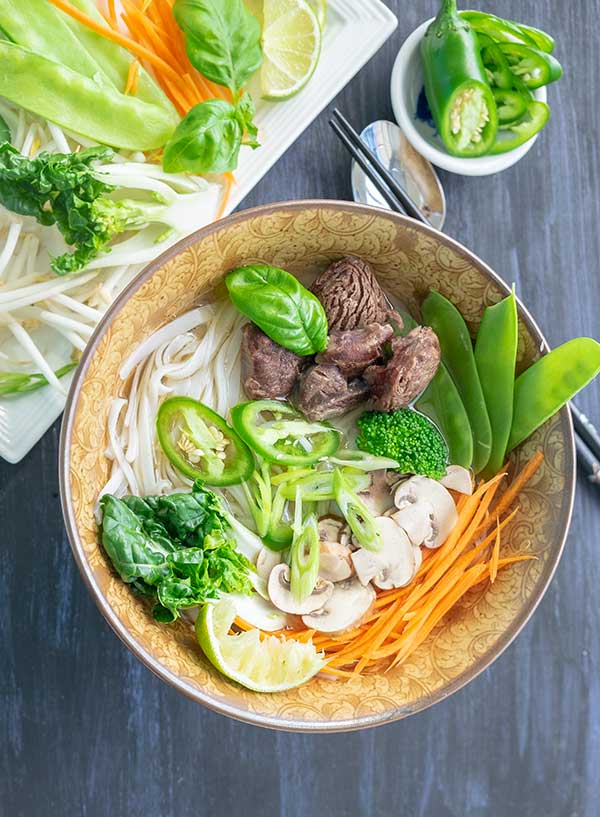 When making pho you can use many different cuts of meat, like brisket, oxtails, or bones, but I chose the beef shank bone. By using the shank bone, there is a lot less fat, and the beef flavour is rich, making it an excellent choice for the beef broth.
Vietnamese pho isn't complete without toppings and garnishes.
The very best Vietnamese pho has a rich flavourful broth served over rice noodles. But it is the toppings such as bean sprouts, snow peas, julienned carrots, bok choy, and mushrooms and garnishes like lime wedges, Thai basil and jalapeno peppers that complete this pho dish.
Because this healthy soup is served over rice noodles, this soup is also naturally gluten-free. Are you looking for gluten-free Vietnamese meals? Check out these gluten-free Vietnamese recipes!
Instant Pot Vietnamese Pho Recipe
Published on Apr 30, 2019
by
Kristina Stosek
Instructions
1.

Set Instant Pot to sauté. Add sesame oil, once heated add onions and cook until the onions start to brown. Stir in ginger, coriander seed, anise seed, cloves, cinnamon sticks, and cardamom pot. Cook for one minute

2.

Add 8 cups of water, shank bones, fish sauce, coconut sugar and salt. Select manual setting and cook on high pressure for 2 hours minutes

3.

Once the soup is done the cooking, use the quick release function and release the steam

4.

Strain the broth through a sieve and save the beef for the soup. For any unwanted fat in the soup use a fat skimmer or chill the broth overnight, then skim the fat off

5.

6.

Prepare the noodles as per package directions, rinse and drain well the noodles but still keeping them hot

7.

Divide noodles into bowls, add the saved meat, and your favourite toppings. Then add the steaming hot broth and serve with garnishes and plenty of lime wedges