Instant Pot Spiced Cuban Pork Ragout
Published on Nov 11, 2019
by
Kristina Stosek
Prep Time:

15 minutes
Cook Time:

80 minutes
Serves:

6 - 8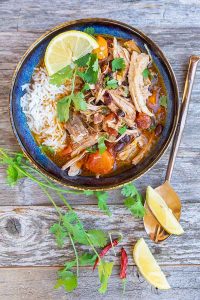 ​This post may contain affiliate links, please see our
privacy policy
for details
Cuban Pork Ragout is for one of those cold winter nights when you crave comfort food. The ragout is made in an instant pot using pork, bacon, black beans, tomatoes, carrots, mushrooms, and peppers. To flavour this delicious pork ragout I used popular Cuban spices such as cumin, oregano, chili pepper, bay leaves, garlic and onions.
The meat is tender enough you can shred it with a fork, and the veggies are firm on the outside and tender on the inside – not overcooked. All of this deliciousness is simmered in the most flavourful lightly spiced sauce making this ragout hearty and satisfying even on the chilliest of nights.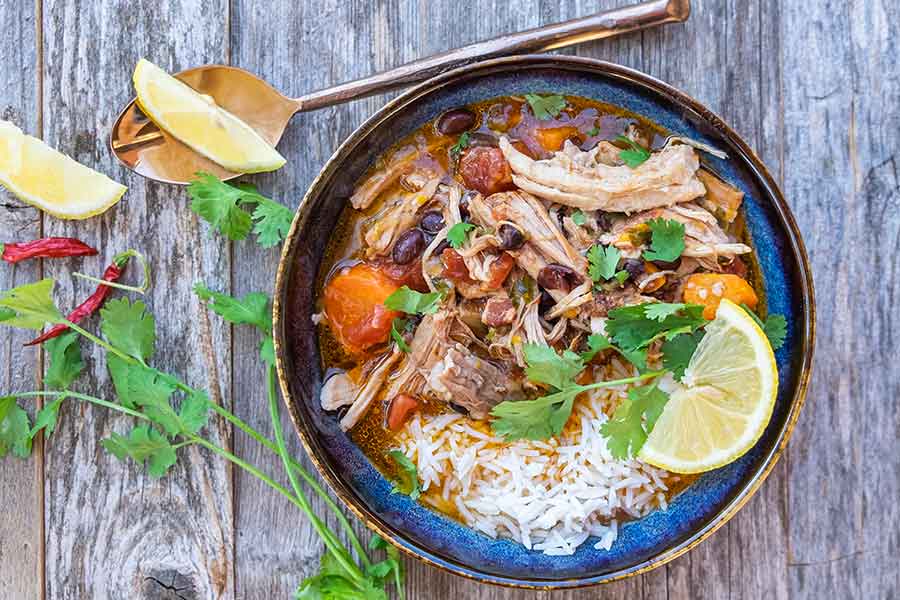 Spiced Cuban Pork Ragout, the details…
For this recipe, you first season the pork with Cuban spices and fresh lemon juice. This gives the meat a lot flavour. Once the meat is marinated in the spices you can start cooking the ragout in the instant pot.
The carrots and mushrooms are added at the very end which allows them to be cooked to perfection. When everything is done cooking you stir in plenty of fresh cilantro and crispy smoky bacon. I can't tell you enough how tasty this pork ragout is.
To serve, add some rice or serve the ragout over gluten-free noodles.
I am super excited about this recipe because it is outstanding. The thing to remember is that ragout tastes even better the next day and the day after. The flavours develop and the sauce thickens.
I love to add gluten-free focaccia bread to soak up the tastiest sauce ever. Hope I got your attention now 🙂 If you try this recipe please let me know how you liked it. I always love to hear from you. You can follow me on Instagram or Facebook for the latest in gluten-free cooking!
Instant Pot Spiced Cuban Pork Ragout
Published on Nov 11, 2019
by
Kristina Stosek
Instructions
1.

Trim fat off the pork and cut it in half

2.

First make a rub by mixing chili powder, cumin, oregano, black pepper, 1 teaspoon of salt, lemon juice, lemon zest and olive oil. Rub the pork all over with seasoning and marinate for 1 hour at room temperature, or refrigerate covered for up to 8 hours

3.

Set Instant Pot to sauté. Add the bacon and cook until crisp, about 5 minutes. Remove the bacon and set aside

4.

Leaving the instant pot on sauté, add the pork and brown on all sides. About 2 minutes per side. You may have to do this one at a time, depending on the size of your instant pot

5.

Remove the pork and place on a plate. Leaving the pot on sauté add onions, garlic and bell pepper. Cook for 5 minutes, stirring often. If need to, add a splash of olive oil

6.

Return the pork to the pot. Add black beans, tomatoes, water, chili peppers, maple syrup, bay leaves and one teaspoon of salt. Cover and cook on high pressure for one hour

7.

Once done cooking use the quick release function to release the steam. Add the carrots and mushrooms. Cover and cook on high pressure for 2 more minutes. If the ragout is too thick add a little water

8.

Discard the bay leaves and using two forks shred the meat. Taste and, if needed, add salt. Stir in fresh cilantro and reserved bacon