Gluten Free Spicy Soba Noodles And Broccoli Salad
Prep Time
10 Minutes
Difficulty
Easy
Cook Time
5 Minutes
Serves
4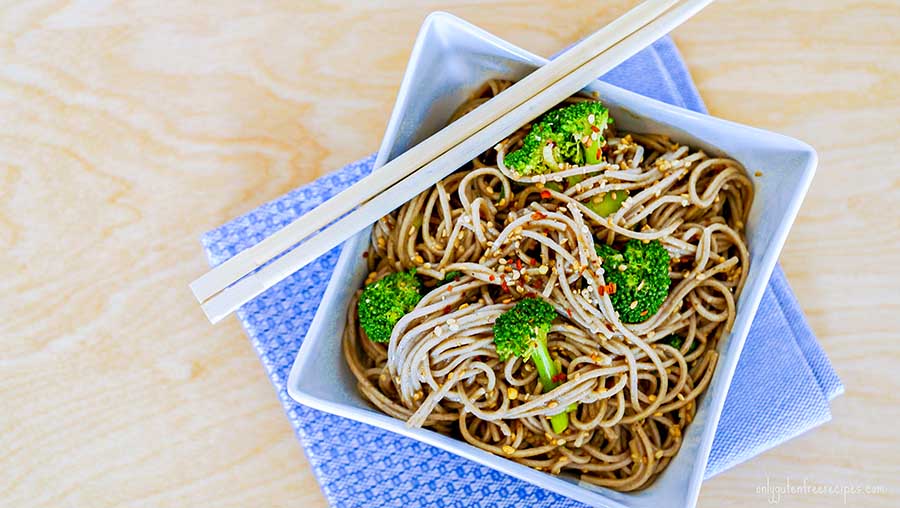 Average Rating: 5 | Rated By: 3 users
Gluten free spicy soba noodles and broccoli salad is light, refreshing and packed with buckwheat noodles.This vegan Japanese inspired noodle salad is all about comfort food with health benefits.
 Soba noodles are low in calories, high in fiber and protein, and are made from gluten free buckwheat flour. When following a vegan diet this gluten free spicy soba noodle salad makes a nice change to typical green salads. This spicy soba noodles and broccoli salad can be served warm or cold.
If you wish, you can make the noodle salad into a vegan meal or serve as a side with your favourite protein.
Ingredients
½ cup sesame seeds
1 X (9.5 oz.) GF soba noodles (buckwheat)
1 lb. broccoli, break into small florets
2 Tbsp. fresh lemon juice
3 Tbsp. GF tamari sauce
1 Tbsp. sesame oil
1 Tbsp. pure maple syrup
1 tsp. GF crushed hot chili peppers
1 bunch green onions, finely sliced
*As an Amazon Associate and member of other affiliate programs, I earn from qualifying purchases. Please check out my sponsorship and disclosure policy page for more details
Instructions
Toast sesame seeds in a dry pan over medium heat until golden, be careful they toast very quickly, about a minute. Set aside
Bring a large pot of water to boil, add noodles and cook for 4 minutes. Add broccoli and cook for one more minute.
Immediately drain and plunge into ice cold water to cool. Drain
In a large bowl mix lemon juice, tamari, sesame oil, maple syrup and hot chili peppers. Add noodles, green onions and broccoli and toss until the noodles are well coated. Sprinkle with toasted sesame seeds and toss one more time
Set noodles aside for 30 minutes for the flavours to develop. Toss just before serving. Serve warm or cold
Similar Recipes
Gluten-Free Vietnamese Rice Noodle Salad
Gluten-Free Vietnamese Rice Noodle Salad is for one of those days when you need a refreshing salad low in calories and fat. The salad is made with gluten-free rice vermicelli noodles, cucumber, carrots, red bell pepper and plenty of fresh mint. The Vietnamese dressing that flavours the salad is made simply with fresh lime juice, […] Read More
Prep Time
15 Minutes
Difficulty
Easy
Cook Time
5 Minutes
Serves
6
Roasted Veggies And Sweet Miso Noodle Salad
When it comes to a tasty, healthy salad, it is all about the dressing and balance, not too much of one thing. In the summer months particularly, this Japanese inspired salad is refreshing because it is served cold. The sweet miso adds tremendous flavour to this comforting salad that is enjoyed for its simplicity. Serve […] Read More
Prep Time
15 Minutes
Difficulty
Easy
Cook Time
15 Minutes
Serves
2-4
Spinach and Carrot Soba Noodle Salad
Healthy and delicious Spinach and Carrot Soba Noodle Salad – This refreshing noodle salad is delicately flavoured with sesame oil, tamari sauce, fresh lime juice, ginger, garlic and is lightly sweetened with maple syrup. The carrots and spinach add freshness and beautiful textures to this hearty and satisfying dish. ♥ What is soba? In Japan, […] Read More
Prep Time
10 Minutes
Difficulty
Easy
Cook Time
10 Minutes
Serves
4