Gluten-Free Triple Berry Muffin
Prep Time
15 Minutes
Difficulty
Easy
Cook Time
35 Minutes
Serves
12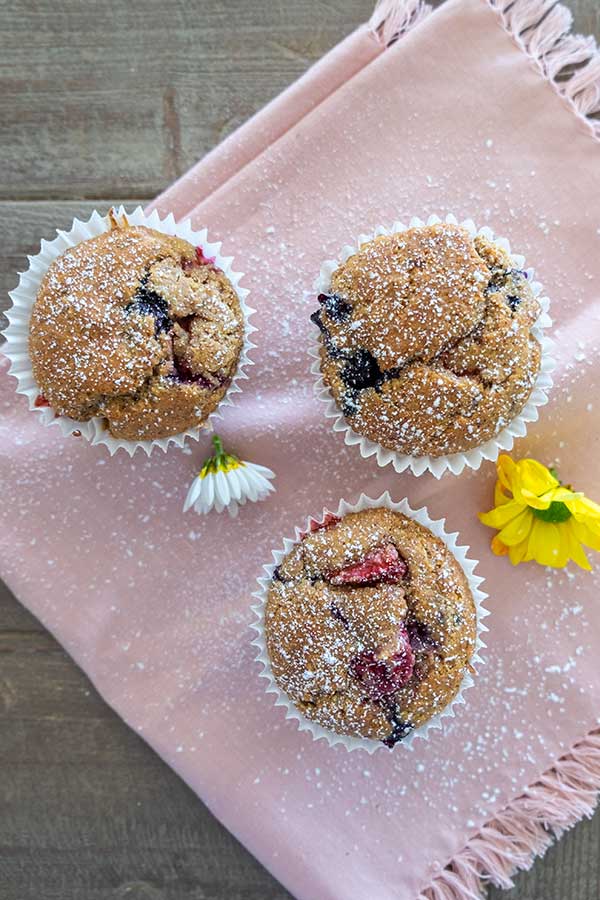 Be the first to rate this recipe.
These Gluten-Free Tripple Berry Muffins are more than just basic muffins – extra soft, packed with fresh berries and unbelievably delicious! Nothing beats like baking with fresh fruit.
♥

Why are berry muffins extra special?

Berries are probably one of the best fruits to use in gluten-free muffins. They make them moist, add sweetness and flavour. By using berries you can cut back on sweeteners, thus making gluten-free recipes healthier. The more berries the better I say. There are many varieties of berries we can use in baking. Blueberries are the most popular, however, strawberries, raspberries, cranberries, raisins, goji berries, acai berries, blackberries and grapes are all good options. One of the reasons berries are so good in muffins is because of their size. They are small, juicy and add a lot of flavours. But even more importantly berries are packed with powerful antioxidants, vitamins and fiber.

What I love about this gluten-free muffin, it is exceptionally moist and has a variety of flavours because it is made with loads of seasonal fruit. This is my favourite gluten-free muffin! Healthy muffin such as this one, makes a good choice for breakfast on the go or a sweet snack later in the day. I promise you these gluten-free muffins won't disappoint 🙂

For recipes with berries check out these gluten-free breakfast recipes
Ingredients
1 cup almond flour
1 Tbsp. GF aluminum free baking powder
1/4 tsp. Himalayan salt
1/2 cup unsalted butter, at room temperature
1/2 cup coconut sugar + 1 Tbsp. or desired sweetener
3/4 cup milk
3 large eggs, at room temperature
1 tsp. Pure vanilla extract
3 cups of 3 kinds of mixed berries (blueberries, raspberries, strawberries, blackberries) if using strawberries cut them into smaller pieces. Do not use frozen berries.
1 tsp. GF ground cinnamon
*As an Amazon Associate and member of other affiliate programs, I earn from qualifying purchases. Please check out my sponsorship and disclosure policy page for more details
Instructions
In a large bowl, combine flours, baking powder, xanthan gum and salt
In a separate bowl cream together butter and 1/2 cup of coconut sugar. Add milk, eggs and vanilla and mix together
Add wet mixture to dry ingredients and stir to combine
Toss berries with cinnamon and 1 tablespoon of coconut sugar and gently stir into the batter
Using a large spoon evenly fill muffin cups with batter. Bake for 35 minutes
Similar Recipes
Best Gluten Free Blueberry Apple Muffins
This plant-based recipe is the Best Gluten-Free Blueberry Apple Muffin because it checks all the boxes. The muffin is healthy, plant-based, made with heart-healthy olive oil and superfoods such as blueberries and apples. How does the blueberry apple muffin taste? This gluten-free muffin has a tender, moist crumb and bursts with blueberries, apples, and a […] Read More
Prep Time
15 Minutes
Difficulty
Easy
Cook Time
35 Minutes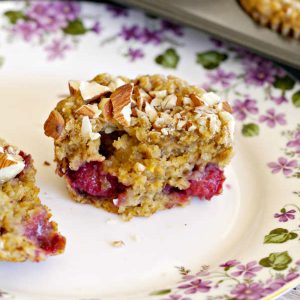 Gluten Free Oatmeal Raspberry Muffins
Gluten Free Oatmeal Raspberry Muffin… is possibly my all-time favourite muffin recipe. There is no added fat, refined sugar, dairy or eggs. The muffin is moist with a zesty flavour and subtle texture. Why serve plain oatmeal for breakfast when you can have this wholesome gluten-free oatmeal raspberry muffin. The healthy muffin is packed with […] Read More
Prep Time
30 Minutes
Difficulty
Easy
Cook Time
25 - 30 Minutes
Serves
12