Gluten Free Sweet Potato Oatmeal Casserole
Prep Time
10 Minutes
Difficulty
Easy
Cook Time
60 Minutes
Serves
6
Be the first to rate this recipe.
This is a fun twist on classic breakfast oatmeal. This brilliant recipe allows you to make a superior gluten free breakfast quite simply. I consider this to be 'the oatmeal of all oatmeals'. Don't be tempted to skip the sweet potato, it really makes a difference. The crunchy pecan topping ties everything together. The sweet potato oatmeal casserole is excellent on its own or with fresh berries. Serve warm or cold both are delicious and super healthy!
Ingredients
1 small sweet potato (should make 1 ½ cups cooked mashed)
2 cups milk of choice
½ cup certified gluten free oats
½ cup sulfite free raisins
2 Tbsp. chia seeds
2 Tbsp. agave nectar or pure maple syrup
1 Tbsp. fresh lemon juice
1 tsp. GF ground cinnamon
1 tsp. grated lemon zest
¼ tsp. GF ground nutmeg
¼ tsp. sea salt
PECAN TOPPING
½ cup roughly chopped pecans
3 Tbsp. all purpose gluten free flour blend
2 Tbsp. butter or coconut oil, melted
2 Tbsp. turbinado raw sugar
*As an Amazon Associate and member of other affiliate programs, I earn from qualifying purchases. Please check out my sponsorship and disclosure policy page for more details
Instructions
Preheat oven to 400 F
Place sweet potato in the oven and bake for 35 minutes or until tender. Once cooked cut in half and scoop out the flesh. Set aside
Add milk, oats, raisins, chia seeds, agave, lemon juice, cinnamon, lemon zest, nutmeg and salt into a medium size pot. Cook over medium heat while stirring for 8 minutes. Add sweet potato and mix well
Spray a 4-cup casserole dish with non-stick cooking oil and fill with oatmeal mix Combine pecans, flour, coconut oil and raw sugar and spread over the oatmeal. Reduce the heat to 350 F and bake for 25 minutes. Set oven to broil and broil for about a minute. Watch so that the topping does not burn.
Serve warm or cold with a splash of milk or berries if you wish
Similar Recipes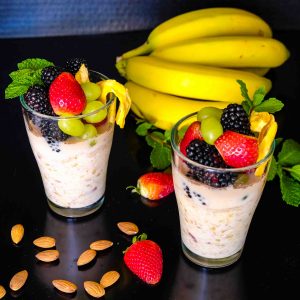 Banana Almond Overnight Oats Recipe
Here is an easy, delicious gluten free breakfast recipe for busy mornings. For those that follow raw food diet, this is an ideal breakfast. This banana almond overnight oats recipe is packed with healthy nutrients, protein and fiber. In the morning all you have to do is add your favourite toppings. This delicious breakfast will […] Read More
Prep Time
5 Minutes
Difficulty
Beginner
Serves
2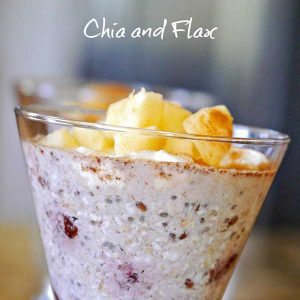 Overnight Oats with Chia and Flax
Starting with Overnight Oats with Chia and Flax is a healthy, delicious way to begin your day. Morning is a busy time for most of us. Having a power-packed healthy gluten-free breakfast ready when you are, is always welcome. This creamy and delicious overnight oatmeal breakfast is packed with omega-3's, protein, iron, vitamin C, fiber […] Read More
Prep Time
5 Minutes
Difficulty
Easy
Serves
2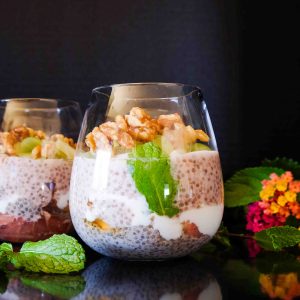 Layered Chia Pudding with Maple Glazed Walnuts
When it comes to chia pudding, it is so versatile. In this chia pudding, I used grapefruit, yogurt, grapes and honeydew melon keeping the pudding cool and refreshing. The maple glazed walnuts add a nice crunchy texture to the lightly sweetened pudding. If you feel creative choose your layers and toppings, it is so much […] Read More
Prep Time
10 Minutes
Difficulty
Easy
Cook Time
3 Minutes
Serves
4