Gluten-Free Stromboli Bread
Published on Feb 06, 2021
by
Kristina Stosek
Prep Time:

20 + minutes
Cook Time:

30 minutes
Serves:

8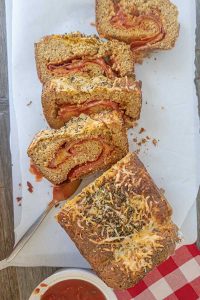 ​This post may contain affiliate links, please see our
privacy policy
for details
This gluten-free stromboli bread is filled with cheese, pepperoni, Italian salami and pizza sauce. And the topping is made with extra cheese and herbs. Think of it as rolled pizza and made into a baked sandwich. This Stromboli bread is even more delicious when dipped in extra pizza sauce.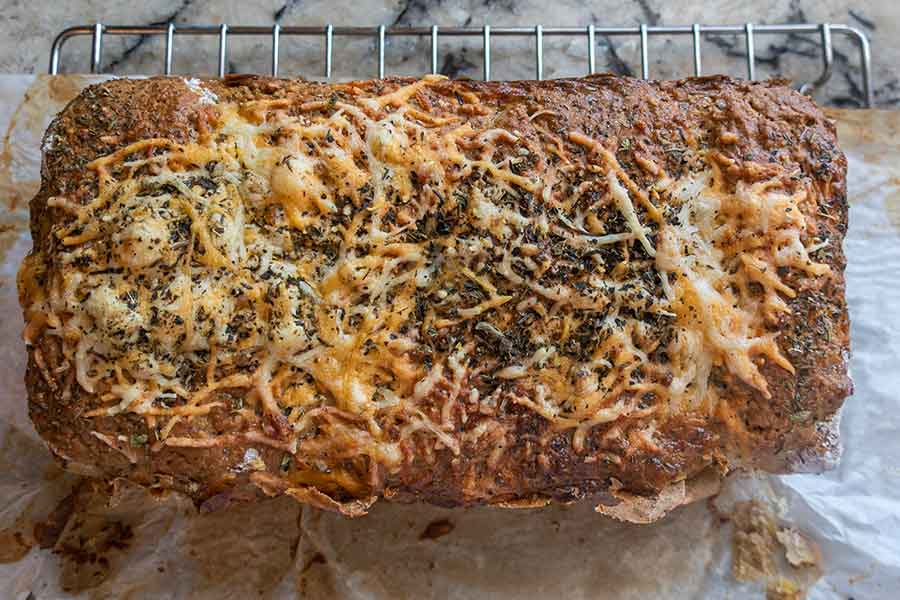 What is stromboli?
Stromboli is like a pizza that is rolled like a cinnamon roll, baked and then sliced. You could use either pizza dough or bread dough to make stromboli. The filling can consist of various cold cuts, low moisture mozzarella cheese, pizza sauce or sliced vegetables. You can pretty much use the same ingredients that you would use on a pizza.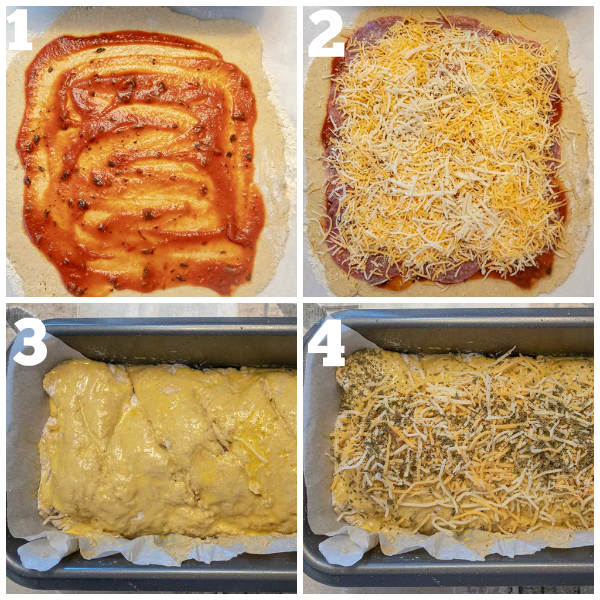 How to make stromboli?
To start, you make a yeast dough, the same as if you would make a pizza or Italian bread. The dough is rolled into a rectangle and then layered with pizza sauce, meat, sometimes veggies and cheese. Rool it into a cinnamon style roll, top with more cheese and herbs and bake. I recommend using a low moisture mozzarella so that the inside of the stromboli doesn't get too soggy and bakes thoroughly.
.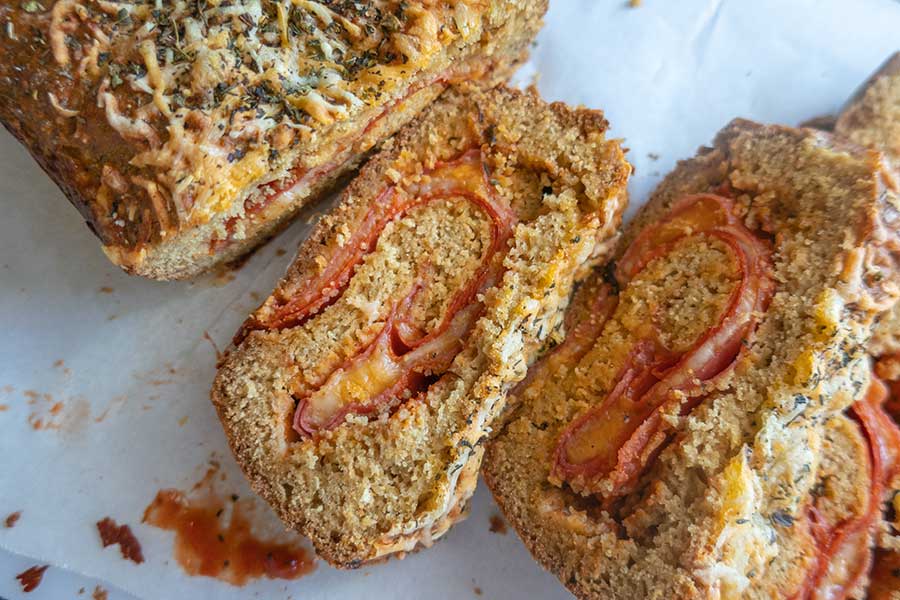 I wanted to make this gluten-free stromboli recipe into a bread loaf, so I used a loaf pan. The pan gave me height, which is what I was looking for. However, typically you would place the rolled stromboli on a baking tray keeping it flatter. So you can make it either way.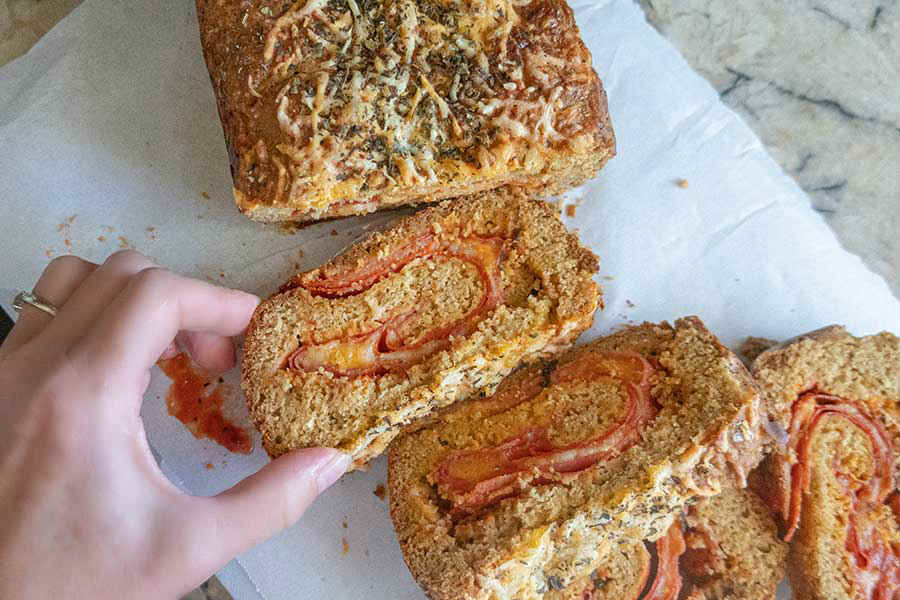 Who invented this baked Italian sandwich?
Although the pizza like baked sandwich sounds Italian, it was founded in 1944 by Nazzereno Romano, who owned an Italian restaurant in Delaware county. So stromboli originated in the USA and was founded by an Italian.
When I decided to develop a gluten-free version of stromboli, I knew it had to be simple enough for anyone to make. So, I created a simple pizza/bread dough recipe that is easy to roll out using only a few ingredients. This gluten-free dough is super easy.
And remember, when you measure the dry ingredients, always measure by gently spooning the flour into a cup, then sweeping off any excess. I can't stress enough how important this step is for the best results. This method goes for all gluten-free baking.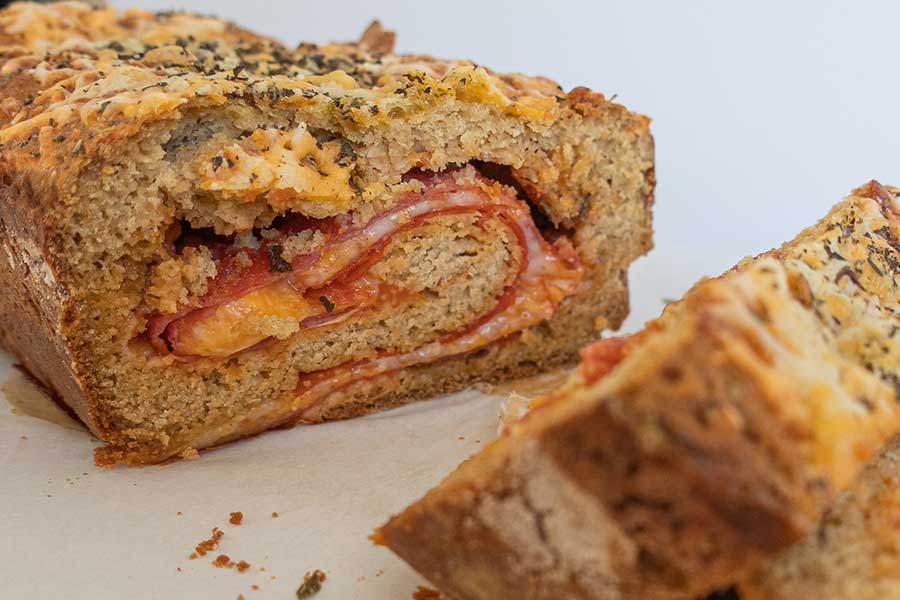 Stromboli is great because it can replace sandwiches and give you the feeling of eating a pizza. And, who doesn't like a pizza? Adding a fresh homemade pizza sauce for dipping makes this gluten-free Italian sandwich insanely good!
Because stromboli is best when served fresh and warm, I recommend reheating leftovers. Loosely wrap them in foil paper and pop them into a preheated oven at 375 F for about 8 – 10 minutes to get that freshly baked tasting stromboli and warm gooey cheese.
Next time you think of baking gluten-free bread to make sandwiches or a pizza, try this gluten-free stromboli bread recipe. To enjoy stromboli bread, all you have to do is slice it. Enjoy!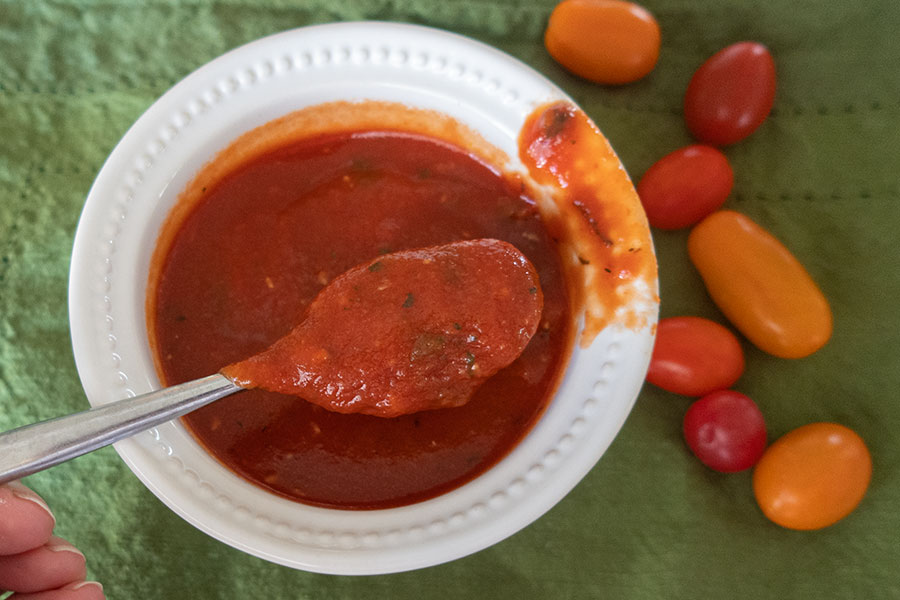 Here is my version of the easiest homemade gluten-free pizza sauce
1 Tbsp. Extra virgin olive oil

2 garlic cloves, minced or grated

2 tsp. GF dried oregano

1 tsp. GF dried basil

1/2 tsp. GF dried thyme

Pinch of cayenne pepper if you wish

13.5 oz canned tomato sauce

1/4 cup grated parmesan cheese

Sea salt and pepper to taste
Saute garlic in olive oil over medium-low heat until fragrant. Stir in oregano, basil, thyme and cayenne pepper if using. Add tomato sauce, bring to a simmer and cook for 5 minutes. Remove from the heat, stir in Parmesan cheese, and season with salt and pepper. Cool before spreading over the dough.
For the latest recipes and tips, please like us on Facebook or follow us on Pinterest and Instagram.
Gluten-Free Stromboli Bread
Published on Feb 06, 2021
by
Kristina Stosek
Instructions
1.

2.

In a large bowl, mix flaxseed meal mixture with sweetener, olive oil, egg, egg white, apple cider vinegar and water

3.

In a separate bowl, whisk together flour, tapioca/arrowroot, yeast, baking soda and salt. Add to wet mixture and mix until you form a ball of dough. The dough should be sticky. Transfer the dough to a lightly greased bowl and loosely cover with plastic wrap. let rise for 30 minutes

4.

Turn dough out onto a floured piece of parchment paper and roll out into about 3/4-inch thick rectangle, using flour as needed so the dough doesn't stick

5.

Spread pizza sauce over dough until about 1" away from edges. Top with sliced cold cuts and then sprinkle with 1 3/4 cups of cheese

6.

Roll up the dough using the parchment paper - cinnamon roll style and transfer with the parchment paper seam down to a loaf pan for bread-like shape or a baking sheet for a flatter bread. If you are using a loaf pan, which is what I used, the width of the rectangle should be 1-inch wider than the width of the loaf pan

7.

Brush with the egg yolk, cut small slats in the top, and top with remaining cheese and a sprinkle of basil, oregano or fresh parsley. Cover with a towel and let rise in a warm place for 20 minutes longer

8.

Bake in a preheated oven at 400 F for 25 - 30 minutes until golden brown. Serve warm with extra pizza sauce