Gluten-Free Sesame Ciabatta Buns {Dairy-Free}
Published on Feb 13, 2019
by
Kristina Stosek
Prep Time:

10 minutes
Cook Time:

50 minutes
Serves:

6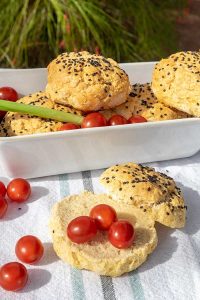 ​This post may contain affiliate links, please see our
privacy policy
for details
A Gluten-Free Sesame Ciabatta Buns recipe we shouldn't be without. The recipe has only eight ingredients -> all-purpose gluten-free flour blend, yeast, sesame seeds, an egg, olive oil, apple cider vinegar, coconut sugar and salt. Honestly, these ciabatta buns are so easy to make.
♥

Ways to serve ciabatta buns?

There are many ways to serve gluten-free sesame ciabatta buns. The buns have a perfect texture, and they are moist but firm enough to use for burgers. Yes, you can pile on many toppings, and the ciabatta buns will not fall apart. These stunning gluten-free sesame ciabatta buns also toast well. Rub them with some oil or melted butter and grill them on a barbecue…yum! Serve them with soups and stews or your favourite gluten-free pasta dishes.
♥

Gluten-Free Ciabatta Garlic Buns Recipe.

Now we are talking 🙂 I love garlic bread, who doesn't? Garlic bread can be served with pasta, soups and stews or just as a snack. To make the garlic bread, combine extra virgin olive oil, melted butter, chopped fresh parsley, minced garlic salt and pepper. Then, brush the mixture on sliced ciabatta buns and broil until crispy. Please keep an eye on the ciabatta buns when they are in the oven, they can burn very quickly.

My favourite way to serve ciabatta garlic bun is as an Italian grilled sandwich. First, you make the garlic bread. Then, fill it with gluten-free ham, tomato slices and good melting cheese. Place the sandwich in the oven at 400 F and bake until the cheese has melted. OMG, the Italian grilled ciabatta garlic sandwiches are soo good! You can serve them for lunch or a light dinner. I promise you, the melted cheese combined with ham, tomatoes and garlic ciabatta buns will be a big hit 🙂

So as you can see, a simple gluten-free sesame ciabatta bun makes great burger buns, sandwiches or delicious garlic bread. Gluten-free ciabatta sesame buns are always a huge hit at barbecues and picnics. Enjoy!
Gluten-Free Sesame Ciabatta Buns {Dairy-Free}
Published on Feb 13, 2019
by
Kristina Stosek
Instructions
1.

Mix water, sweetener and yeast until dissolved. Rest for 10 minutes

2.

Combine flour and salt. Add yeast mixture, egg, olive oil and apple cider vinegar and mix with an electric mixer on medium speed until combined. About one minute

3.

Place dough in a lightly greased bowl and cover with a damp towel. Place in a draft-free place for one hour allowing for the bread to rise to about 1 1/2 time it's size

4.

5.

Form the dough into 6 balls and place on a baking sheet lined with parchment paper. Using your hands lightly flatten the balls. Brush with egg wash and sprinkle with sesame seeds. Bake for 50 minutes until golden brown