Gluten-Free Pumpkin Gnocchi With Sage & Onion Parmesan Sauce
Published on Oct 13, 2019
by
Kristina Stosek
Prep Time:

20 minutes
Cook Time:

20 minutes
Serves:

6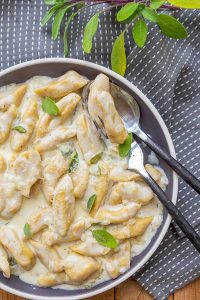 ​This post may contain affiliate links, please see our
privacy policy
for details
Pillowy Gluten-Free Pumpkin Gnocchi made with the most delicious sage and onion parmesan sauce. In this gnocchi recipe, the flavours come from pumpkin and buttermilk. The delicately flavoured gnocchi is then finished with a creamy sage and onion parmesan sauce making this Italian dish outstanding.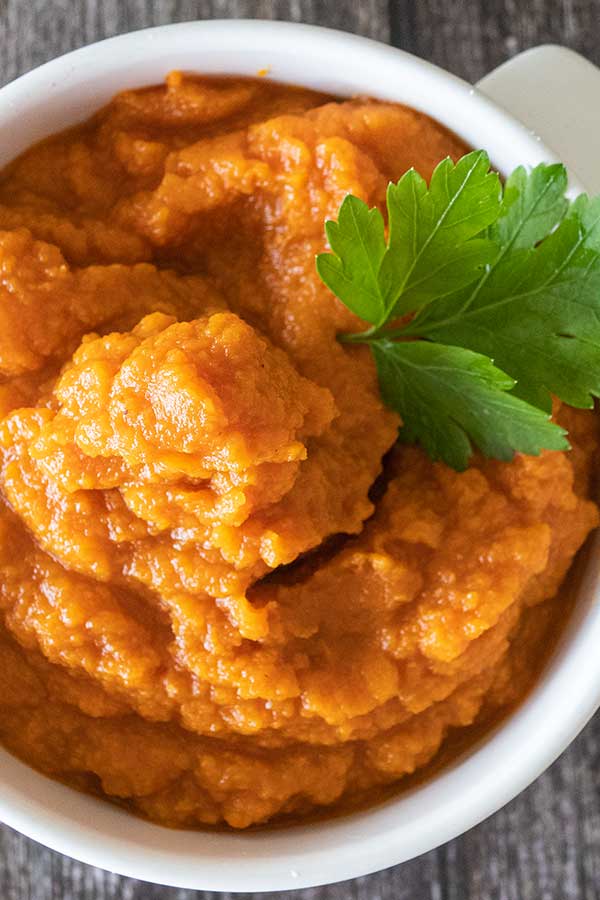 What is pumpkin gnocchi?
Gnocchi is a small bite-size dumpling that is speculated to come from Italy. The traditional pasta-like dumpling is made mainly of potatoes. So the question people ask is, is it pasta? Not really, pasta is made with flour, eggs and water. The gnocchi is typically made with flour, mashed potatoes and eggs.
In this recipe the pumpkin made the gnocchi even more delicious.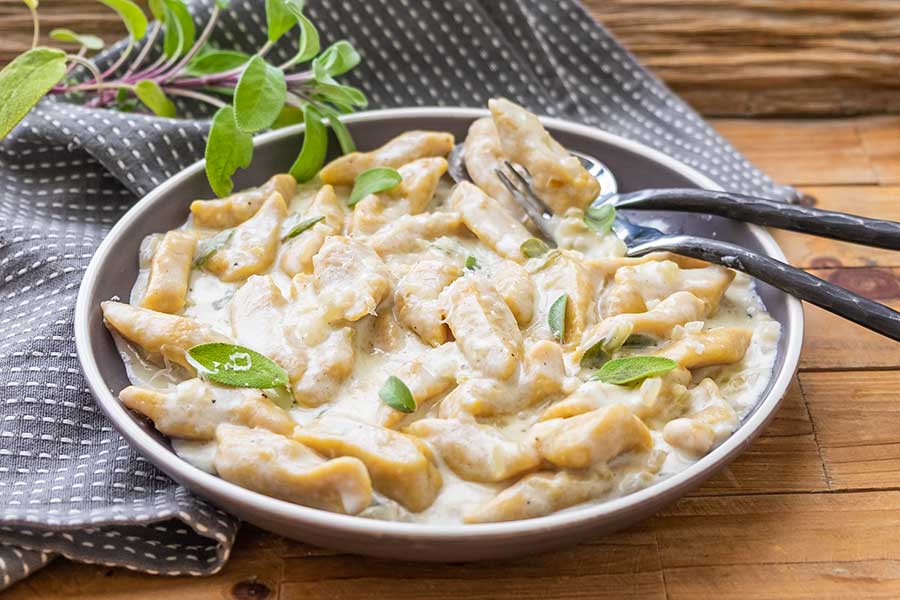 For this gluten-free pumpkin gnocchi recipe, I used potato flour, so there is no need to cook the potatoes and then mash them. Also, I added pumpkin puree, buttermilk and a pinch of nutmeg. The small dumplings are outstanding. But it is the sauce that ties everything together.
What I love about making gnocchi, they are super easy to make, and you can add them to various sauces. You can also add textures and flavours like pumpkin, spinach, cheese, even bacon to make them extra tasty.
Because I wanted to keep the fall flavours, I added pumpkin and healthy buttermilk, making them extra tasty.
sage and onion parmesan sauce…
To make the sauce is simple 🙂 First, you sauté the onions with fresh sage, add milk, parmesan cheese, spices, and cook until the sauce thickens. Very simple creamy sauce recipe.
Once the pumpkin gnocchi is cooked, add them to the sauce and stir, that's it! For serving, I add extra parmesan cheese and fresh sage. Gnocchi makes for a wonderful starter, a side, or the main course enjoy! You will find more gluten-free pumpkin recipes here->
Gluten-Free Pumpkin Gnocchi With Sage & Onion Parmesan Sauce
Published on Oct 13, 2019
by
Kristina Stosek
Instructions
1.

Whisk together pumpkin, buttermilk and egg

2.

In a separate bowl, mix flours, salt, nutmeg and black pepper. Add to pumpkin mixture and stir until just combined. Form the dough into a ball

3.

Place the dough on a lightly floured working surface and cut into 4 equal pieces. Roll each piece into a rope about 1-inch thick. Cut into bite size pieces

4.

Bring a large pot of salted water to a boil. Boil the gnocchi for 10 minutes, then remove the gnocchi using a slotted spoon onto a large plate. You may have to do this in 2 - 3 batches, depending on how large the pot is. Do not overcrowd the pot with gnocchi

5.

While the gnocchi is cooking, make the sauce. Using a large skillet, sauté the onions and sage in butter for 5 minutes, or until the onions start to brown. Whisk the milk with arrowroot/tapioca and parmesan cheese. Add to the onion mix and season with salt and pepper. Cook until the sauce starts to thicken, about 3 - 4 minutes

6.

Add cooked gnocchi into the sauce and gently toss to combine. Serve with extra parmesan cheese