Gluten-Free Philly Cheesesteak Casserole
Published on Sep 24, 2020
by
Kristina Stosek
Prep Time:

15 minutes
Cook Time:

45 minutes
Serves:

4-6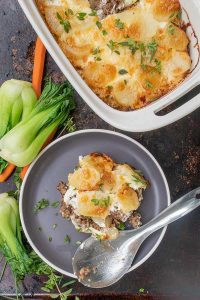 ​This post may contain affiliate links, please see our
privacy policy
for details
This Gluten-Free Philly Cheese Steak Casserole is a twist on the classic Philly cheesesteak sandwich. It's the coziest fall casserole. Beefy, goey with cheese, layers of potatoes, flavoured with herbs and spices. All baked in a casserole dish ending with a cheesy bubbly topping.
This beef casserole dish screams delicious, making it a great fall recipe to serve any night of the week.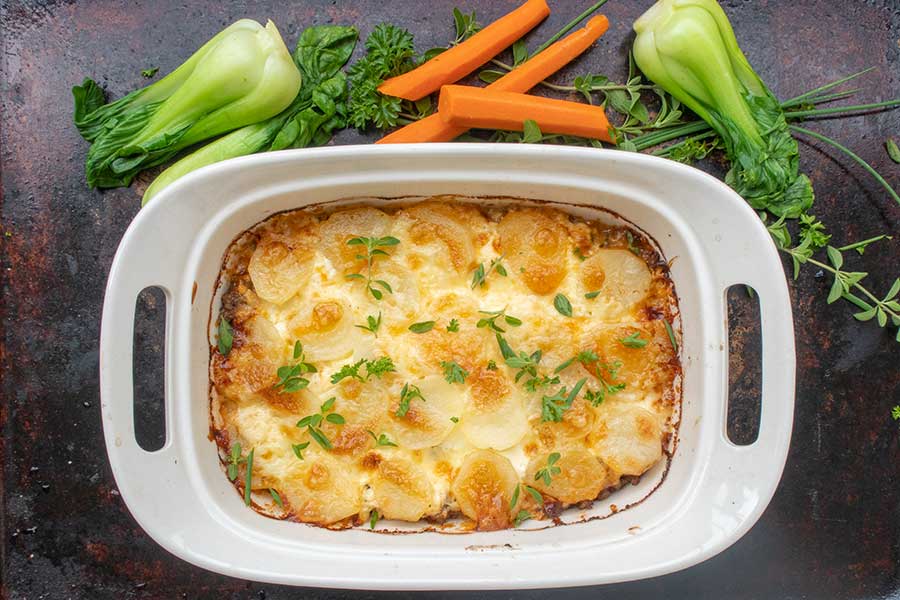 What is a Philly cheesesteak sandwich?
The authentic Philly cheesesteak sandwich is made with thin slices of beef and melted provolone cheese wrapped in bread. I wanted to simplify the recipe, so I made it into a casserole with ground beef.
I have replaced the bread with thin slices of potatoes and baked everything in a deep casserole dish. Every bite of this gluten-free Philly cheesesteak casserole is filled with rich cheesy beef and slices of tender potatoes flavoured with the beef juices.
Philly cheesesteak casserole is all about the topping
The potato topping is crispy and cheesy, making this casserole dish so good!
The classic cheese to use in the Philly cheesesteak dish is provolone cheese. Provolone is a soft Italian mildly flavoured melting cheese. The cheese should not overpower the meat, but rather compliment the entire dish with creaminess.
I have also added Philadelphia cheese to the meat mixture, making everything rich and creamy.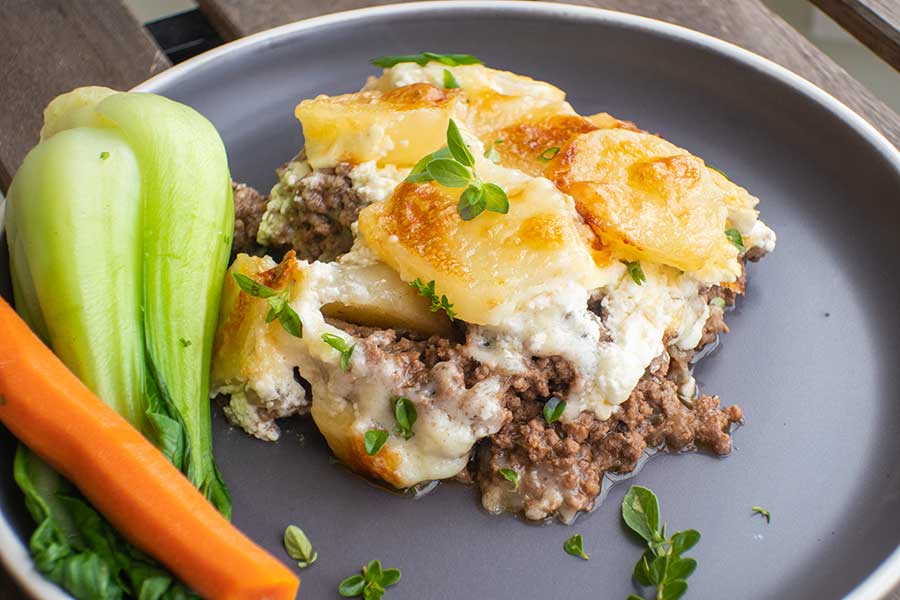 Philly cheesesteak recipe overview!
To make this Philly cheesesteak casserole, first you parboil the potatoes. Since the potatoes are thinly sliced, this takes only about 3 – 4 minutes.
For the beef mixture, first, you saute the onions in some olive oil, then add the garlic, beef, bell pepper if using and spices. Briefly cook the ground beef, then add beef broth and simmer for five minutes. Now you stir in the Philadelphia cheese.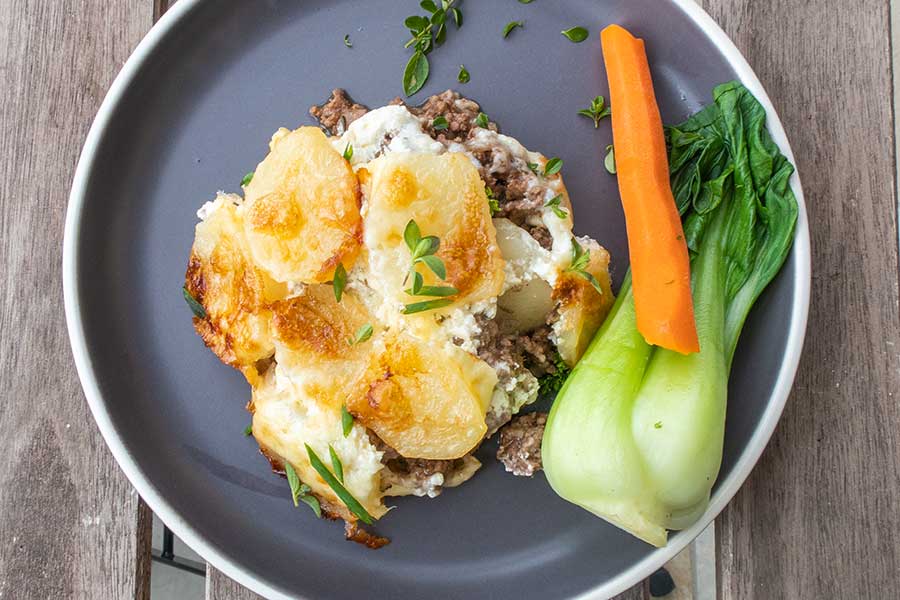 How to layer the Philly cheesesteak casserole?
You are ready to layer the casserole. Starting with a few potato slices, then the beef mixture, few slices of provolone cheese, another layer of potatoes, and finish with provolone cheese.
Pop it in the oven covered and bake for about twenty minutes. Remove the cover (I used foil) bake a little longer until the cheese is bubbling and turns a golden brown colour.
Allow the Philly cheesesteak casserole to rest for about ten minutes, then serve with steamed veggies or a salad.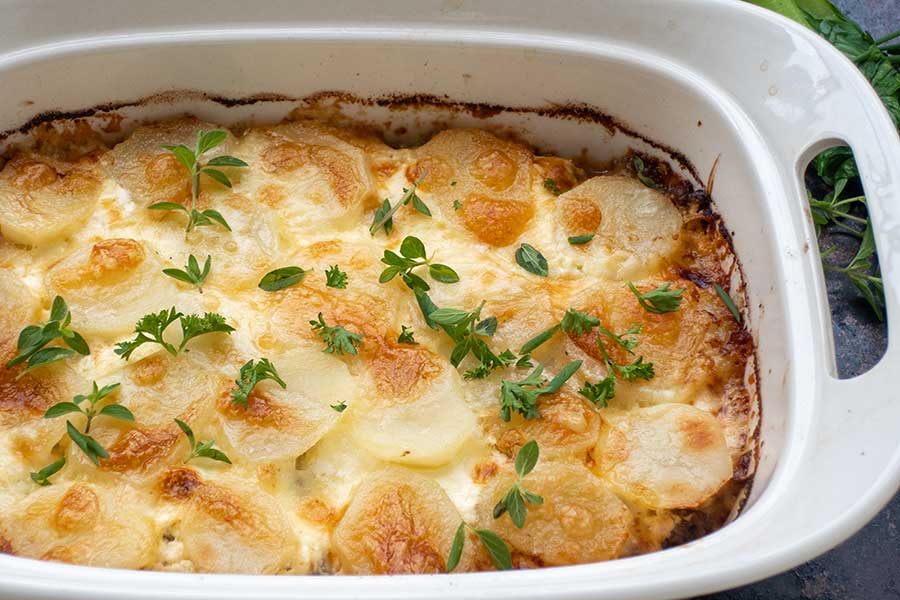 There are many debates about what an authentic Philly cheesesteak sandwich should be. This recipe is my gluten-free casserole version.
The Philly cheesesteak casserole is hearty, comforting, and a great dish to serve for your next gathering with family or friends… Enjoy!
Gluten-Free Philly Cheesesteak Casserole
Published on Sep 24, 2020
by
Kristina Stosek
Instructions
1.

Parboil the potatoes slices in salted water until almost cooked, but still firm - about 3 - 4 minutes after the water starts to boil. Drain and set aside

2.

While the potatoes are cooking, heat olive oil in a large saucepan, add the onions and cook until they start to soften about 3 minutes. Stir in garlic, ground beef, bell pepper if using and spices. Cook until the meat is no longer pink, stirring as needed. Add beef stock and cook for 5 more minutes.

3.

Discard bay leaf and stir in cream cheese until melted.

4.

Meanwhile, preheat the oven to 350 F

5.

Coat an 8 cup baking dish (I used 11 X 7-inch) with cooking spray. Place half of the potatoes in the dish; layer with meat mixture, half the provolone cheese, remaining potatoes and top with remaining provolone cheese

6.

Bake, covered 20 minutes. Uncover; bake until bubbly and golden brown, 10-15 minutes longer.

7.

Rest 10 - 15 minutes before serving