Gluten-Free Miso Ramen with Sesame Mushrooms
Published on Jul 28, 2020
by
Kristina Stosek
Prep Time:

10 minutes
Cook Time:

10 minutes
Serves:

4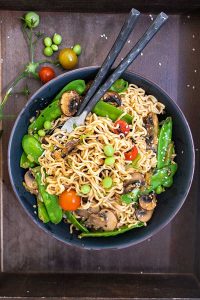 ​This post may contain affiliate links, please see our
privacy policy
for details
A simple noodle dish… Gluten-Free Miso Ramen with Sesame Mushrooms recipe. This vegan gluten-free noodle dish has brown rice ramen noodles, roasted sesame mushrooms and tender snow peas tossed with buttery miso, ginger and garlic sauce.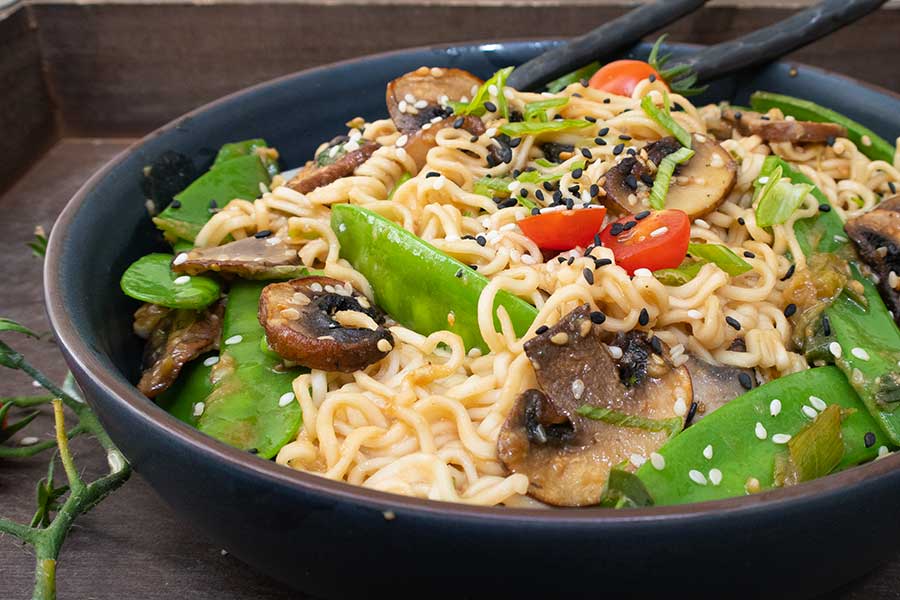 Not only that this gluten-free ramen dish is so incredibly flavourful, but the noodles are made only with a handful of ingredients. The best part, the ramen is ready to eat under 20 minutes. A comforting weeknight noodle dinner in no time!
This ramen dish is probably one of the most effortless noodle recipes, and I promise you the flavours are anything but simple. The Asian inspired dish is for one of those times when you are craving comfort food and still want to keep it on a light note.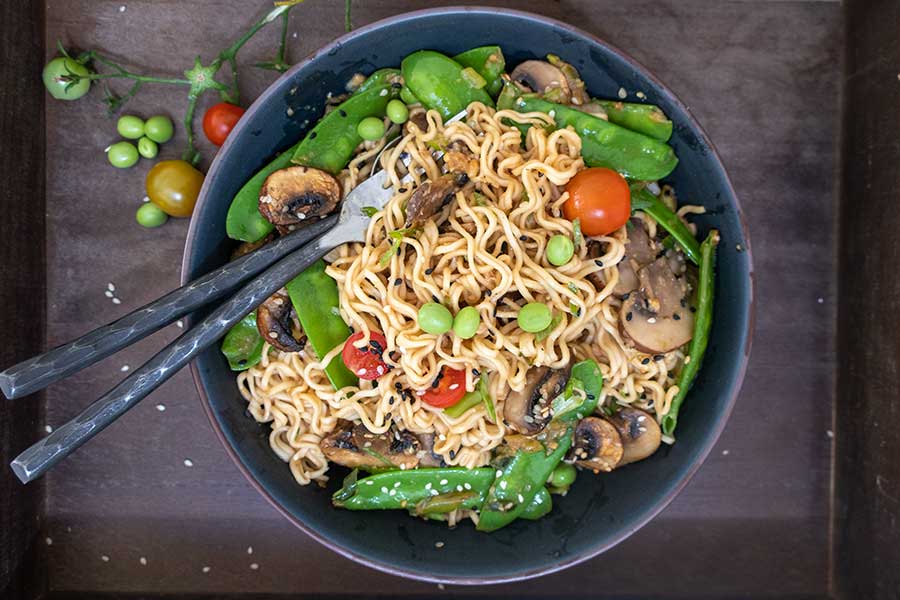 A perfect gluten-free summer ramen noodle dish.
However, there is more to this gluten-free ramen dish than just noodles. For the mushrooms, they are roasted, buttery and coated with sesame seeds.
To make the sesame mushrooms is so simple…Toss mushrooms slices with melted butter, sesame oil, sesame seeds and a pinch of black pepper. Then quickly roast under a broiler. The mushrooms are so delicious, and they taste almost like chicken.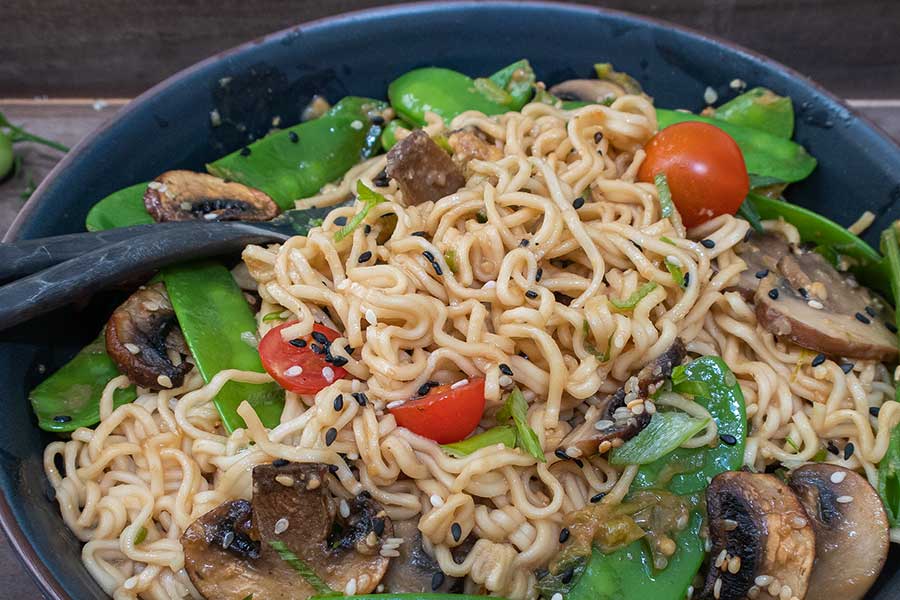 While the mushrooms are roasting, prepare the ramen noodles. The gluten-free noodles are boiled for about 3 minutes, that is all it takes—one of the reasons I love using ramen noodles. Meanwhile, prepare the sauce and veggies.
Using a large saucepan or a wok, the snow peas are quickly stir-fried with a little butter, green onions, sesame oil, garlic, green onions and ginger. This doesn't take more than three minutes. You want to keep the snow peas crispy.
To finish the sauce stir in miso paste, hot water and tamari sauce…done!
Now that the sauce and the veggies are ready add the ramen noodles with the sesame mushrooms and toss to combine. This dish is too easy for words 🙂 It's a bowl of gluten-free noodles you will make time and time again.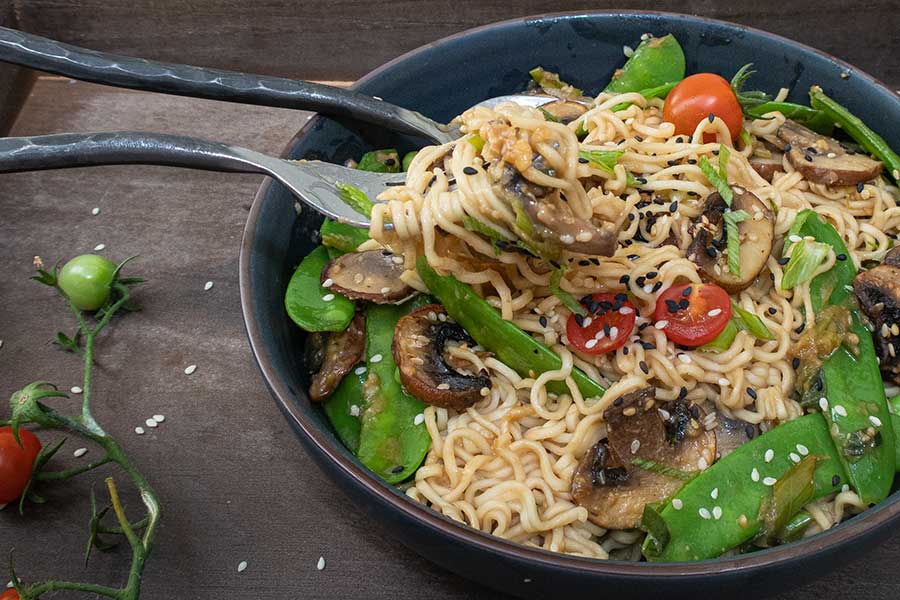 Where does the flavour come from?
In this gluten-free miso ramen, the flavour comes from garlic, ginger, healthy sesame oil, miso and a splash of tamari sauce. The noodles are buttery with the most flavourful sesame mushrooms and crispy young snow peas.
This recipe is a gluten-free, vegan noodle dish, but if you would like to add some meat, please do so. This noodle recipe is excellent for using up leftover chicken, pork or beef. Need ramen inspirations? Check out these gluten-free ramen recipes 🙂
I used mushrooms in this recipe, which is the star in this dish, and I also added young snow peas and green onions. Both are in season and taste ever so good when they are fresh.
You can also use other veggies. Some that come to mind are carrots, zucchini, Napa cabbage or bok choy. Just about anything goes with these noodles. You will need about 4 cups of veggies. They should be thinly sliced or julienned because they are briefly cooked, keeping them slightly crispy and full of flavour and nutrients.
With every season, I create a new gluten-free noodle recipe. This ramen dish is probably one of my favourites by far. The ramen recipe is versatile, simple, comforting and, at the same time, light enough for an easy summer dinner.
Gluten-Free Miso Ramen with Sesame Mushrooms
Published on Jul 28, 2020
by
Kristina Stosek
Instructions
1.

Toss mushrooms with melted butter, sesame oil, sesame seeds and black pepper. Place the mushrooms on a large baking tray lined with foil paper without touching and place under a hot broiler for about 3 - 5 minutes, or until the mushrooms start to brown. Set aside

2.

Meanwhile, prepare ramen noodles according to package directions and drain

3.

While the noodles are cooking, heat a large skillet or a wok over medium heat. Add butter, sesame oil, garlic, ginger, green onions and snap peas. Sir-fry for 3 minutes

4.

Whisk 2 tablespoons of miso paste with 1/4 cup of hot water and tamari sauce. Add to the skillet, bring to a boil and stir to combine

5.

Stir in the noodles, sesame mushrooms and gently toss to combine. Remove from the heat and divide among bowls and top with sesame seeds.
Leave a Comment
Kristina
Thank you, yes the noodles are super addictive
Made the ramen last night, super tasty! Wish I made more
Kristina
I agree, super tasty. Thank you for letting me know.
Kristina
I am so happy that you enjoyed it Jenny :-)
this noodle dish is so flavourful!!