Gluten Free Mini Cheese Scones
Prep Time
20 Minutes
Difficulty
Easy
Cook Time
20 Minutes
Serves
16
Average Rating: 4 | Rated By: 1 users
There is something about mini scones, you can snack on them or have them instead of bread. These cheesy scones have a subtle savoury flavour with melted cheese and just enough chives to make them scrumptious.
Ingredients
1 ¼ cups all-purpose GF flour blend
1 ¼ tsp. GF aluminum free baking powder • ¼ tsp. baking soda • ½ tsp. sea salt • ½ tsp. GF thyme
½ cup chopped fresh chives
1 Tbsp. melted coconut oil
1 Tbsp. butter, room temperature
1-cup shredded cheddar cheese
1 cup full fat plain yogurt
1 large egg, lightly beaten
*As an Amazon Associate and member of other affiliate programs, I earn from qualifying purchases. Please check out my sponsorship and disclosure policy page for more details
Instructions
Preheat oven to 400 F
In a large bowl combine flour, baking powder, baking soda, sea salt and thyme.
In separate bowl mix coconut oil, butter, yogurt and egg
Add cheese and chives into dry mix and stir. Add yogurt mixture and stir until all ingredients are well combined.
With an ice cream scoop or a large spoon place scones onto a baking sheet lined with parchment paper. Bake for 20 minutes or until golden.
Similar Recipes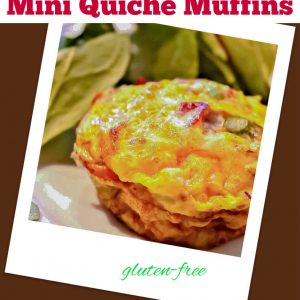 Gluten Free Mini Quiche Muffins
The beauty of these Mini Quiche Muffins is its versatility – not only are they great at breakfast, but it's one of those foods that are delicious at any time of the day. After a long day in the kitchen creating recipes, I consider a quiche muffin a go-to dinner, especially after a long, tiring […] Read More
Prep Time
10 Minutes
Difficulty
Beginner
Cook Time
15 Minutes
Serves
2
Gluten-Free Cheese and Onion Muffins
These savoury gluten-free muffins are light, flavoured with sweet onions and melted cheese throughout. Savoury muffins are a wonderful replacement for bread. Serve for breakfast or for lunch with a light green salad or cup of soup Read More
Prep Time
15 Minutes
Difficulty
Beginner
Cook Time
20 Minutes
Serves
6 muffins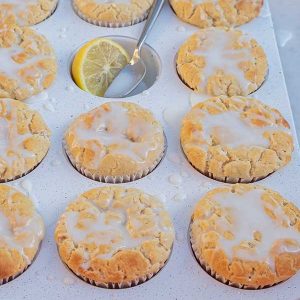 Gluten-Free Lemon Ricotta Muffins
Delicious and super moist Gluten-Free Lemon Ricotta Muffins. These ricotta muffins are light with a zesty lemony flavour that goes exceptionally well with ricotta. To make these muffins even tastier, they are drizzled with a fresh lemon glaze. If you struggle with gluten-free baking, you're not alone. It takes valuable time to learn what is […] Read More
Prep Time
15 Minutes
Difficulty
Beginner
Cook Time
30 Minutes
Serves
12