Gluten-Free Cheese And Chives Scones
Published on Mar 12, 2014
by
Kristina Stosek
Prep Time:

15 minutes
Cook Time:

25 minutes
Serves:

8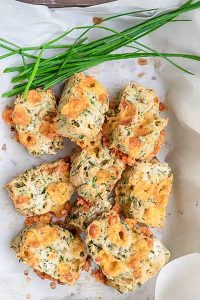 ​This post may contain affiliate links, please see our
privacy policy
for details
This is probably the easiest gluten-free cheese and chives scone recipe. And, who doesn't want a light and a savoury, buttery scone with melted cheddar cheese oozing in every bite studded with fresh chives?
When it comes to baking, scones are probably one of the easiest recipes to make. But what about the gluten-free version? Following a gluten-free diet does not mean resigning to a life devoid of yummy flavour and tasty scones. Check out this gluten-free scone recipe!
The best type of food is the kind that's simple to make and easy to eat. These cheese and chive scones are just that. It doesn't take a lot of time or skill to whip up a batch of these delectable darlings, which is why I consider them one of the best things you can make before your morning cup of coffee.
cheese and chives scones – only eight ingredients, plus salt and pepper…
A freshly baked warm scone with melted cheese is so good. You may think that how can something this delicious be so easy to make? And only eight ingredients?
scone – the details…
To start, mix the dry ingredients. This means flour, baking powder, baking soda, and salt and pepper. I used a gluten-free all-purpose flour blend to simplify the recipe. Add the cheese and chives and briefly mix to coat the cheese and chives with the flour.
Next, whisk the wet ingredients. This is milk, melted butter and apple cider vinegar. It is essential for the milk to be at room temperature to blend well with the melted butter.
Add the milk mixture to the bowl with flour, cheese and chives and mix just until you form a soft dough. Do not over mix the dough, or the scones will become hard.
next step…
This is the fun part. Roll the dough between sheets of parchment paper and cut to desired shapes. You can have circles, squares or triangles. Or, all three.
The cheese and chives scones are ready for the oven. Some oven temperatures vary. So keep an eye on the scones. They should be a deep golden colour when they finish baking. Mine took 25 minutes to bake.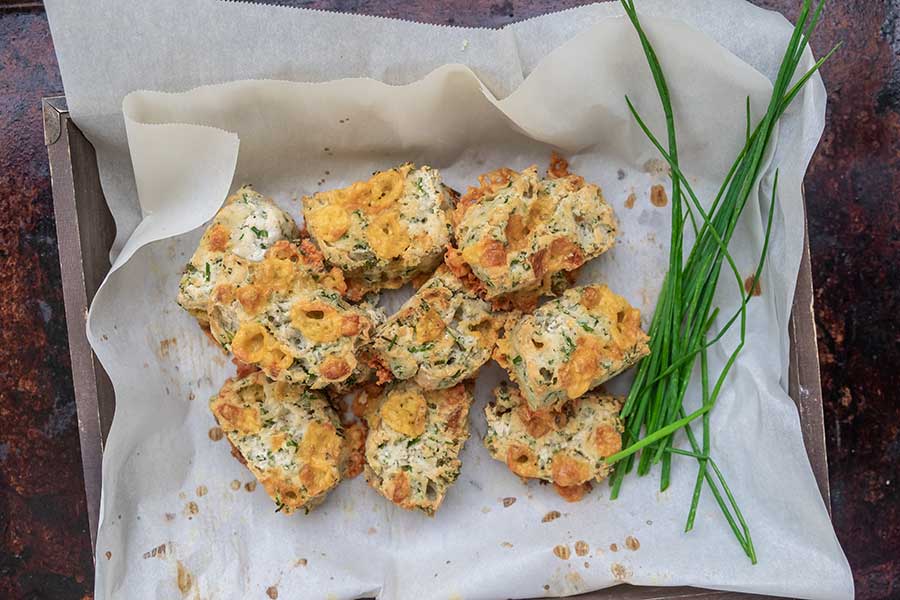 how to serve scones….
As with most gluten-free baked goods, you should enjoy them fresh. For scones, I like them slightly warm…they are insanely delicious when warm, especially when the cheese is still melting. Sooo good!
what about leftovers…
I like to keep the scones at room temperature. And if you have leftovers, heat your oven to 350 F and warm them up for about eight minutes. The gluten-free scones will taste fresh and delicious.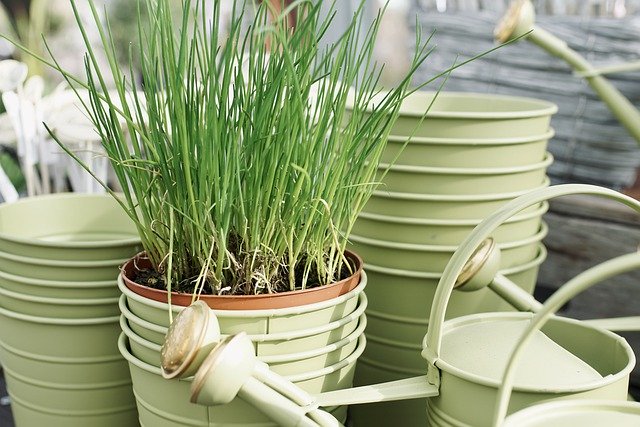 Image by suju-foto from Pixabay
let us talk about chives…
Chives are one of my absolute favourite herbs. Growing up, they were one of the very first plants I grew in my very own garden. They carry such a great flavour with a slight onion and garlic tinge. Pairing this wonderful herb with cheese to make cheese and chives scones is simply heavenly.
Chives is a nutrient-dense low-calorie herb that contains essential nutrients like vitamins and minerals. It is also chock full of antioxidants making it a versatile and nutritious herb. Chives are also excellent sources of vitamin K and folate.
Beyond nutrition, chives are also great at improving your sleep quality and mood. They contain choline, a vital nutrient that enhances our mood, memory, and other brain functions.
cheese and chives make the best combination…
There is something about scones that I just love and always will. They are not only delicious but versatile too because you can flavour them any way you like.
That's why this combination of fresh chives and cheddar cheese leaves you wanting more because cheese and chives are meant to be together. And, with grated cheddar cheese in this gluten-free scone recipe, you get not only the buttery delight but also the feeling of comfort food.
The cheese and chives scones are great for breakfast, brunch or can be eaten as snacks. Adding scones to hearty soups or stews is also a great way to serve them. The buttery and tender texture, along with the cheesy chives' flavour, will impress anyone who tries this delicious gluten-free treat!
Nothing beats fresh homemade scones on a Sunday morning! Scones are light, buttery, and delicious, and I'm confident you'll agree with me once you try out this cheesy scone recipe.
Gluten-Free Cheese And Chives Scones
Published on Mar 12, 2014
by
Kristina Stosek
Instructions
1.

2.

In a large bowl mix flour, salt, black pepper, baking soda and baking powder. Add chives and cheese to dry ingredients and briefly mix to coat the cheese and chives with the flour

3.

In a small bowl whisk together milk, melted butter and apple cider vinegar

4.

Add milk mixture into dry ingredients and stir until soft dough forms. Roll the dough between two sheets of parchment paper to about 1-inch thickness. Cut to desired shapes. Bake for 20 -25 minutes, until the scones start to golden