Gluten-Free Matzo Ball Soup Recipe
Published on Apr 16, 2019
by
Kristina Stosek
Prep Time:

20 minutes
Cook Time:

120 minutes
Serves:

6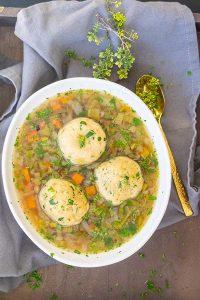 ​This post may contain affiliate links, please see our
privacy policy
for details
This gluten-free matzo ball soup is perfect for enjoying your favorite Jewish comfort food without gluten! The matzo balls are light and fluffy, and the soup is full of flavor.
Matzo balls can either be incredibly bland or the ultimate addition to chicken soup.
When I created this gluten-free matzo ball soup recipe, I wanted the chicken soup to be extra flavorful. And this is why I added extra herbs, garlic, ginger and nutmeg to the dumplings.
The gluten-free dumplings, called matzo balls, are cooked in a rich chicken broth, infusing them with broth. And the dumplings add extra flavour to the soup because they are made with herbs, spices and garlic.
variations of the matzo ball soup recipe
There are many ways to make matzo ball soup, and the beauty of this dish is that it can be tailored to your taste. Here are a few variations of the recipe to get you started:
1. Add some diced chicken or turkey to the mix for a heartier soup.
2. For a vegetarian version, substitute vegetable broth for the chicken broth, add extra veggies and omit the meat.
3. To make it even more flavorful, add some chopped fresh herbs like parsley, dill, thyme, or chives.
4. If you like a bit of spice, add a pinch of cayenne pepper or red pepper flakes to the soup.
5. Finally, stir in some shredded Parmesan cheese before serving if you want to give the soup a richer flavor.
Traditionally matzo balls are served in a clear chicken broth. However, I wanted to make this Jewish soup heartier, so I kept the chicken and the veggies making this soup a big success.
FAQs about gluten-free matzo balls
1. What are gluten-free matzo balls made of?
Gluten-free matzo balls are made primarily with eggs, herbs, chicken broth, chicken fat, and gluten-free matzo meal.
2. How do you make them?
The process for making gluten-free matzo balls is similar to traditional matzo balls. First, the dough ingredients are mixed, and then the matzo dough is chilled. Once the chicken broth is ready, shape the dough into balls and cook in the broth.
3. Are they as good as traditional matzo balls?
This is a matter of personal preference, but many people find that gluten-free matzo balls are just as tasty as their wheat-based counterparts. However, I added garlic, ginger, herbs, and spices to give them extra flavour.
4. What is matzo meal?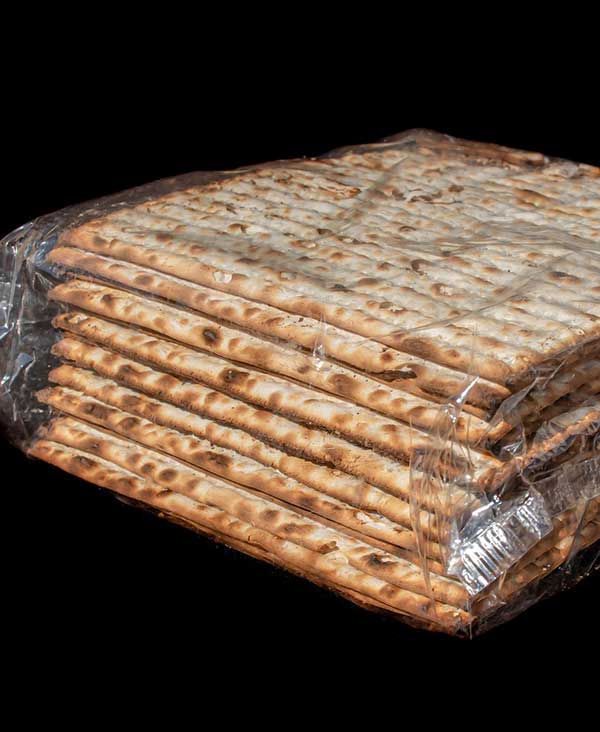 Matzo is made from ground traditional Jewish unleavened bread.
What is Rosh Hashanah?
Rosh Hashanah is the Jewish New Year. It is a time for family, friends and feasting. And, of course, it is a time for matzo ball soup. This gluten-free recipe for matzo ball soup is perfect for anyone who wants to enjoy the holiday without worrying about gluten.
When do you serve this Jewish soup?
Matzo ball soup is traditionally served as part of the Passover meal in April. However, many people enjoy this delicious soup all year round.
Is matzo ball soup healthy?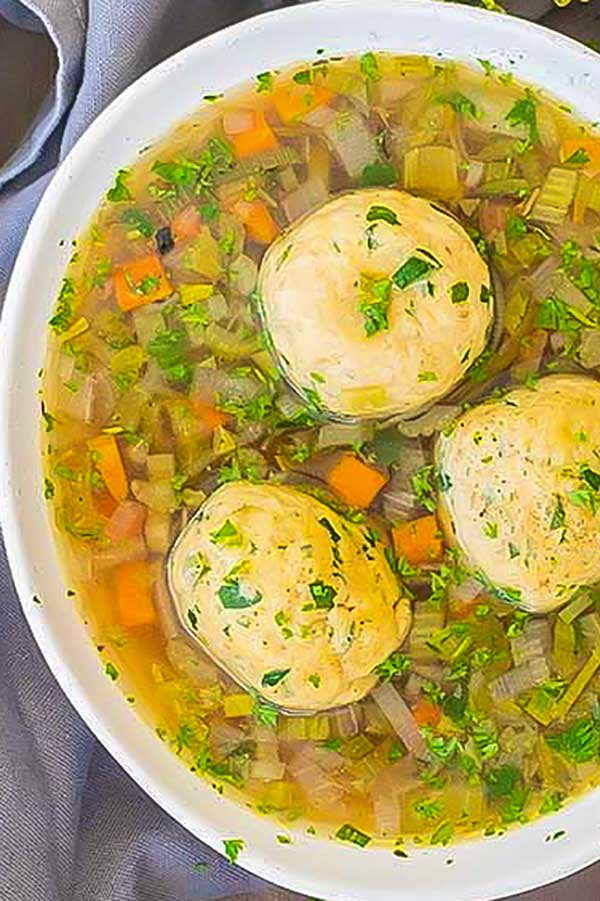 If you're looking for a flavorful chicken soup to keep you warm this winter, this gluten-free matzo ball soup is your answer. This classic Jewish dish is typically made with chicken broth and matzo balls.
Here's the scoop on matzo ball soup: it can be part of a healthy diet. We all have heard that homemade chicken soup is good for us. Here is why.
Chicken soup is full of protein. In addition, the broth provides a good dose of vitamins and minerals, and the matzo balls are made with herbs, garlic and ginger, all with immune-boosting properties.
Chicken is also high in tryptophan, an essential amino acid. The body uses tryptophan to help make melatonin and serotonin.
Melatonin helps regulate the sleep-wake cycle, and serotonin is thought to help regulate appetite, sleep, mood, and pain and give you the feeling of comfort. This is why chicken soup is considered true comfort food.
So to answer the question, is Matzo ball soup healthy? Yes, it is a nutritious and tasty meal that can be enjoyed as part of a well-balanced diet.
This gluten-free matzo ball soup is a delicious and easy way to enjoy a classic chicken soup with dumplings and without gluten. This soup is perfect for those on a gluten-free diet or anyone who wants to enjoy a warm, satisfying, hearty soup.
more chicken soup recipes
It's no secret that chicken soup is one of our favourites. So enjoy! If you love chicken soup, check out these delicious and healthy soup recipes made with chicken.
Let's Connect!
Be sure to FOLLOW US on FACEBOOK and PINTEREST.
Many thanks!
Kristina xx
Gluten-Free Matzo Ball Soup Recipe
Published on Apr 16, 2019
by
Kristina Stosek
Instructions
1.

Using a large pot heat olive oil over medium-low heat. Add onions and garlic and sauté for 5 minutes

2.

Add chicken, breast side down, and enough water to cover the chicken by 1 inch, bay leaves, and salt. Bring to boil and cover, reduce the heat to simmer and cook for 30 minutes. * Skim off 1/4 cup of fat that rises to the surface and set aside for the matzo balls. Continue cooking until the chicken is tender but does not fall apart about 45 more minutes

3.

While the soup is cooking prepare the matzo ball mixture. In a medium bowl combine eggs, chicken stock, reserved chicken fat, dill, parsley, ginger, garlic, nutmeg, salt and matzo meal. Refrigerate for 40 minutes until firm

4.

When the chicken is cooked discard the bay leaves, remove the chicken, and place on a large plate. Remove the bones and skin and cut the chicken into small pieces. Set aside

5.

Add carrots and celery to the broth and bring to simmer. Scoop heaped tablespoon of the matzo mixture wet your hands and roll into balls about the size of a golf ball. Drop the matzo balls in the broth, cover and simmer on low until the matzo balls are cooked and fluffy about 40 - 45 minutes

6.

Return some of the chicken back to the soup, season with salt and pepper and bring to boil. Remove from the heat and top with fresh dill or parsley
Leave a Comment
these are the most flavorful matzo balls I have made. A great recipe!!
this is probably the best gluten-free matzo ball soup I have tasted.
Kristina
glad you enjoyed them, thank you!
Kristina
Fyi I made this and these were the best GF matzo balls I have ever made !!! Thank you for posting!