Gluten-Free Matzo Ball Soup Recipe
Prep Time
20 Minutes
Difficulty
Intermediate
Cook Time
120 Minutes
Serves
6
Average Rating: 5 | Rated By: 4 users
Matzo, also called Matzah ball soup, is served on the Jewish holiday of Passover. The soup is traditionally chicken soup which is served with Jewish dumplings called matzo balls.
Matzo balls can either be incredibly bland or the ultimate addition to chicken soup.
When I created this gluten-free matzo ball soup recipe, I wanted to have a lot of flavours. To make the gluten-free matzo balls extra flavourful, I added herbs, garlic, ginger and nutmeg. 
The gluten-free dumplings are cooked in a rich chicken broth, infusing them with the broth. The dumplings also add extra flavour to the soup because they are made with herbs, spices and garlic.
Sometimes the matzo balls are served in a clear chicken broth. However, I wanted to make this Jewish soup heartier, so I kept the chicken and the veggies making this soup a big success.
more chicken soup recipes,
It's no secret that chicken soup is one of our favourites, enjoy! If you love chicken soup, check out these delicious and healthy soup recipes made with chicken.
For holiday dessert recipes, check out our selection of incredibly delicious gluten-free dessert recipes.
Ingredients
2 Tbsp. Extra virgin olive oil
1 medium yellow onion, chopped
4 garlic cloves, crushed 
1 whole chicken (About 3 pounds)
2 GF bay leaves
2 tsp. kosher salt 
3 medium carrots, diced
3 celery stalks, diced
GF black pepper to taste
MATZO BALLS
4 large eggs, whisked
1/4 cup chicken fat from the soup
3 Tbsp. Chicken broth from the soup *see below
2 Tbsp. Seltzer water
1 Tbsp. chopped fresh dill
1 Tbsp. chopped fresh parsley
1 Tbsp. Minced ginger
1 garlic clove, minced
1/4 tsp. GF grated nutmeg
1/2 tsp. kosher salt
Optional garnish; chopped fresh dill or parsley
*As an Amazon Associate and member of other affiliate programs, I earn from qualifying purchases. Please check out my sponsorship and disclosure policy page for more details
Instructions
Using a large pot heat olive oil over medium-low heat. Add onions and garlic and sauté for 5 minutes
Add chicken, breast side down, and enough water to cover the chicken by 1 inch, bay leaves, and salt. Bring to boil and cover, reduce the heat to simmer and cook for 30 minutes. * Skim off 1/4 cup of fat that rises to the surface and set aside for the matzo balls. Continue cooking until the chicken is tender but does not fall apart about 45 more minutes
While the soup is cooking prepare the matzo ball mixture. In a medium bowl combine eggs, chicken stock, reserved chicken fat, dill, parsley, ginger, garlic, nutmeg, salt and matzo meal. Refrigerate for 40 minutes until firm
When the chicken is cooked discard the bay leaves, remove the chicken, and place on a large plate. Remove the bones and skin and cut the chicken into small pieces. Set aside
Add carrots and celery to the broth and bring to simmer. Scoop heaped tablespoon of the matzo mixture wet your hands and roll into balls about the size of a golf ball. Drop the matzo balls in the broth, cover and simmer on low until the matzo balls are cooked and fluffy about 40 - 45 minutes
Return some of the chicken back to the soup, season with salt and pepper and bring to boil. Remove from the heat and top with fresh dill or parsley
Similar Recipes
Gluten Free Classic Chicken Noodle Soup
When it comes to comfort food, nothing beats homemade chicken noodle soup, especially during cold winter months and flu season. A good home made chicken soup is rich in protein, calcium, and gelatin from slowly cooked bones. The vitamins and minerals come from the fresh added veggies simmered in the tasty broth.     The […] Read More
Prep Time
10 Minutes
Difficulty
Easy
Cook Time
60 Minutes
Serves
6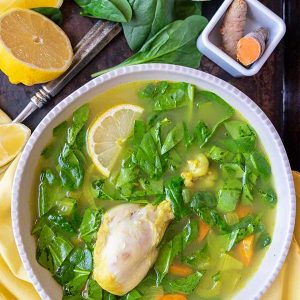 Instant Pot Immune Boosting Chicken & Spinach Soup
Instant Pot Immune Boosting Chicken & Spinach Soup – a chicken soup that provides nutrients, beautiful colour and taste. This recipe is a natural reviver… Soothing, comforting and gentle. It is a reminder of how very subtle and delicate soups can be and why they make us feel so good! When the flu season is […] Read More
Prep Time
10 Minutes
Difficulty
Easy
Cook Time
20 Minutes
Serves
6
30-Minute Immune Boosting Chicken Soup
Sharing my favourite immune boosting chicken soup. We are entering a busy time of the year. With Halloween, Thanksgiving and Christmas just around the corner, our lives become stressful and very busy. This is also the beginning of flu season. So, in my home, it is time to rev up the immune system with simple, […] Read More
Prep Time
5 Minutes
Difficulty
Beginner
Cook Time
25 Minutes
Serves
4