Gluten-Free Layered Orange Cake
Published on Mar 17, 2022
by
Kristina Stosek
Prep Time:

20 minutes
Cook Time:

25 minutes
Serves:

8 - 10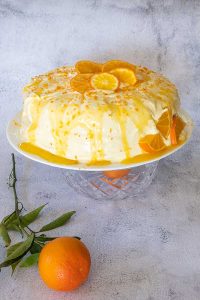 ​This post may contain affiliate links, please see our
privacy policy
for details
Extra light Gluten-Free Layered Orange Cake is a showstopper spring dessert. Two layers of extra moist cake finished with a zesty fresh orange frosting and orange sauce for Easter or any special spring occasion.
This gluten-free dessert is not your typical layered cake. Instead, the frosting is super light and fluffy, made with cream cheese, fresh orange juice, vanilla and powdered sugar. The frosting is also used for the filling because it pairs deliciously with the cake.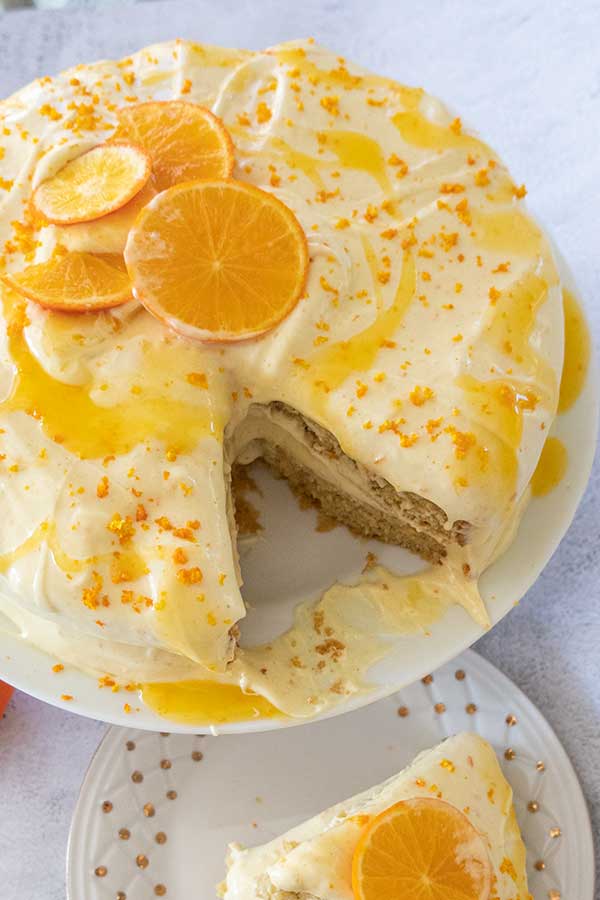 Layered cakes are always popular, especially for special occasions such as Easter or birthdays. In this dessert, the orange flavour and colour come from fresh orange juice and orange zest. I did not add food colouring. However, if you want deeper orange colour, add a few orange food colour drops.
What makes these cake layers so light?
The cake batter is made with fresh orange juice, olive oil and buttermilk. These three ingredients keep the cake extra moist and light. I also added eggs to give the cake height, which adds lightness.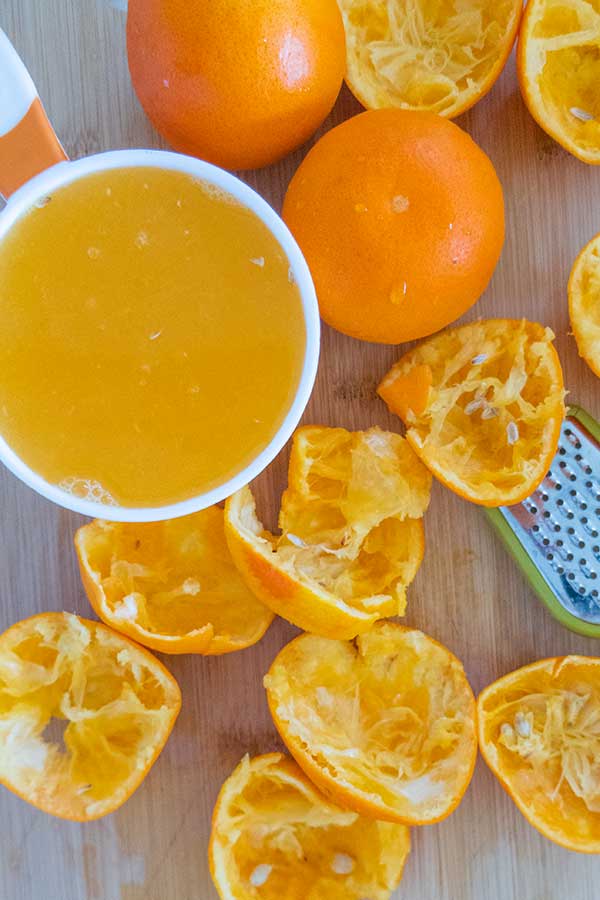 Orange sauce for cakes?
For extra orange flavour, I drizzled the cake with orange sauce. The sauce is made primarily with fresh orange juice, giving this gluten-free spring dessert a fresh orange flavour.
Can I freeze the cake before decorating?
Yes, you can make the cake layers up to two weeks in advance. First, cool the cake. Then, place the cakes on parchment paper and freeze. Once solid frozen, wrap tightly in plastic wrap.
How long do I need to thaw the cake layers?
When you are ready, partially thaw the cake layers before decorating. If you decorate the cake while it's solidly frozen, the frosting may crack because the cake expands while it is thawing. You can fully thaw the cake, but keeping it slightly frozen makes the cake easier to decorate. I thaw the cake for about 15 minutes before decorating.
Do layered cakes intimidate you?
Not to worry. I kept this gluten-free dessert recipe simple, and the texture and flavour are outstanding. This layered cake has three steps and nothing complicated.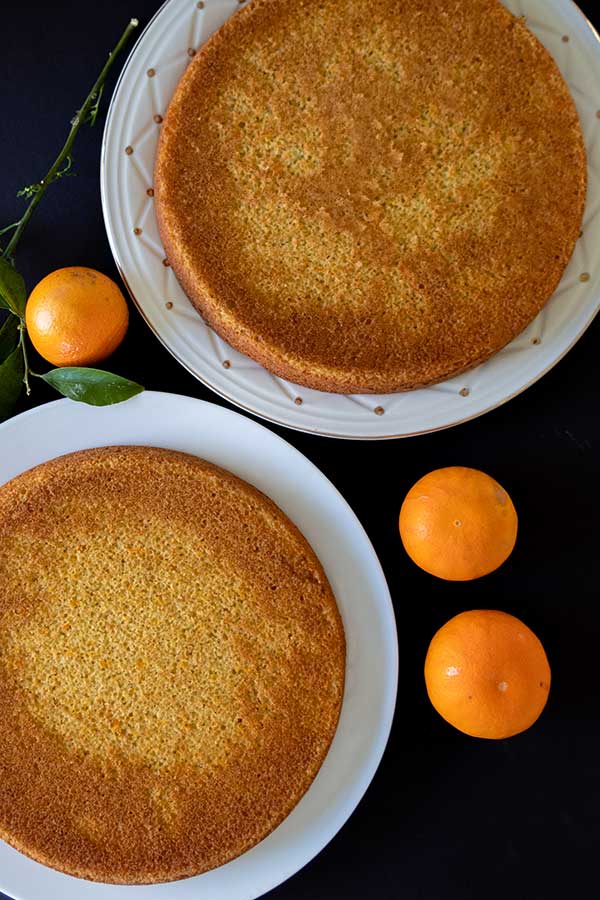 start with the cake batter,
You will need two same size round pans. The rest is pretty standard as if you were making any other basic batter, except for the ingredients.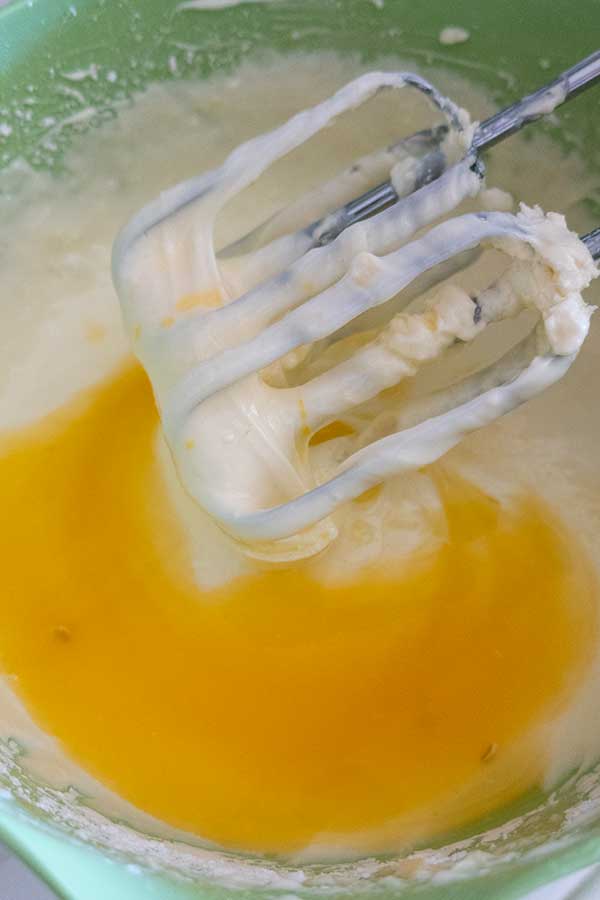 next, the filling and frosting,
I decided to skip a sugary rich butter filling. Instead, I am using frosting to fill the cake. This simplifies the recipe and avoids heavy butter.
the final step is the 3 minute orange sauce,
The orange sauce is optional, but I highly recommend it if you like an extra fresh orange flavour. The sauce is not too sweet. It is not about adding more sweetness. The frosting is already sweet, so a zesty sauce is just the right finish.
How to decorate layered orange cake?
If you have been following my blog, you know I keep everything super simple. My cakes may not look fancy, and I am not a professional cake decorator. And most of us aren't, so it is all about keeping things simple and delicious.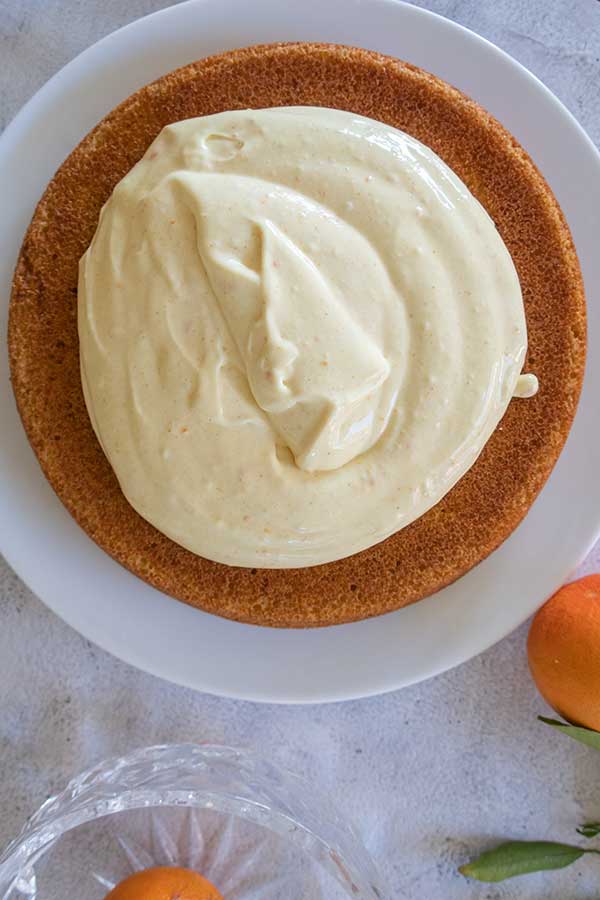 To fill the cake, spread the frosting almost to the edge. Then, place the second layer on the cake and gently press on the layer to push the filling to the edge of the cake. Don't worry if any oozes out. You can use it to frost the sides.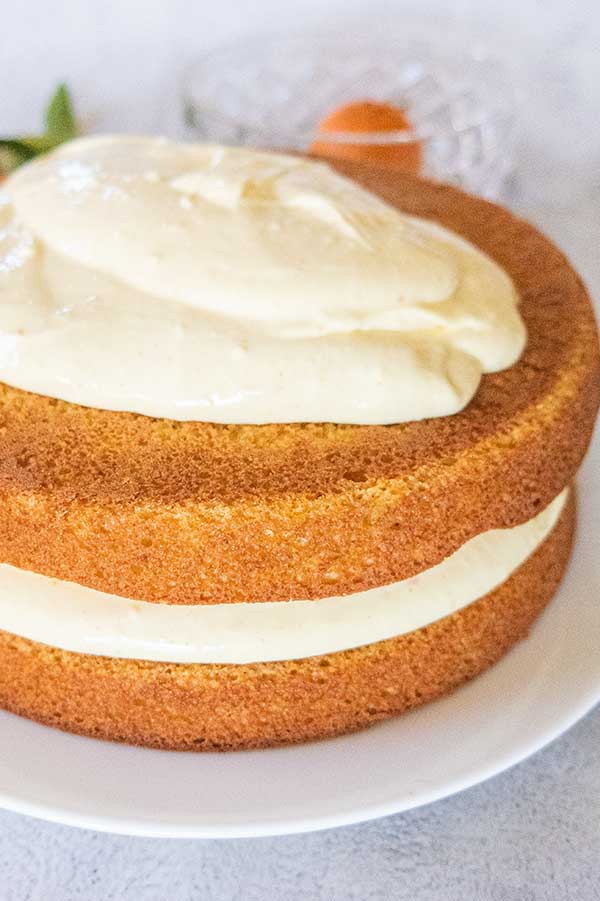 To frost the cake, start with the middle. Then, using a spatula, gently spread the frosting over the cake in one direction. Then, gently push the frosting over the sides and finish frosting the cake.
If you are using the orange sauce, drizzle the sauce over the cake, sprinkle with extra orange zest and add a few thin orange slices to the sides and top of the cake.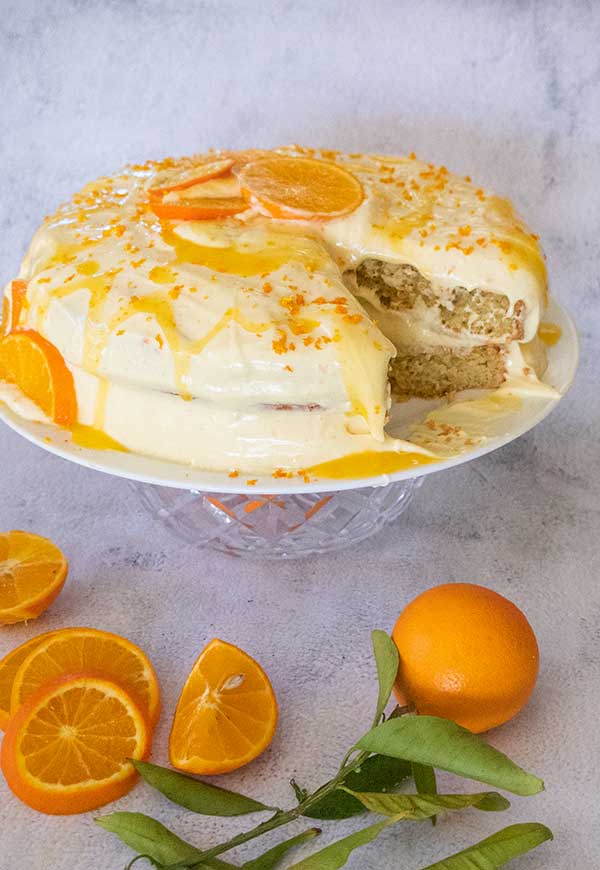 Tips on how to cut a layered cake!
Warm the knife up under hot water. Dry the knife and cut. Repeat for each slice and always clean the cake knife between cuts.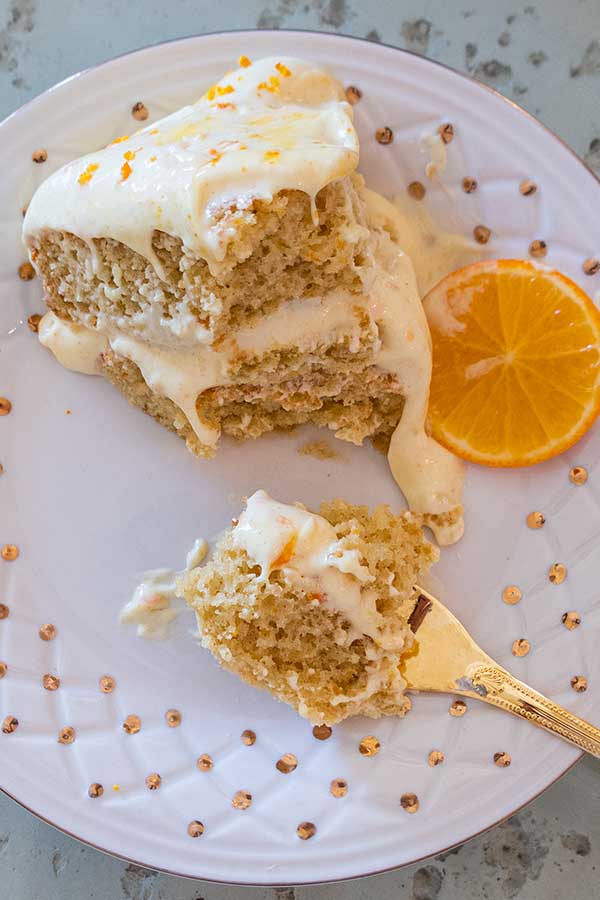 In this gluten-free orange layered cake, I used extra frosting. The orange frosting is super light and zesty, adding so much deliciousness to each bite. Enjoy!
Let's Connect!
Be sure to FOLLOW US on FACEBOOK and PINTEREST.
Many thanks!
Kristina xx
Gluten-Free Layered Orange Cake
Published on Mar 17, 2022
by
Kristina Stosek
Instructions
1.

2.

3.

In a medium bowl, whisk together flour, baking powder, baking soda and salt

4.

Using an electric mixer and a large bowl, beat eggs with sugar until fluffy—about 2 minutes. Add olive oil, orange juice, buttermilk, vanilla and orange zest. Beat until combined.

5.

Add dry ingredients into wet mixture 1/2 at a time. Mix just until all the ingredients are blended. Do not over mix.

6.

Pour batter evenly into prepared pans and bake for 23 - 25 minutes. The cake should pass the toothpick test. Set aside to cool

7.

8.

In the bowl of a stand mixer fitted with the paddle attachment, beat cream cheese at medium speed until creamy, 1 to 2 minutes, stopping to scrape sides of the bowl. With the mixer on low speed, gradually add sugar alternately with orange juice, beginning and ending with sugar, beating just until combined after each addition. Beat in vanilla. Increase mixer speed to medium; beat until fluffy, 2 to 3 minutes, stopping to scrape sides of the bowl. Chill for 1 hour before decorating the cake

9.

ORANGE CAKE SAUCE (OPTIONAL)

10.

In a small saucepan, combine the sugar, tapioca starch and zest. Stir in orange juice until smooth. Bring to a boil; cook and stir for 1-2 minutes or until thickened to a syrup consistency. Remove from the heat; whisk in butter. Chill for one hour before decorating.

11.

12.

When cakes are cooled, frost one with about 1/3 of the frosting, then place the second cake on top and finish frosting. Refrigerate for a minimum of 2 hours or overnight. Decorate with orange zest, orange sauce and orange slices *see notes on decorating the cake in the blog
Leave a Comment
Kristina
Thank you for sharing Katie
Delicious! With all due respect, not sure what other person's review meant, no trouble for me. Easy to follow instructions and mine came out great! I wanted something interesting and kinda spring'y for fam dinner - oranges were a surprise idea and I love how bright it is. I was lucky enough to find heirloom oranges to use - damn those things are shockingly more tasty than the regular old oranges. Thanks for the recipe!
Kristina
are you referring to the frosting Mary? It should not be thick, it's more like a thick sauce. With seven cups of sugar it should be super thick. The cream cheese is already thick and it has only a 1/3 of a cup of orange juice. Did you chill the frosting? When cream cheese is chilled it becomes solid.
I'm writing this before even tasting the cake. I kept adding more sugar to try to get a spreadable texture. I up from 3 as per the recipe to SEVEN cups of powered sugar and its still TOO RUNNY!