Gluten-Free Chicken Mushroom Adobo
Prep Time
10 Minutes
Difficulty
Easy
Cook Time
25 Minutes
Serves
4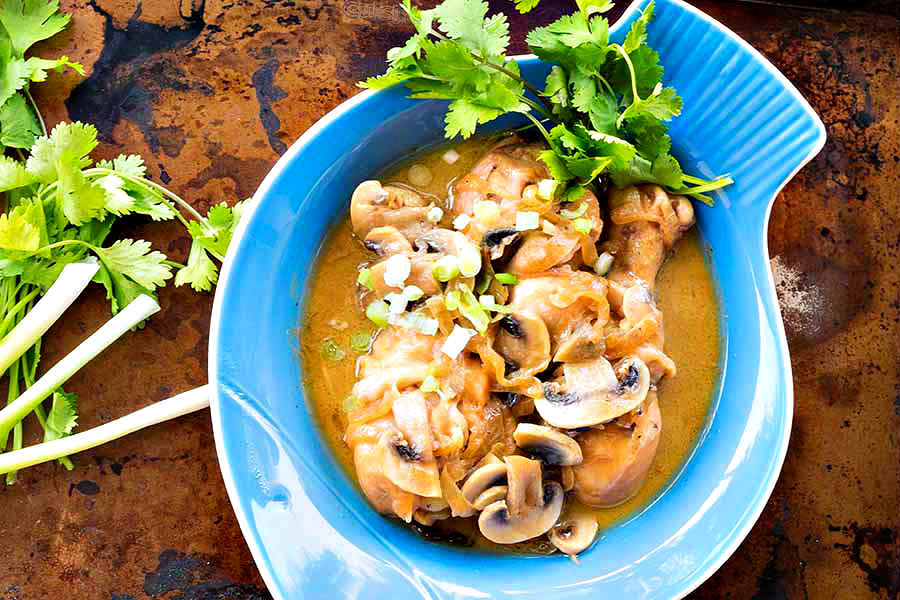 Be the first to rate this recipe.
Here is a simple chicken dish packed with exotic flavours. In this recipe, the sauce is flavoured with coconut milk, tamari sauce, bay leaves, apple cider vinegar and spices. The chicken and mushrooms are then soaked up by the decadent sauce, making this chicken dish unforgettable. Serve with simple rice or over gluten-free pasta. This gluten-free recipe is dairy free and paleo friendly
Ingredients
3 Tbsp. coconut oil
4 chicken thighs, bone in and skin on
4 chicken drumsticks, skin on
1 large white onion, halved and thinly sliced
3 garlic cloves, roughly chopped
1/3 cup gluten-free tamari sauce
1 can (13.5 oz.) coconut milk
¼ cup apple cider vinegar
1 Tbsp. honey
½ tsp. GF ground black pepper
3 GF bay leaves
1 1/2 cups sliced mushrooms
4 green onions, thinly sliced (white and green part)
¼ cup chopped fresh cilantro
*As an Amazon Associate and member of other affiliate programs, I earn from qualifying purchases. Please check out my sponsorship and disclosure policy page for more details
Instructions
In a large saucepan over high heat, heat 2 tablespoons of coconut oil. Add chicken few pieces at a time and cook until golden. About 2 minutes per side. Transfer the chicken to a plate
Add remaining coconut oil, reduce heat to medium-low and add onions. Cook until soft about 5 minutes. Add garlic and cook for about a minute while stirring
Add tamari sauce, coconut milk, apple cider vinegar, honey, black pepper and bay leaves, mushrooms and mix. Return chicken to the saucepan and bring to boil. Reduce heat to low and cover. Cook for about 15 minutes or until the chicken is tender
Remove saucepan from the heat, remove bay leaves and stir in green onions and cilantro. Enjoy!
Similar Recipes
Cauliflower Fennel and Sweet Potato Chicken Tagine
A delicious and healthy gluten-free dinner such as this cauliflower fennel and sweet potato chicken tagine is one of the easiest dinner recipes. This rustic method for cooking chicken, popular in Morocco, creates a crispy skin that everyone loves. This recipe is one of my favourite chicken dishes because it is so simple and flavourful. […] Read More
Prep Time
15 Minutes
Difficulty
Easy
Cook Time
45 Minutes
Serves
4-6
4-Ingredient Double Stuffed Butternut Squash
This 4 Ingredient Double Stuffed Butternut Squash is incredibly tasty, cheesy and super easy to make. This is a gluten-free vegetarian butternut squash dish, made with only four ingredients plus spices. The stuffing is made with yogurt, cheddar cheese, and green onions. For flavour I used turmeric, a spice with powerful antioxidants. The reason I […] Read More
Prep Time
10 Minutes
Difficulty
Easy
Cook Time
50 Minutes
Serves
4
Authentic Hungarian Cabbage Rolls
Robust Authentic Hungarian Cabbage Rolls braised to perfection. Fermented cabbage leaves filled with the most flavourful meat filling that will melt in your mouth. To achieve flavourful cabbage rolls, you can't rush the process. It takes time to develop flavours of slowly braised well seasoned meat in fermented cabbage leaves. These Hungarian cabbage rolls are […] Read More
Prep Time
20 Minutes
Difficulty
Intermediate
Cook Time
180 Minutes
Serves
12 rolls