Gluten-Free Cheesecake Cups with Chocolate Raspberry Topping
Published on Jun 05, 2015
by
Kristina Stosek
Prep Time:

15 + minutes
Cook Time:

minutes
Serves:

4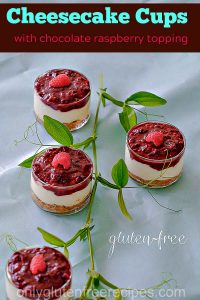 ​This post may contain affiliate links, please see our
privacy policy
for details
When you choose to indulge, do it in small portions, the same as the French people do. These mini gluten-free cheesecakes are served in small cups topped with raspberry chocolate sauce. A delectable French dessert that gives everyone just enough forbidden pleasure without feeling guilty.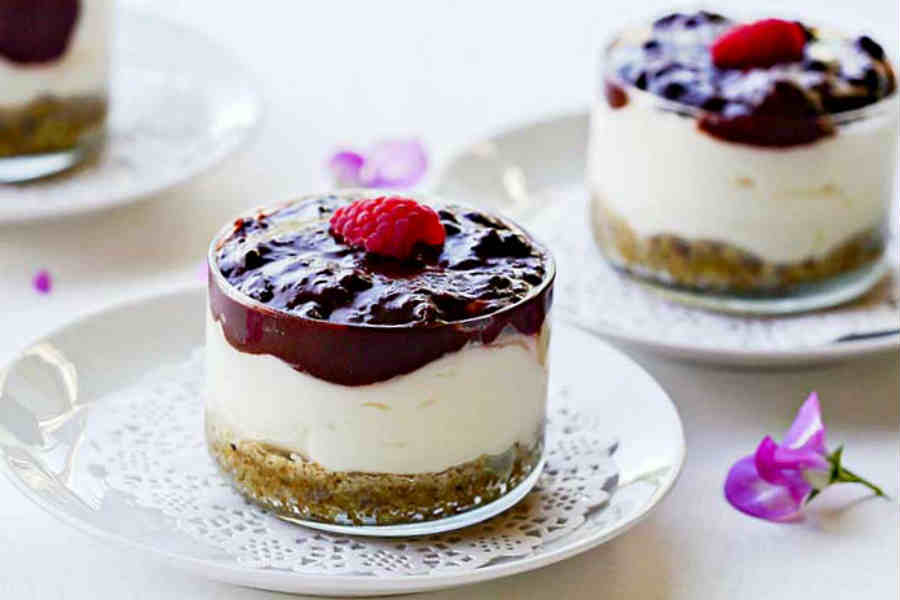 I must say this is probably one of the easiest gluten-free cheesecake made from scratch recipe to make. No need for baking and the Gluten-Free Cheesecake Cups with Chocolate Raspberry Topping is perhaps one of the creamiest, most delicious desserts made in minutes. The only thing that takes time is the chilling of the cheesecake.
this gluten-free cheesecake is made with three layers,
The crust is made in a food processor with only three ingredients nuts, flaxseed and a sweetener. You can use honey, pure maple syrup or agave to sweeten the curst. Once the ingredients are processed, press the mixture into small serving cups.
For the second layer – the cheesecake. This layer is made with lite cream cheese, a sweetener such as a maple syrup, vanilla, lime juice and heavy cream. Whip these ingredients until soft peaks form and spoon the mixture over the crust.
For the third layer – the chocolate raspberry sauce. You will need about two minutes to make this chocolaty raspberry-infused sauce and only two ingredients -> Good quality gluten-free chocolate or chocolate chips and fresh raspberries. Simply heat the chocolate and raspberries in a small saucepan and pour over the cheesecake layer.
To finish this extraordinary gluten-free French dessert, you will need to chill it. Four hours should do it, but I always make this gluten-free cheesecake a day in advance and refrigerate it overnight. This gives the cheesecake that perfectly creamy, light, cheesecake texture.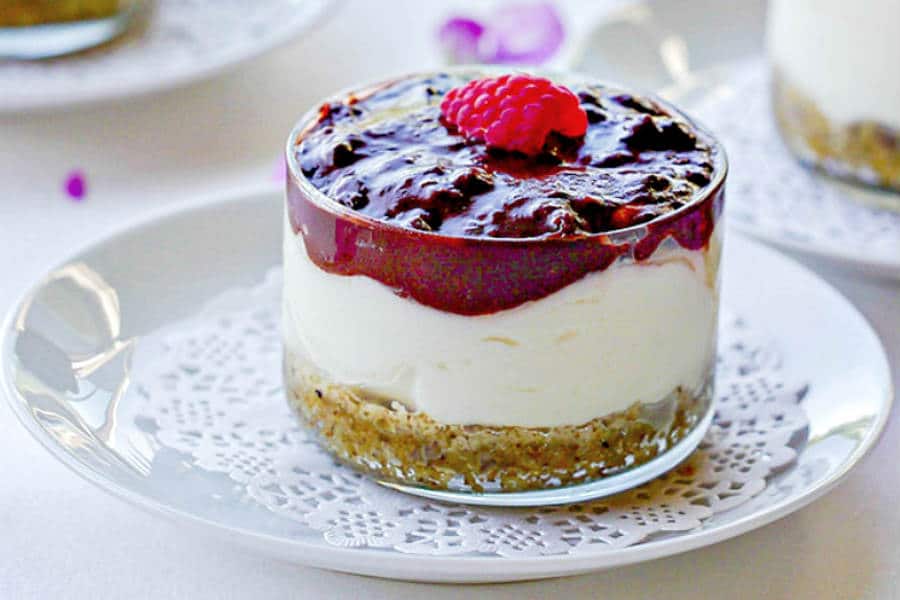 So, if you can spare fifteen minutes making these decadent Gluten-Free Cheesecake Cups with Chocolate Raspberry Topping, you can enjoy the most delicious French dessert.
Do you like French cuisine? If the answer is yes, then check out our list of gluten-free French inspired recipes. Enjoy!
Gluten-Free Cheesecake Cups with Chocolate Raspberry Topping
Published on Jun 05, 2015
by
Kristina Stosek
Instructions
1.

For the crust, add crust ingredients into a food processor and blend until it becomes a sandy texture. Sprinkle evenly on the bottom of 8 serving cups and lightly press down

2.

In a medium size bowl, beat together cream cheese, maple syrup, vanilla and lime juice until smooth

3.

In a separate bowl, whip the heavy cream until soft peaks form. Gently fold into the cheese mixture

4.

Spoon the cheesecake mixture into the cups over the crust to about ½ inch from the top and refrigerate

5.

Add raspberries and chocolate into a small heavy bottom saucepan. Heat over medium-low heat until the chocolate has melted. Stirring as needed. Using a fork press the raspberries into the chocolate. The sauce takes about 2 minutes to cook. Cool slightly, then spoon over the cheesecake and chill for 4 hours or overnight