Gluten-Free Butternut Squash Brownies
Published on Oct 29, 2019
by
Kristina Stosek
Prep Time:

10 minutes
Cook Time:

25 minutes
Serves:

16 squares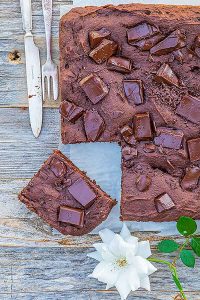 ​This post may contain affiliate links, please see our
privacy policy
for details
Chocolaty Gluten-Free Butternut Squash Brownies with a healthy twist. When I set out to make these brownies, I wanted to create a brownie that tasted chocolaty and at the same time, had some health benefits. So instead of adding butter, I used seasonal fresh butternut squash. I used the squash as if I would use butter, and the rest was easy.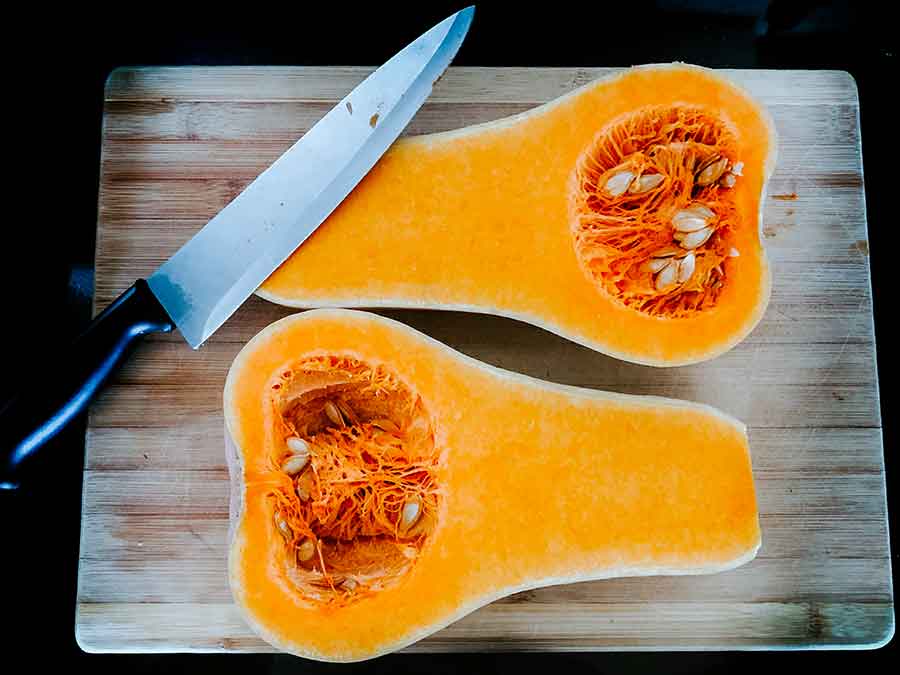 Butternut squash is a sweet winter squash with a mild nutty taste and has the texture of sweet potato, making it a perfect combination with chocolate. To prepare the squash, I steamed a few pieces of peeled squash. It only takes about 15 minutes. Then I mashed the squash until smooth, just like potatoes.
healthy sweetener for butternut squash brownies…
In this brownie recipe, I used maple syrup as a sweetener. Maple syrup is a much healthier option than refined sugar. For the fats, I used a splash of heart-healthy olive oil.
And, to make the butternut squash brownies extra special, I added a topping made with chocolate chunks.
Why is this gluten-free brownie recipe healthier?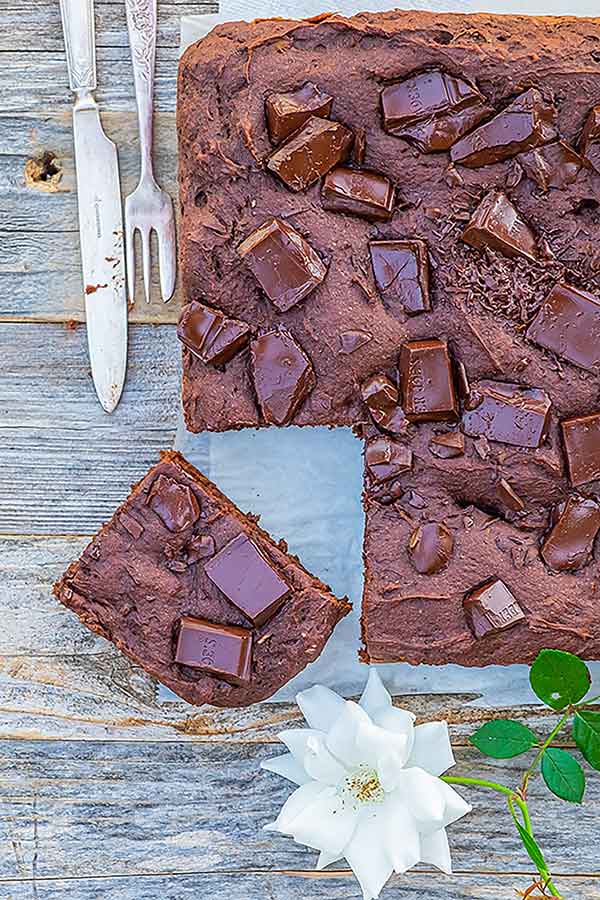 First, butternut squash is packed with fiber, Vitamin A and C and is low in calories, only 63 calories per cup, compared to butter which is 1627 calories per cup. Second, I used maple syrup as a sweetener, which is not shy of health benefits such as several essential minerals.
Another ingredient I added is pure cocoa. Cocoa is known for its antioxidant properties. For the remaining ingredients, I used gluten-free flour, eggs, yogurt and good quality gluten-free chocolate.
I created many gluten-free brownie recipes in the past, but this one makes me feel kind of good because it has several ingredients with health benefits.
To summarize, now you can enjoy a deliciously fudgy brownie without feeling guilty. How wonderful is that? I prefer to eat brownies slightly warm while the chocolate is still melting. So good! Enjoy!
Gluten-Free Butternut Squash Brownies
Published on Oct 29, 2019
by
Kristina Stosek
Instructions
1.

Preheat oven to 350 F and line a 9-inch square baking pan with parchment paper

2.

In a medium bowl whisk together mashed butternut squash, yogurt, maple syrup, eggs, olive oil and vanilla

3.

In a separate bowl, mix flour, cocoa powder, baking soda and salt. Add to wet ingredients and mix to combine

4.

Transfer batter into prepared baking pan and scatter chocolate over the top. Using the palm of your hand slightly press the chocolate pieces into the batter

5.

Bake for 25 minutes until the top is firm to touch

6.

Remove from the oven and cool in the pan for 15 minutes, then transfer onto a rack to cool
Leave a Comment
Kristina
thank you for letting me know, it is always nice to hear positive feedback
Thank you!!! So easy to make, and sooo good. Love all your recipes!