Gluten-Free Buttermilk Cheese Bread
Published on Feb 08, 2019
by
Kristina Stosek
Prep Time:

10 minutes
Cook Time:

60 minutes
Serves:

1 loaf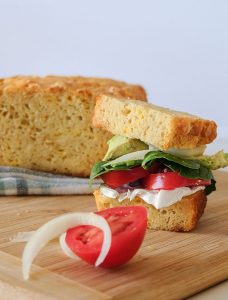 ​This post may contain affiliate links, please see our
privacy policy
for details
This Gluten-Free Buttermilk Cheese Bread is a perfect bread for making sandwiches. Did you know that the most popular bread in a home is sandwich bread?
I always wanted to develop that perfect gluten-free yeast-free sandwich bread that didn't require too much work. I mean, we all love freshly baked bread, but who has the time to bake fresh bread at home these days? The bread had to have flavour, perfect texture and had to be simple to make. Here comes gluten-free buttermilk cheese bread!
♥

Easy recipe for gluten-free buttermilk cheese bread.
Now that I think of it, I should have called it buttermilk rice bread. The only grain that I used in this recipe is rice flour. So it is super simple, no need to look for different types of gluten-free flours. The other ingredient is arrowroot. Just to be clear, arrowroot is not a grain – it comes from a tropical plant. For flavour, I used paprika and mustard. These two ingredients add flavour and go well with the buttermilk. The cheese… well, it made it all work. I love melted cheese, especially in bread. 
To prepare the dough for baking is the easiest part yet. You will need two bowls, one for the dry ingredients and the other for wet. Once you whisked the dry ingredients together, add the wet mixture and mix. In the end, stir in most fo the cheese and transfer to a loaf pan to bake. Before the bread finishes baking sprinkle the top with remaining cheese and bake a bit longer giving the bread a crispy cheese crust. YUM!
So, no kneading, isn't that great? It doesn't get any easier than that. Make the bread into your favourite sandwiches or serve it up with hearty soups and stews. The best thing about this bread is, it costs a fraction of the price then if you had to buy it. And as a bonus, it is freshly baked…no competition. 
This gluten-free buttermilk cheese bread takes a little longer to toast than your typical white sandwich bread, but it does toast beautifully.
The buttermilk keeps the bread moist and not crumbly. This bread is one of my best gluten-free sandwich bread recipes yet!
Gluten-Free Buttermilk Cheese Bread
Published on Feb 08, 2019
by
Kristina Stosek
Instructions
1.

Preheat oven to 350 F and grease a 9x5-inch loaf pan with oil

2.

In a large bowl, whisk together rice flour, arrowroot flour, baking powder, baking soda, salt, ground mustard, paprika and Xanthan Gum

3.

In a separate bowl whisk together buttermilk, olive/avocado oil, and eggs

4.

Add wet mixture to dry ingredients and mix to combine. Stir in 1 1/4 cup shredded cheddar cheese. Do not over mix!

5.

Pour the batter into prepared loaf pan and spread evenly in the pan Bake for 50 minutes, then sprinkle with remaining 1/4 cup of cheese and bake 10 more minutes

6.

Cool in the pan for 20 minutes before removing from the pan to cool completely

7.

Note: the bread must cool completely before slicing