Gluten-Free Buttermilk Cheese Bread
Prep Time
10 Minutes
Difficulty
Easy
Cook Time
60 Minutes
Serves
1 loaf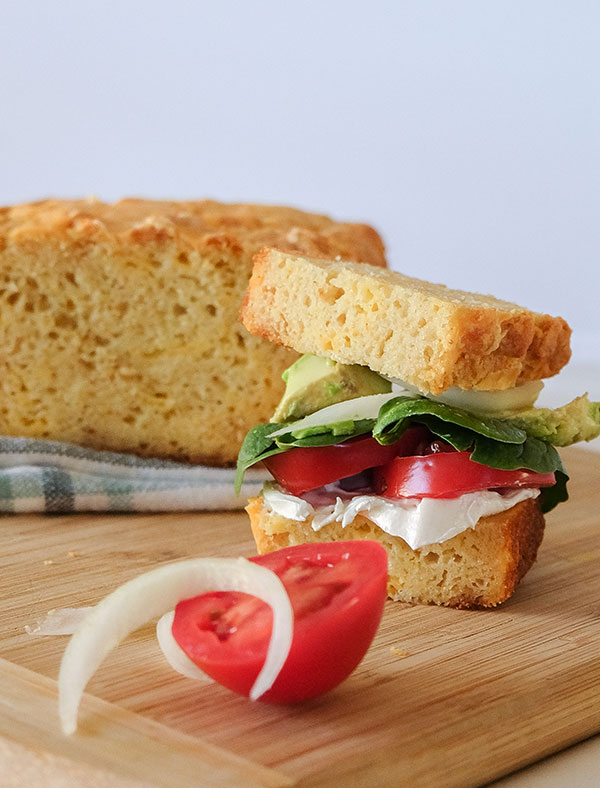 Be the first to rate this recipe.
The colder than usual temperatures we have been having made me think, it is time to bake a delicious gluten-free homemade bread. One of the most popular loaves of bread in most homes is sandwich bread. I always wanted to develop that perfect yeast-free sandwich bread without too much work. I mean, we all love freshly baked bread but who has the time to bake fresh bread at home these days? The bread had to have flavour, perfect texture and simple to make. The only grain that I used in this recipe is rice flour, then I flavoured it with a hint of paprika and mustard. Honestly, it adds so much flavour and to finish it I added cheese. The buttermilk keeps the bread nice and moist, not crumbly. This bread is one of my best gluten-free sandwich bread recipes.
To make this bread is simple, all you do is mix everything together and bake. No kneading isn't that great? It doesn't get any easier than that. Make the bread into your favourite sandwiches or serve it up with hearty soups and stews. The best thing about this bread is, it costs a fraction of the price that you would pay for one at a supermarket, and it is fresh not frozen. This gluten-free bread takes a little longer to toast than your typical white sandwich bread, but it does toast beautifully. Please try this recipe, you will not be disappointed and let me know what you think. I always love to hear from you 🙂
Ingredients
2 Tbsp. Baking powder (preferably aluminum-free)
1 tsp. Baking soda
1 1/4 tsp. Himalayan salt
1 tsp. GF ground mustard
1 tsp. GF paprika
2 cups buttermilk
1/4 cup extra virgin olive oil or avocado oil
2 large eggs, whisked
1 1/2 cups shredded cheddar cheese, divided
Instructions
Preheat oven to 350 F and grease a 9x5-inch loaf pan with oil
In a large bowl, whisk together rice flour, arrowroot flour, baking powder, baking soda, salt, ground mustard, paprika and Xanthan Gum
In a separate bowl whisk together buttermilk, olive/avocado oil, and eggs
Add wet mixture to dry ingredients and mix to combine. Stir in 1 1/4 cup shredded cheddar cheese. Do not over mix!
Pour the batter into prepared loaf pan and spread evenly in the pan Bake for 50 minutes, then sprinkle with remaining 1/4 cup of cheese and bake 10 more minutes
Cool in the pan for 20 minutes before removing from the pan to cool completely
Note: the bread must cool completely before slicing
Similar Recipes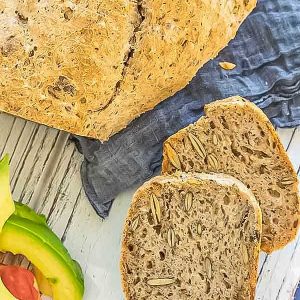 Best Gluten-Free Artisan Bread
Finding a gluten-free artisan bread recipe that is simple to make and tastes this good is not easy. Before I decided to make the bread, I tried various combinations of flours and seeds until finally, I got that perfect gluten-free artisan bread. This is a rustic bread packed with seeds and grains. The bread has […] Read More
Prep Time
10 Minutes
Difficulty
Easy
Cook Time
40 Minutes
Serves
1 loaf
Best Gluten-Free Rustic Bread Recipe
You will love this gluten-free rustic bread recipe for its taste and simplicity. This rustic bread is made with chia seeds and buckwheat flour which give this delicious bread crispy crust and rustic German rye flavour. Read More
Prep Time
15 Minutes
Difficulty
Easy
Cook Time
45 Minutes
Serves
1 loaf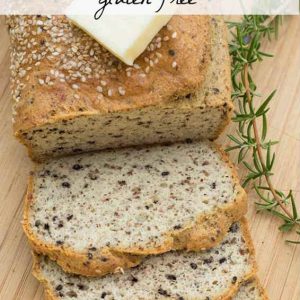 Gluten-Free Keto Multi Seed Bread
Here is an easy gluten-free keto multi seed bread recipe. This keto bread is packed with protein and fiber and has only about 2.5 net grams of carbs per slice. I added chia and sesame seeds both of which are excellent source of omega-3 fatty acids, rich in antioxidants, and they provide fiber, iron, and […] Read More
Prep Time
10 Minutes
Difficulty
Beginner
Cook Time
50 Minutes
Serves
14 slices