Gluten-Free Banana Bread Cheesecake Muffins
Prep Time
15 Minutes
Difficulty
Easy
Cook Time
25 Minutes
Serves
12
Average Rating: 5 | Rated By: 2 users
I am starting November with Gluten-Free Banana Bread Cheesecake Muffin recipe. I find when the weather gets colder, we crave comfort food, and this delicious muffin is most certainly comfort food.  This isn't your average banana bread muffin. This muffin is so much more!
The bananas add sweetness, and the cheesecake layer adds so much moistness and flavour to this muffin.  The recipe may sound complicated, but it is super easy to make. The muffin is sweetened with banana and maple syrup, and the cheesecake is flavoured with a hint of fresh lemon juice. Both, the sweet banana and the lemony flavour make this gluten-free muffin super tasty and moist. A nice way to start a chili month of November is with a warm banana bread cheesecake muffin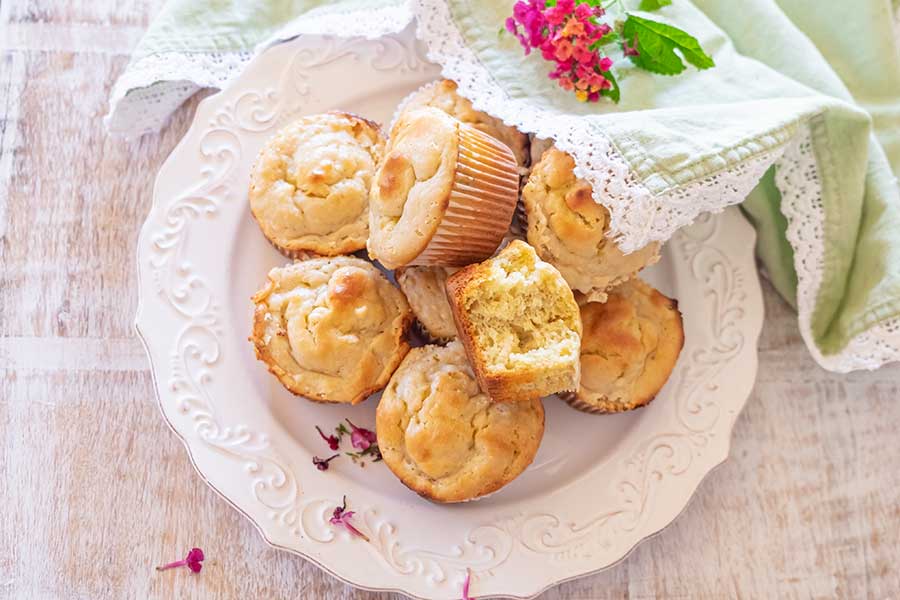 To make this gluten-free banana bread cheesecake muffin is straight forward. First, you make the banana bread batter using overripe banana, you know, one that no one wants to eat, then only two types of flours, maple syrup, eggs, olive oil, milk and vanilla. Then, fill the muffin cups with half the batter.
For the cheesecake, you cream the cheese with maple syrup, fresh lemon juice, egg and a little flour. Then spoon some in the muffin cups and finish with the remaining batter. Once the muffins start to bake, the cheesecake filling spreads throughout the banana bread. I can't tell you how delicious these muffins are. They may not look fancy, but honestly, they won't last very long for you to admire them… haha. I love serving these muffins for brunch because they are extra special. If you are looking for breakfast on the go, these gluten-free muffins are a good choice because they are packed with protein and fiber. The best part, kids love them too! So a healthier muffin choice for everyone. Enjoy 🙂 If this muffin is not for you please check out our selection of healthy gluten-free muffins here ->
Ingredients
BANANA BREAD
1 cup almond flour
1 cup gluten-free flour blend, I used better batter (if your blend does not include xanthan gum add 1/4 tsp.)
2 tsp. GF aluminum-free baking powder
1/4 tsp. Himalayan fine salt
1/2 cup (1 large) mashed overripe banana
2 large eggs
1/3 cup extra virgin olive oil
1/3 cup pure maple syrup
1/2 cup milk
1 tsp. Pure vanilla extract
CHEESECAKE LAYER
4 oz. cream cheese, softened
1/4 cup pure maple syrup
1 large egg, at room temperature
1 Tbsp. Fresh lemon juice
2 Tbsp. Gluten-free all-purpose flour blend
*As an Amazon Associate and member of other affiliate programs, I earn from qualifying purchases. Please check out my sponsorship and disclosure policy page for more details
Instructions
Preheat oven to 375 F and line a muffin pan with parchment paper liners (I highly recommend using parchment paper liners to avoid the muffin from sticking)
For the banana bread; in a large bowl, combine dry ingredients In a separate bowl using an electric mixer, mix, banana, eggs, olive oil, maple syrup, milk and vanilla until creamy. Add to dry ingredients and mix lightly to combine.
For the cheesecake layer; Mix cream cheese, maple syrup, egg, lemon juice and flour until smooth
To assemble; spoon a layer of the batter into prepared muffin pan. Then spoon one tablespoon of cheesecake in each muffin cup and then top with remaining batter
Bake for 25 - 28 minutes, until a toothpick inserted in the center, comes out clean
Cool muffins for 20 minutes and enjoy!
This post may contain affiliate links to products I use and highly recommend. You can read my full disclosure here
Similar Recipes
Best Gluten Free Banana Apple Muffins
For an exceptional treat, these Gluten-Free Banana Apple Muffins with their moist, light and tender texture brimming with apples and sweetened with bananas are not to be missed. Is there anything more tantalizing than sweet muffins spiced with cinnamon? Most sweet snacks are full of sugar and butter, but this dairy-free muffin is packed with […] Read More
Prep Time
15 Minutes
Difficulty
Easy
Cook Time
35 Minutes
Chai Spiced Banana Bread Gluten-Free
Healthy Gluten-Free Chai Spiced Banana Bread. An excellent way to use up overripe bananas is to make banana bread. In this recipe, I wanted more flavour than just bananas, so I added my favourite blend of chai spices such as cinnamon, nutmeg, cardamom and fresh ginger. Don't have ripe bananas? No problem, you can ripen […] Read More
Prep Time
10 Minutes
Difficulty
Easy
Cook Time
45 Minutes
Serves
1 loaf
Gluten-Free Blueberry Banana Bread
If you are on the hunt for that perfect gluten-free banana bread, search no further. The banana bread recipe is a very popular breakfast bread. Think moist bread lightly sweetened with ripe bananas and plenty of delicious blueberries throughout each slice.     only healthy ingredients in this gluten-free blueberry banana bread recipe… However, not […] Read More
Prep Time
15 Minutes
Difficulty
Easy
Cook Time
55 Minutes