Gluten-Free Baked Pizza Pockets
Published on Aug 20, 2019
by
Kristina Stosek
Prep Time:

25 minutes
Cook Time:

18 minutes
Serves:

12 - 16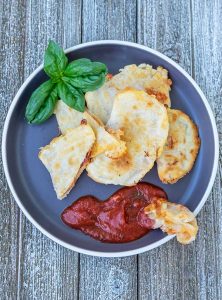 ​This post may contain affiliate links, please see our
privacy policy
for details
Baked Gluten-Free Pizza Pockets filled with cheese, pepperoni and pizza sauce. If you are looking for a new back to school snack to keep your kids hunger at bay, give this recipe a try.
The pizza pockets are baked not fried, and they are filled with gooey cheese, throughout. Every bite is packed with so much flavour, which will leave you wanting more and more.
The combination of pizza sauce, pepperoni, and mozzarella make these morsels taste just like a pizza, except they are small pockets filled with deliciousness.
What is great about this recipe is that they are like small individual pizzas and to warm them up just pop them in the toaster. So why not bring Italian food to your home for an after school snack or serve as party finger food.
With back to school just around the corner, you will find that these gluten-free pizza pockets are going to be a huge hit with your family.
I like to serve the pizza pockets with extra pizza sauce, but it is not needed. For more gluten-free snack ideas check out our food to share section
Gluten-Free Baked Pizza Pockets
Published on Aug 20, 2019
by
Kristina Stosek
Instructions
1.

Preheat oven to 400 F and line a large rimmed baking sheet with parchment paper

2.

Whisk together flour, baking powder, garlic powder and salt. Add sour cream and 1 tablespoon of water. Mix until you form a dough that sticks together. If the dough is too dry, add another tablespoon of water.

3.

Place dough onto a lightly floured working surface and knead until smooth. Sprinkle the top of the dough with some flour and roll the dough out into a rectangle that is about 1/4-inch thick. Using a pizza wheel slice the rolled out dough into 3-inch by 1 1/2 inch rectangles. Reroll scraps as needed

4.

Reroll each small rectangle again until it is a little thinner using flour as needed. Place about 3/4 of a teaspoon of pizza sauce on one side of the rectangle leaving about 1/4 -inch of the edge clear of sauce. Top with some pepperoni slices and mozzarella cheese, adding just enough toppings so that you can fold the rectangle over and crimp the edges to seal. Crimp the edges to seal and place on the prepared baking sheet. Don't worry too much about having perfect shapes. Using a toothpick or a sharp knife poke a couple of holes on the top layer. Brush each pizza pocket generously with egg wash and bake for 18 - 20 minutes until golden brown. Serve warm with extra pizza sauce