Easy Hungarian Stuffed Peppers Recipe
Published on Dec 01, 2018
by
Kristina Stosek
Prep Time:

15 minutes
Cook Time:

45 minutes
Serves:

4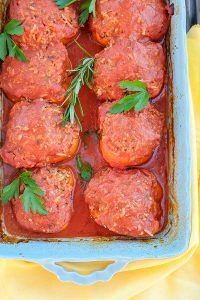 ​This post may contain affiliate links, please see our
privacy policy
for details
One of the best Hungarian stuffed peppers I had was my grandmother's. There are many versions of stuffed pepper recipes, but these peppers were utterly the best!
My grandmother was originally from Budapest, and her Hungarian recipes were always as authentic as possible. As a small child, I remember helping her stuff the peppers. It was so much fun!
Better, healthier Hungarian stuffed peppers recipe!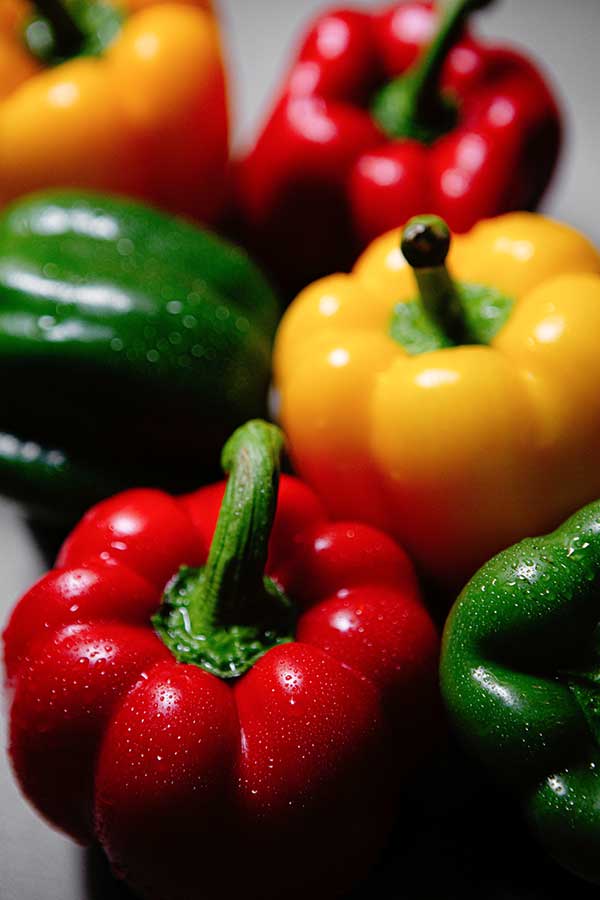 When I decided to re-create this recipe, I wanted to make the peppers simpler and healthier than the classic recipe she passed on to me.
Why are red bell pepper healthier?
However, I tried to keep the same flavours and texture. For the pepper itself, I replaced the green with red bell pepper, the original recipe called for green peppers. Red bell peppers pack the most nutrition because they've been on the vine the longest.
Red pepper also has almost 11 times more beta-carotene than green pepper. But the sweetness of red peppers added just enough flavour to the tomato sauce that I did not have to add sugar.
My grandmother always added a little sugar to the tomato sauce because she used green peppers, which are not as sweet.
gluten free stuffing for peppers
To make the stuffing, first, it had to be gluten-free.
However, more importantly, I wanted it to be simpler and healthier. So I used a combination of ground pork and gluten-free chicken sausage meat for the meat.
For healthiness and natural sweetness, I added grated carrots packed with vitamin A. The carrots also kept everything moist and juicy. I used chicken sausage meat because it kept the recipe simpler and everything deliciously tasty.
Plus, it allowed me to cut back on extra ingredients to flavour the stuffing.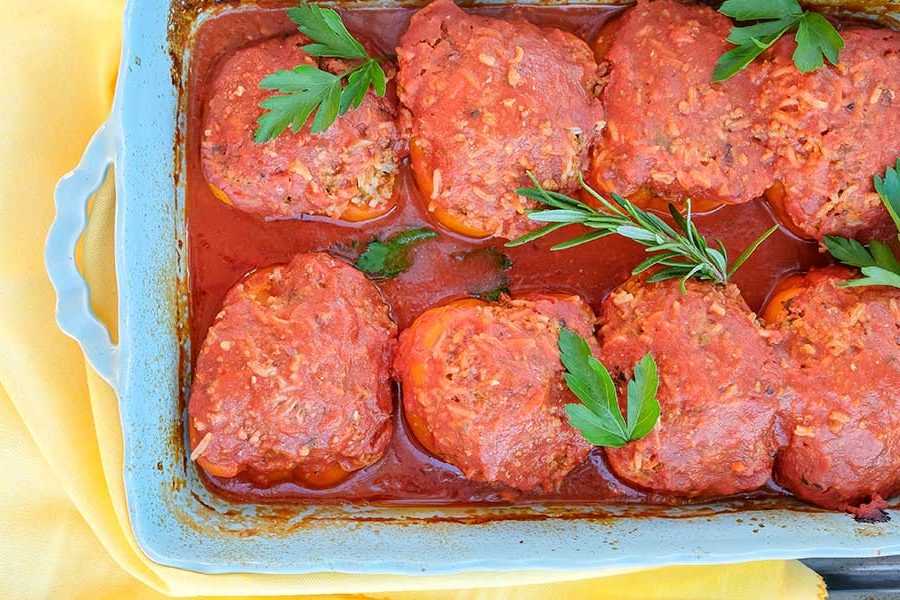 These are the only changes I made, and the Hungarian stuffed peppers taste like my grandmother's. If you are searching for authentic Hungarian stuffed peppers, you found them!
The best thing about this recipe, it is super simple to make, I promise you. My grandmother always served them with buttered noodles or good crusty bread. In my case, it would be gluten-free crusty bread, and it doesn't get any more authentic than this.
Let's Connect!
Be sure to FOLLOW US on FACEBOOK and PINTEREST.
Many thanks!
Kristina xx
Easy Hungarian Stuffed Peppers Recipe
Published on Dec 01, 2018
by
Kristina Stosek
Instructions
1.

2.

In a large bowl combine sausage meat, rice, carrots, parsley and eggs

3.

Stuff peppers with the stuffing and place them next to each other facing up in a baking dish

4.

Whisk together tomato sauce and chicken stock and spoon over the peppers

5.

Cover the baking dish with foil paper and bake for 45 minutes, basting the peppers as needed, about every 15 minutes

6.