Scones With Currants – Easy Gluten-Free Recipe
Published on Jun 15, 2018
by
Kristina Stosek
Prep Time:

15 minutes
Cook Time:

15 minutes
Serves:

4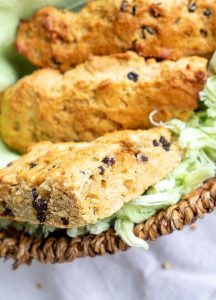 ​This post may contain affiliate links, please see our
privacy policy
for details
Indulge in these gluten-free currant scones for Sunday brunch or anytime snack. The recipe comes together fast and easy, making it perfect for everyday baking.
When it comes to baking, gluten-free recipes can be tricky to master. However, with this recipe for gluten-free currant scones, you'll get all the flavour of traditional scones without the trouble!
Why should I bake with gluten-free flour?
There are many reasons to bake with gluten-free flour. Gluten-free flour is made from various gluten-free grains, beans, and root vegetables ground into a fine powder. And is the only flour that people with celiac disease or gluten intolerance can use.
Gluten-free flour is also great for people trying to eat a healthier diet. This is because gluten-free flour often has more fiber and protein and doesn't contain additives.
So if you're looking for a delicious and healthier way to make scones, give this gluten-free recipe a try! If you prefer savoury scones, check out our list of gluten-free savoury scone recipes.
What are the different types of gluten-free flours?
There are many different types of gluten-free flours. Still, some of the most popular ones include almond, coconut, buckwheat, millet, rice and sweet sorghum flour.
You can use these flours to make various foods, including bread, pastries, and delicious pizzas. For this easy gluten-free scone recipe, I used this all-purpose gluten-free flour blend.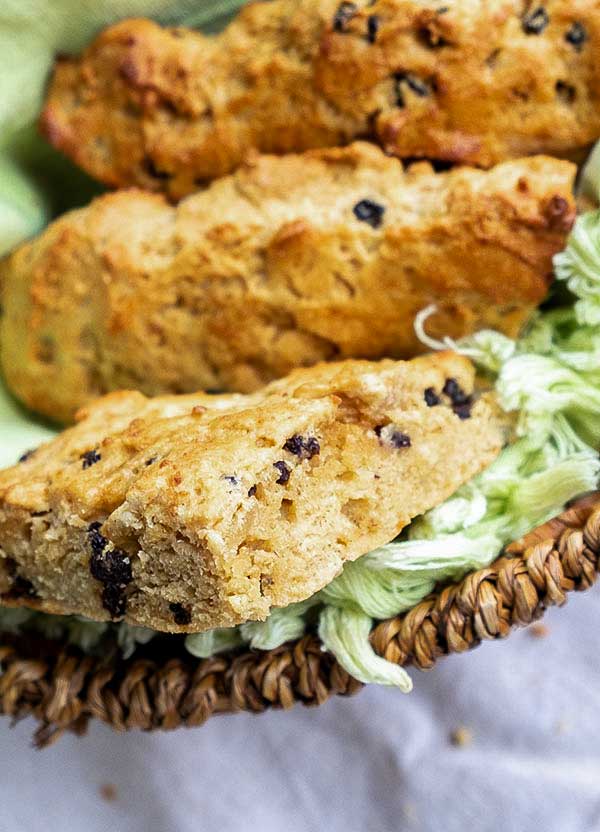 What is a scone?
A currant scone is a type of quick bread made with flour, sugar, butter, eggs, and currants. The dough is usually rolled out and cut into shapes before being baked. I used currants in this American version scone recipe.
You can use other dried fruit of your choice like chopped apricots, cranberries, blueberries or plums.
How to make easy gluten-free scones
The ingredients you will need;
gluten-free, all-purpose flour blend
coconut sugar
baking powder
cold butter
cold milk
egg
vanilla
sea salt
dried currants (or dried fruit of choice)
This gluten-free recipe is made with simple ingredients, and no special equipment is needed. The scone is light with a subtle sweetness from the currants.
Dried currants vs raisins
Dried currants, also called Zante currants, are tiny raisins made by drying a variety of seedless grape known as Black Corinth. Dried currants are not dried fresh currants. Fresh currants are berries.
Are dried currants healthy?
Dried currants are a healthy way to add sweetness and flavour to your scone recipe. They are also a good source of fiber and antioxidants.
Why does the butter have to be cold?
When it comes to baking, there are a few key factors that will determine whether or not your recipe turns out perfectly.
One of those factors is the temperature of your ingredients and, more specifically, the temperature of your butter.
If your butter is too warm, it can cause your scones to spread too much and become flat and dense.
The ideal temperature for butter when making scones is cold. Similar to making pie crust, using cold ingredients prevent the butter from melting before the scones are baked. When the butter melts in the oven, the sones will become light and puffy,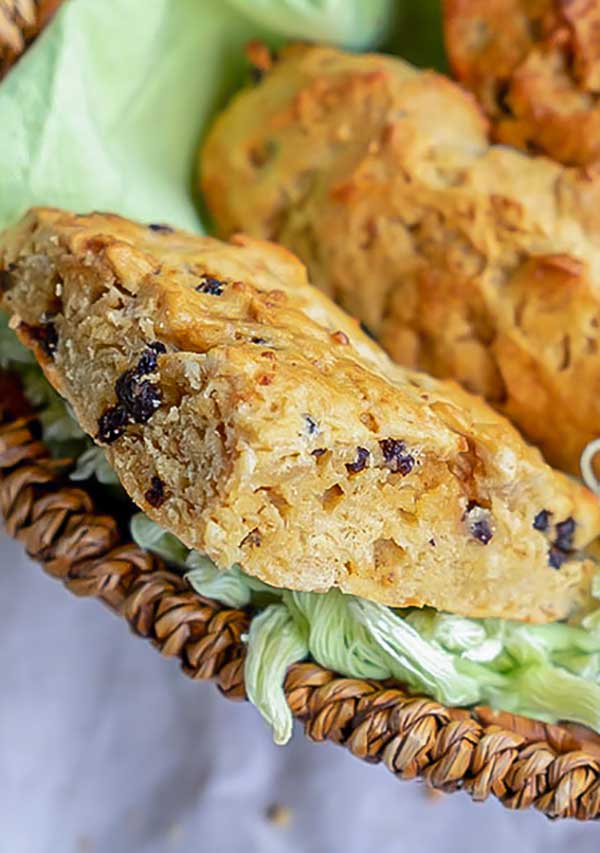 Why are scones baked at high temperatures?
Scones are often baked at high temperatures, around 400 degrees Fahrenheit. The high heat helps to create a light and fluffy texture and helps to brown the outside of the scone.
Placing the scones side by side, barely touching one another, helps make them rise evenly and higher because they can't rise outwards, only upwards.
This is especially important for gluten-free scones, which can sometimes be dense and heavy if not cooked properly.
American scone vs English scone
The American version of the scone is more like a quick bread, while the English scone is more like a biscuit. The difference lies in the ingredients and preparation.
Quick bread typically uses baking soda or baking powder as leavening agents, while biscuits use butter and eggs. As a result, Quick bread is also sweeter than biscuits.
When it comes to currant scones, there are two schools of thought: the American and English versions.
If you're looking for a quick and easy recipe, the American version is the way to go. But if you want a more authentic scone, go for the English version.
Make it vegan
If you want to make a plant based version of this recipe, substitute the butter for vegan margarine and the milk for dairy-free milk such as almond or soy milk. Replace the egg with a flax egg, and add one extra teaspoon of baking powder.
The best way to serve gluten-free scones is when they are still warm with your favourite preserves or butter or just as is.
If your scones need heating up, pop them in a 350 F preheated oven for 10 minutes or 30 seconds in a microwave – they're sure to be a hit! Enjoy!
Let's Connect!
Be sure to FOLLOW US on FACEBOOK and PINTEREST.
Many thanks!
Kristina xx
Scones With Currants – Easy Gluten-Free Recipe
Published on Jun 15, 2018
by
Kristina Stosek
Instructions
1.

Preheat oven to 400 F and line a baking sheet with parchment paper

2.

Whisk together flour, coconut sugar, baking powder, salt and xanthan gum (if using)

3.

Grate the cold butter on a box grater into the flour mixture and mix with a fork to coat with the flour. Stir in currants

4.

Whisk together egg, milk and vanilla and add to dry ingredients. Mix until blended, the dough will be sticky. Do not overwork the dough.

5.

Place dough on the prepared baking sheet and sprinkle it lightly with gluten-free flour. Using your hands spread the dough to a circle about 1-inch thick. Place in the freezer for 15 minutes

6.

Remove from the freezer and cut the dough into wedges. Brush the top with milk and sprinkle with coconut sugar. Bake for 15 minutes until golden brown
Leave a Comment
Perfect! I added some nutmeg just because. These are delicious. TY!
delicious and super easy to make.
I made these scones this weekend, the texture was exactly what I was looking for. What I love is that the recipe yields only four scones, a perfect serving for my family
Kristina
Hi Harmand, thank you for pointing this out. Somehow one of the lines in the instructions was deleted. We have corrected it
The recipe instructions are off. It doesn't include the egg nor the vanilla extract additions, and I believe that 1 tablespoon of the cold milk should be used in the batter. The instructions need to be corrected.