Easy Gluten-Free Apple Cobbler
Published on Jan 14, 2020
by
Kristina Stosek
Prep Time:

15 minutes
Cook Time:

50 minutes
Serves:

6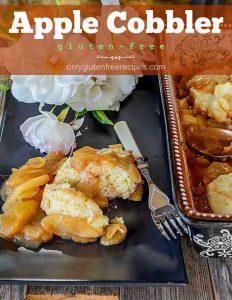 ​This post may contain affiliate links, please see our
privacy policy
for details
This is a super Easy Gluten-Free Apple Cobbler recipe. An apple dish that is nothing short of deliciousness. Every bite is filled with tasty buttery apples, fresh lemon, vanilla, cinnamon and a hint of nutmeg. The apples are tender, and the gluten-free biscuit topping is fluffy and light.
Every bite is beyond delicious. I promise you that gluten-free baking doesn't get any easier than this. And, you can't go wrong with an apple recipe.
Have you tried to make a gluten-free apple cobbler before? If not, let me show you how easy gluten-free baking is.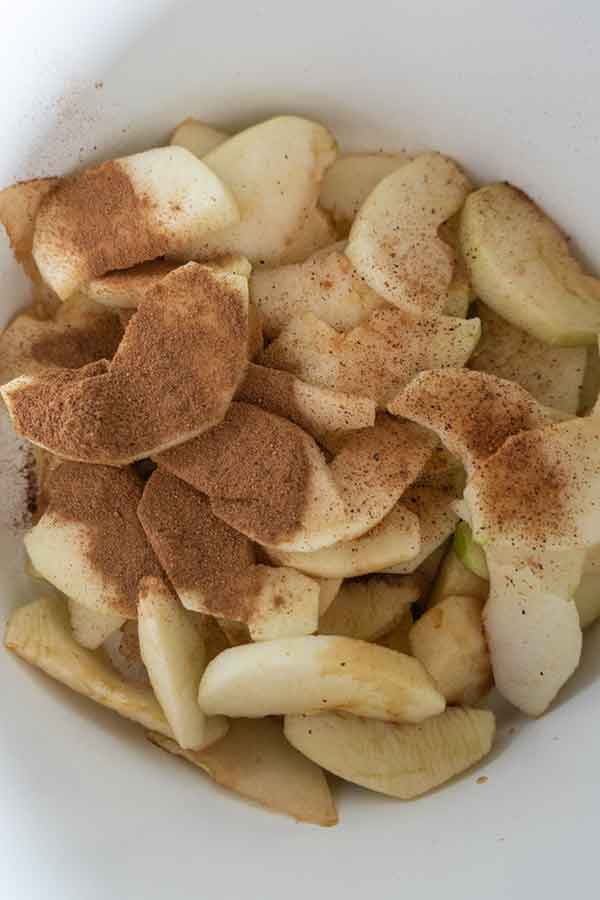 First, you combine sliced apples with fresh lemon juice, vanilla, spices, butter, arrowroot powder and about a tablespoon of sweetener. I used coconut sugar, but if you want to stay away from extra carbs, you can substitute sugar for monk sugar. Monk sugar has zero carbs and tastes just like sugar.
I often bake with monk sugar. Once you make the apple mixture, pour the apples into a baking dish and bake until the apples starting to soften.
For the gluten-free biscuit topping mix four dry ingredients with an egg and heavy cream. Now dollop the batter over the apples and bake for about 12 minutes. That's it!
How easy is this gluten-free dessert? I often serve the apple cobbler for brunch with whipped cream. For dessert, an added scoop of vanilla bean ice cream is a must.
My favourite way to serve the apple cobbler is warm right out of the oven smothering the biscuits with delicious buttery apple filling…YUM!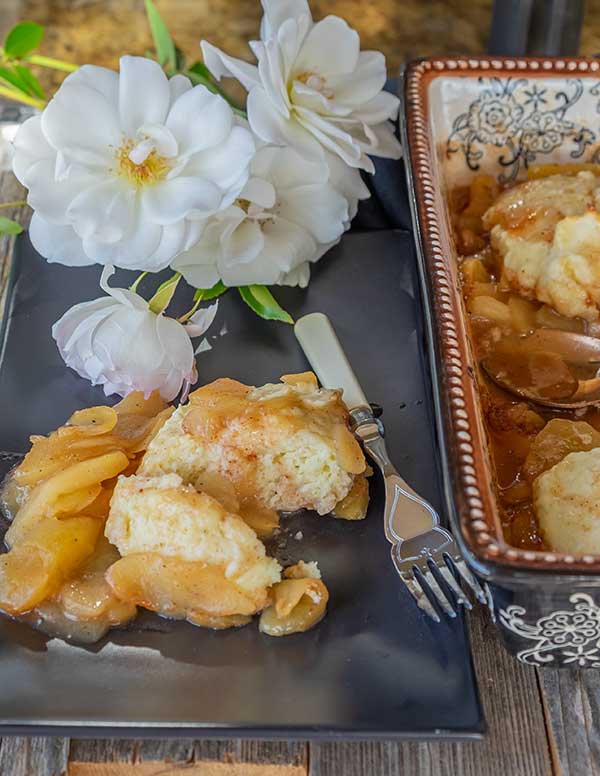 What is the difference between a cobbler, crumble and crisp?
Sometimes it can get confusing between a cobbler, crumble and a crisp. A cobbler is made with a fruit or savoury filling topped with a light batter which, when baked, becomes a fluffy biscuit.
In a crumble, the topping is made with butter, flour and sugar. It resembles a buttery streusel, almost like breadcrumbs. A crisp is a dessert topped with a crispy, crunchy layer sometimes made with nuts and oats. If you like apple desserts, you will love this apple cobbler!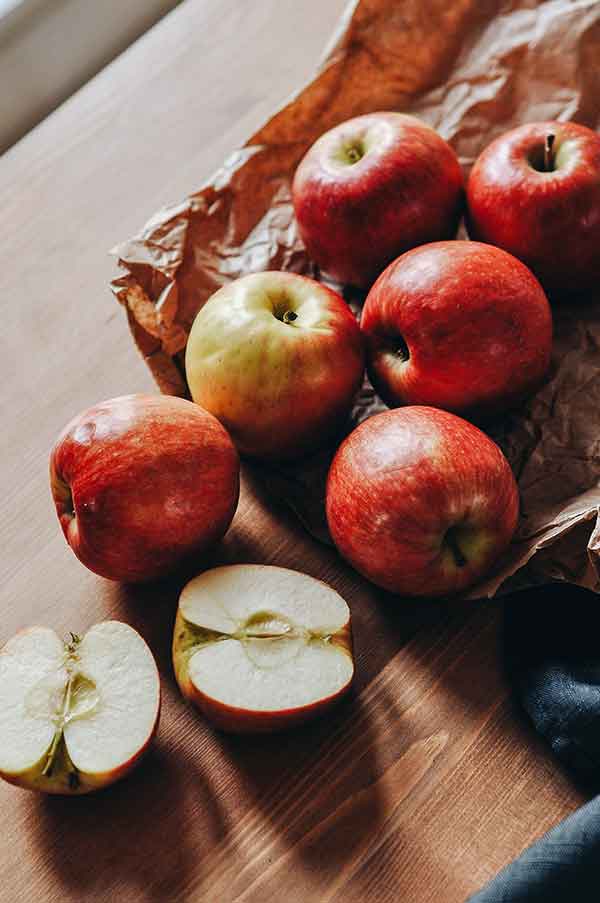 Best apples for baking
Braeburn – medium, crisp, juicy, sweet-tart. Best for baking whole, pie, and chunky sauces…
Golden Delicious – medium, firm sweet, fragrant. Best for pie, cake, muffins and chunky sauces…
Granny Smith – medium-large, crunchy, hard, juicy tart. Best for pie, muffins and very chunky sauce…
Jonagold – large, crisp, juicy, sweet-tart, fragrant. Best for pie and cake…
Pink Lady – medium-large, creamy flesh, juicy, sweet, aromatic. Best for pie and muffins…
Rome Beauty – large, firm, mildly tart, fragrant. Best for baking whole and muffins…
Let's Connect!
Be sure to FOLLOW US on FACEBOOK and PINTEREST.
Many thanks!
Kristina xx
Easy Gluten-Free Apple Cobbler
Published on Jan 14, 2020
by
Kristina Stosek
Instructions
1.

2.

In a large bowl, stir together apples, lemon juice, vanilla, cinnamon, nutmeg, butter, arrowroot/tapioca and coconut sugar. Pour into the baking dish, cover with foil and bake for 35 minutes

3.

For the biscuits; whisk together flour, coconut sugar, baking powder and salt. Add cream and egg while stirring with a spatula just until combined. The batter will be sticky

4.

Once the apples finish baking, increase temperature to 400 F.

5.

Using a cookie scoop or a tablespoon drop dollops of batter about 1-inch apart over the apples. Brush with cream and bake for 12 - 15 minutes. Until the tops are golden. Sometimes I sprinkle the tops with cinnamon sugar
Leave a Comment
To avoid soda taste add cream of tartar. I find 1/2 of baking powder works best.
Kristina
I am sorry about the baking powder. The only other thing that I can think of is using whipped egg whites. I have not tried using them in this recipe so I am not sure how the biscuits will turn out using the egg whites.
I have a thing about the taste of baking powder. Is there a good substitute that won't leave that aftertaste? Really want to try this recipe, but I'm tired of having to throw out things because of that aftertaste.