Curried Potato Salad With Chickpeas & Tomatoes
Published on Dec 26, 2018
by
Kristina Stosek
Prep Time:

15 minutes
Cook Time:

15 minutes
Serves:

4-6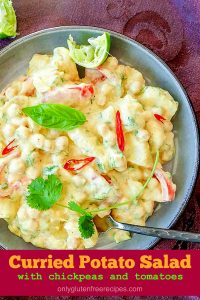 ​This post may contain affiliate links, please see our
privacy policy
for details
This Curried Potato Salad With Chickpeas & Tomatoes is a healthier version of potato salad. There is no added mayo, and the salad is creamy and delicious, just the way we love it!
I used fresh mint, basil, cilantro, garlic, lime juice, and a pinch of curry powder to make this salad more flavourful than the classic potato salad.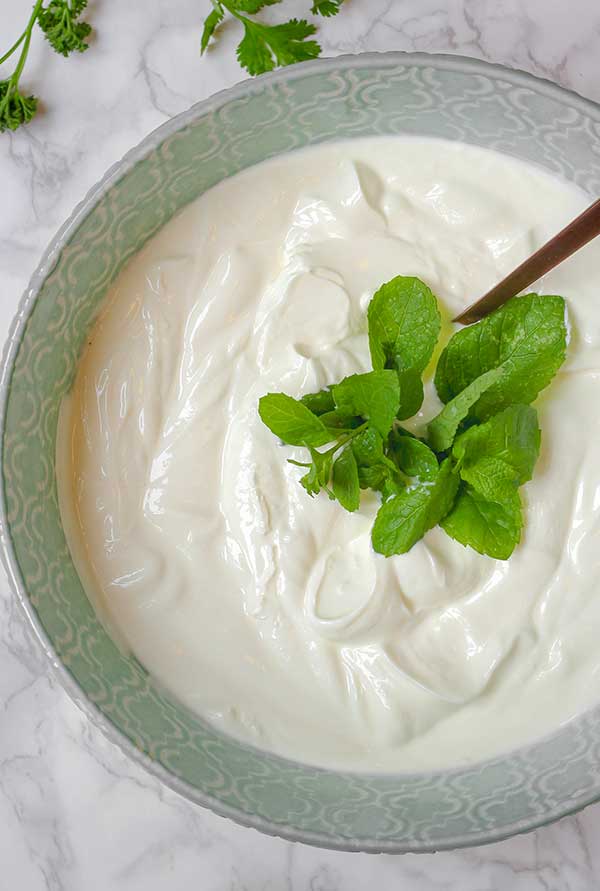 This curried potato salad is about Greek yogurt!
The creaminess in this potato salad comes from full-fat Greek yogurt. I am not a lover of mayonnaise, so I try to avoid it as much as possible in my recipes.
To add protein to this flavourful curried potato salad, I added chickpeas, also called garbanzo beans. The chickpeas made the salad heartier and added exciting textures.
Another healthy ingredient in this salad is tomato. The tomato adds flavour and keeps the salad juicy and super tasty.
there is more,
I wanted to add freshness to the salad besides the tomato. Fresh herbs add extra freshness and flavour. This is why I used cilantro, mint and basil. In my opinion, the fresh herbs bring this potato salad to another level of deliciousness.
Honestly, the combo of these three herbs is outstanding. If you like a bit of heat, add thinly sliced fresh hot chilli peppers. I always do!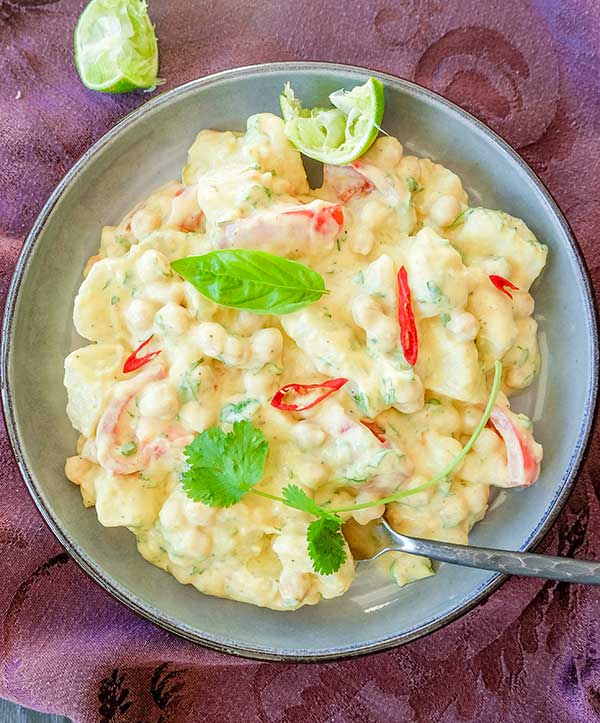 This salad is not your typical potato salad, and with the holidays just around the corner, we can never have enough delicious potato salad recipes. If you are not that crazy about the curry flavour, skip the curry powder and add Worcestershire sauce or mustard. The salad will be just as delicious!
If you need more salad recipes, here is a list of our most delicious salad recipes to get you inspired. The good thing about salads is that you can change up the ingredients and create a lovely healthy salad.
Curried Potato Salad With Chickpeas & Tomatoes
Published on Dec 26, 2018
by
Kristina Stosek
Instructions
1.

Cook the potatoes with skin on in a pot of salted water until fork-tender. Depending on the size of the potatoes about 15 minutes. Do not overcook them. Drain and cool. Peel the potatoes and cut into bite-size pieces

2.

Add potatoes, chickpeas and tomatoes into a large bowl. Generously season with salt and pepper and carefully stir to coat with the salt and pepper.

3.

In a separate bowl, mix yogurt, cilantro, lime juice, garlic, mint, basil, curry powder and apple cider vinegar. Pour the yogurt sauce over potatoes and stir to combine coating everything with the sauce. Taste and adjust seasoning if needed. At this time, if using, stir in the chilli pepper

4.

Cover with plastic wrap and refrigerate for one hour or overnight. Serve chilled