Creamy Butternut Squash Pasta Sauce
Published on Sep 11, 2017
by
Kristina Stosek
Prep Time:

15 minutes
Cook Time:

75 minutes
Serves:

4-6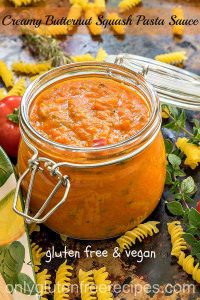 ​This post may contain affiliate links, please see our
privacy policy
for details
This Creamy Butternut Squash Pasta Sauce is just that creamy, flavoured with Italian spices, super flavourful and healthy! This gluten-free pasta sauce is vegan, making the sauce an excellent addition for someone following a plant-based diet. The Italian flavoured sauce is so tasty you can pour it over just about anything!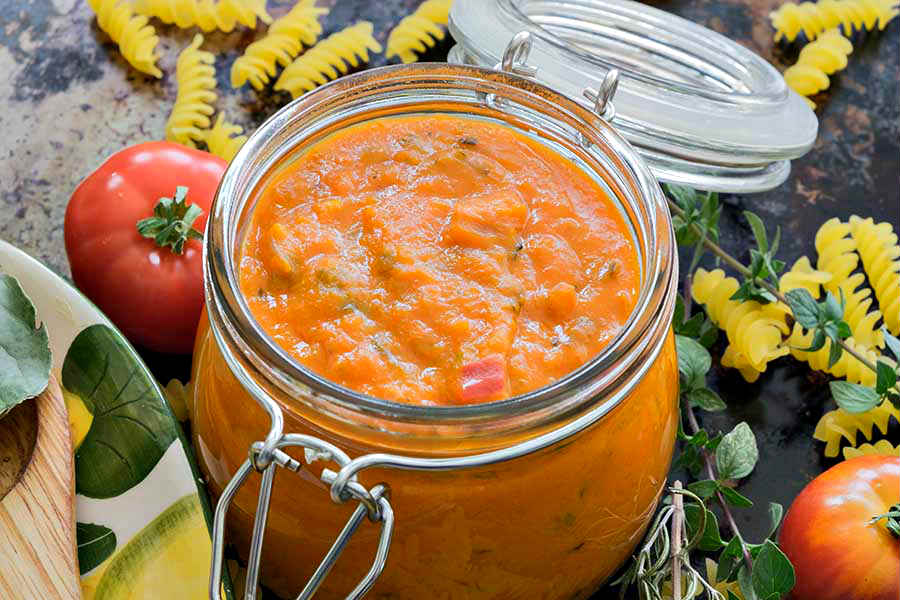 what makes this butternut squash sauce so delicious?
The sauce is a combination of cooked butternut squash, onions, garlic, herbs such as oregano, sage and bay leaves. The rich and creamy sauce is a combination of tomato sauce and coconut cream or milk. Everything combined, you will find that this sauce has a punch of flavours!
To make the sauce, first, the butternut squash is cooked. To do this, trim the ends of a medium squash, cut in half, remove the seeds and place cut side down on a baking sheet. Bake for about forty five minutes, or until the squash is tender depending on the butternut squash's size. Once the squash is baked, scoop out the flesh and mash with a fork.
The butternut squash is then added to sauteed onions, garlic and spices, and the remaining ingredients. You cook the sauce briefly for about fifteen minutes. In the end, stir in fresh basil leaves. The sauce is now ready to serve over your favourite gluten-free pasta.
dairy-free and creamy sauce,
When following a plant-based diet, cheese is not an option. What I like to add to this creamy butternut squash pasta sauce is a sprinkle of nutritional yeast. If you are following a vegetarian diet, feel free to add a good sprinkle of freshly grated parmesan cheese. Enjoy!
This deliciously seasoned creamy pasta sauce recipe is super easy to make and is acceptable for a gluten-free, vegan and paleo diet. Butternut squash is a winter squash with a slightly nutty taste and is packed with healthy nutrients.
This tasty naturally gluten-free creamy sauce is ideal for pasta, rice or over roasted veggies.
For more recipes made with butternut squash please check out our gluten-free butternut squash soups, mains and desserts!
Creamy Butternut Squash Pasta Sauce
Published on Sep 11, 2017
by
Kristina Stosek
Instructions
1.

Preheat oven to 375 F and line a baking sheet with parchment paper

2.

Trim ends of the squash and halve lengthwise. Scoop out seeds and place squash cut side down on the prepared baking sheet. Bake for 45 minutes, turn the heat off and leave the squash in the oven for 15 minutes or until ready to use

3.

Sauté onions over medium-low heat until soft, about 5 – 7 minutes. Add garlic and spices and cook one more minute

4.

While the onions are cooking, scoop out the squash. The squash should be tender and easily mashed with a fork. Add to onions and stir to combine with the spices

5.

Add tomato sauce, coconut cream, apple cider vinegar and season with salt. Bring to boil and reduce heat to low. Cover and cook for 15 minutes, stirring occasionally

6.

Remove from the heat and add fresh basil. Enjoy over gluten free pasta. For a plant based diet add a sprinkle of nutritional yeast, or if you are following a vegetarian diet sprinkle with parmesan cheese.
Leave a Comment
The sauce is wonderful and reminded me of vodka sauce. I didn't have tomato sauce, so I used two heaping tablespoons (mostly to use it up) Used coconut milk. Great recipe, easy to make!