Creamy Butternut Squash Pasta Sauce
Prep Time
15 Minutes
Difficulty
Easy
Cook Time
75 Minutes
Serves
4-6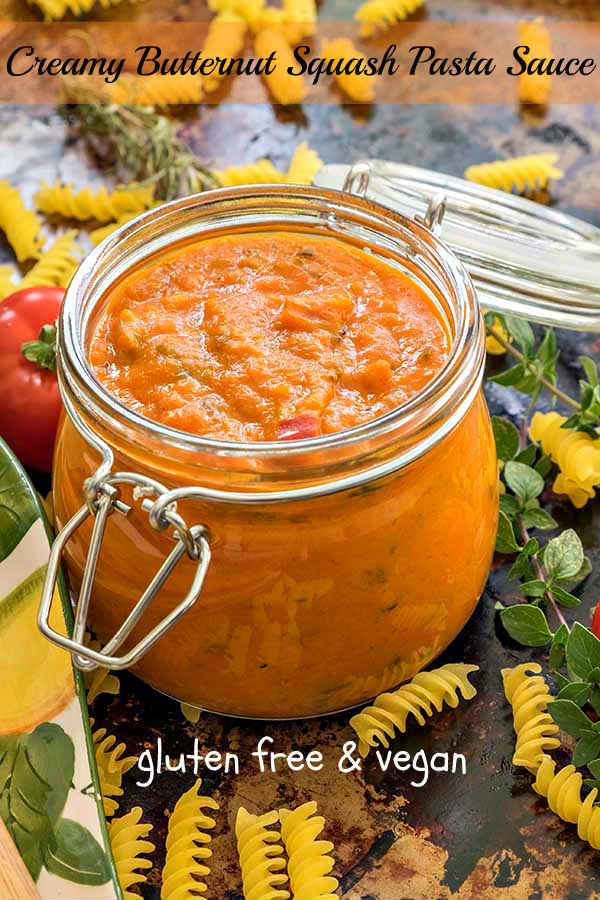 Be the first to rate this recipe.
This deliciously seasoned creamy pasta sauce recipe is super easy to make and is acceptable for a gluten free, vegan and paleo diet. Butternut squash is a favourite winter squash with a slightly nutty taste packed with healthy nutrients. This tasty squash is ideal for sauces such as this creamy pasta sauce because of its creamy texture. Serve over gluten free pasta, such as penne or rigatoni
Ingredients
1 medium butternut squash about 1 ½ lb.
2 Tbsp. extra virgin olive oil or coconut oil
1 medium size yellow onion, finely chopped
3 garlic cloves, chopped
2 GF bay leaves
1 Tbsp. GF oregano
½ tsp. ground sage
¼ tsp. GF cayenne pepper or to taste (optional)
1 ¾ cups (400 ml) pure tomato sauce
1 ¾ cups (400 ml) coconut cream or you can use canned coconut milk
2 tsp. apple cider vinegar
Sea salt to taste
½ cup chopped fresh basil
Instructions
Preheat oven to 375 F and line a baking sheet with parchment paper
Trim ends of the squash and halve lengthwise. Scoop out seeds and place squash cut side down on the prepared baking sheet. Bake for 45 minutes, turn the heat off and leave the squash in the oven for 15 minutes or until ready to use
Sauté onions over medium-low heat until soft, about 5 – 7 minutes. Add garlic and spices and cook one more minute
While the onions are cooking, scoop out the squash. The squash should be tender and easily mashed with a fork. Add to onions and stir to combine with the spices
Add tomato sauce, coconut cream, apple cider vinegar and season with salt. Bring to boil and reduce heat to low. Cover and cook for 15 minutes, stirring occasionally
Remove from the heat and add fresh basil. Enjoy over gluten free pasta. If you are not following a vegan diet top with freshly grated Parmesan or Asiago cheese
Similar Recipes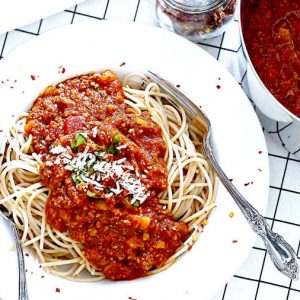 Best Gluten Free Spaghetti Bolognese Recipe
Who doesn't love spaghetti Bolognese? Spaghetti Bolognese is probably the most popular Italian dish. This tasty pasta dish originates from Bologna a northern city in Italy. There are many variations outside of Italy and this one has been the most prevalent in our home. The combination of herbs and spices used in this recipes makes for […] Read More
Prep Time
20 Minutes
Difficulty
Easy
Cook Time
65 Minutes
Serves
6 - 8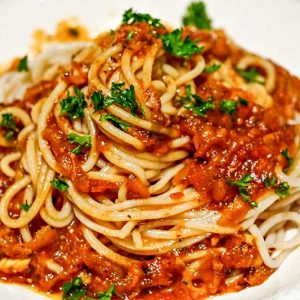 Skinny Zucchini Spaghetti Sauce – Gluten Free
This spaghetti sauce is a healthy, meatless version of classic Italian spaghetti sauce.  Whether you are following a vegan diet or looking for a meatless dinner, this skinny spaghetti sauce will satisfy your craving for Italian food every time. Serve over gluten free pasta or spaghetti squash Read More
Prep Time
15 Minutes
Difficulty
Easy
Cook Time
20 Minutes
Serves
4
Spicy Sicilian Rhubarb Quinoa Pasta Sauce
We all have certain expectations when it comes to pasta sauce, but rhubarb and quinoa? In this gluten free vegan recipe, the rhubarb adds brilliant flavour to this healthy pasta sauce. And the quinoa adds hearty texture without using meat. Sicilian food is known to be a fusion cuisine mostly influenced by Greek, French and […] Read More
Prep Time
15 Minutes
Difficulty
Easy
Cook Time
50 Minutes
Serves
6