Coconut Curry Lentil Soup (Vegan, Gluten-Free)
Published on Aug 29, 2018
by
Kristina Stosek
Prep Time:

15 minutes
Cook Time:

35 minutes
Serves:

6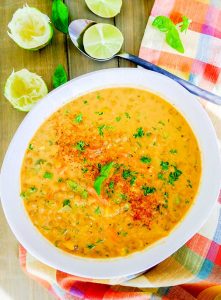 ​This post may contain affiliate links, please see our
privacy policy
for details
This coconut curry lentil soup is a real reviver – soothing, comforting and satisfying. A reminder of how hearty soup can be. This soup is a plant-based recipe packed with protein, nutrients and fiber.
This naturally gluten-free soup is an Indian-inspired lentil dish flavoured with classic Indian spices such as curry powder, garam masala, basil, cumin and bay leaves.
I promise you, this coconut curry lentil soup is insanely delicious.
How does coconut milk change this lentil soup?
The creaminess comes from coconut milk. Not only the coconut milk makes this lentil soup super creamy, but it also adds richness.
But a soup is only as good as the added veggies. And there is no shortage of fresh vegetables in this recipe. We have carrots, zucchini and bell peppers, to name a few.
Why do most soups start with onions and garlic?
Starting with onion and garlic is a must when making deliciously tasting soups. They are the foundation of a flavourful broth.
Then come the bell peppers, carrots and zucchini. All the veggies are cooked to perfection, meaning they are not overcooked. The veggies are cooked but still firm.
There is nothing less flavourful than mushy veggies.
Lentils come in various colours!
For this naturally gluten-free soup recipe, I used green lentils. Typically you could use brown or green lentils for this dish. However, I choose green lentils because they retain their shape better than brown lentils.
This is why green lentils are ideal for soups or stews. Some other colours of lentils are orange, black, coral and gold.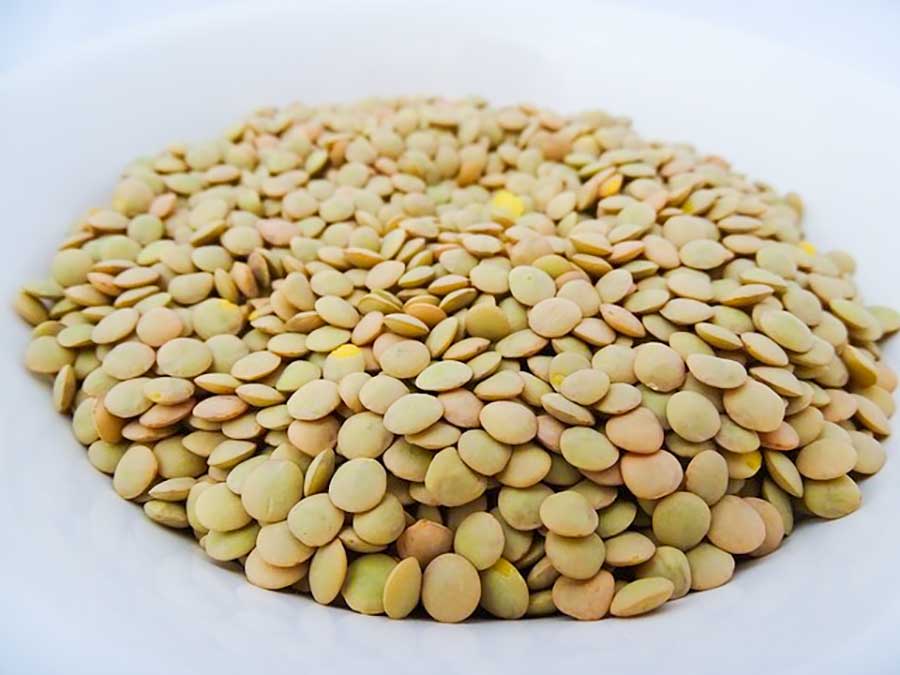 Green lentils are an excellent source of dietary fiber and are packed with protein. As far as the vitamins and minerals, both the green and brown lentils are about the same. So it comes down to your preference or availability.
the coconut curry lentil soup details
To start, saute the onions with bell peppers in coconut oil. Once softened, add the remaining ingredients except for zucchini and coconut milk.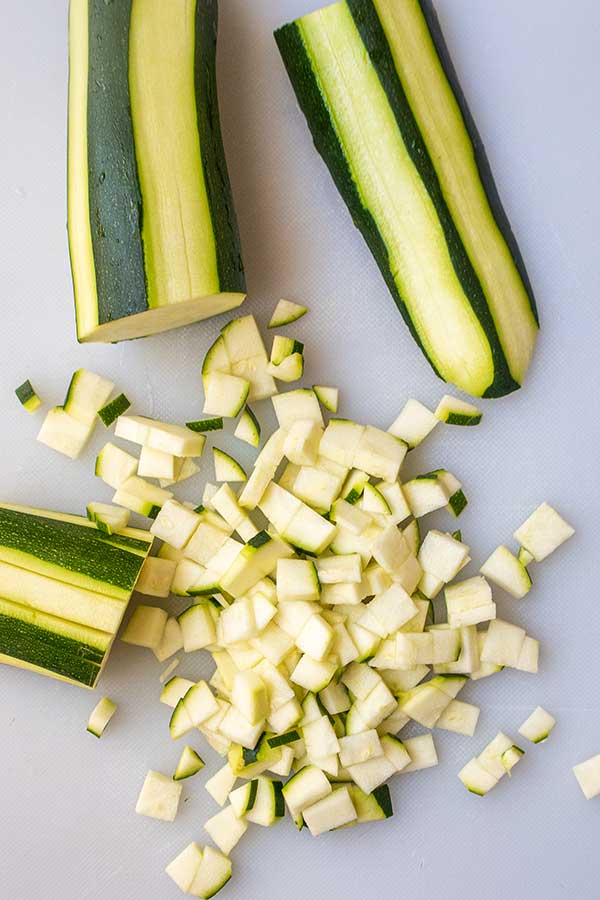 The zucchini cooks quickly, so it is added at the end. Zucchini should have a subtle crunch. The squash is so much tastier that way. And honestly, zucchini can be eaten raw. So don't overcook it!
The coconut milk is also added at the very end, which adds creaminess and finishes the coconut curry lentil soup to perfection.
I want to mention that seasoning the lentils with salt should be done at the end. Adding salt to the soup when it starts cooking will take longer to cook the lentils. And they will absorb the salt. This means you will need to add more salt to the soup at the end.
Is too much salt bad for you?
Adding extra salt to your food can contribute to high blood pressure, fluid retention, kidney problems, heart problems, osteoporosis and dehydration.
Salt is a mineral, and we need this vital nutrient to keep our bodies healthy, but doctors recommend that salt be used in moderation.
I like to use pure sea salt or Himalayan salt in my recipes because of their higher mineral content and less sodium than you would find in table salt.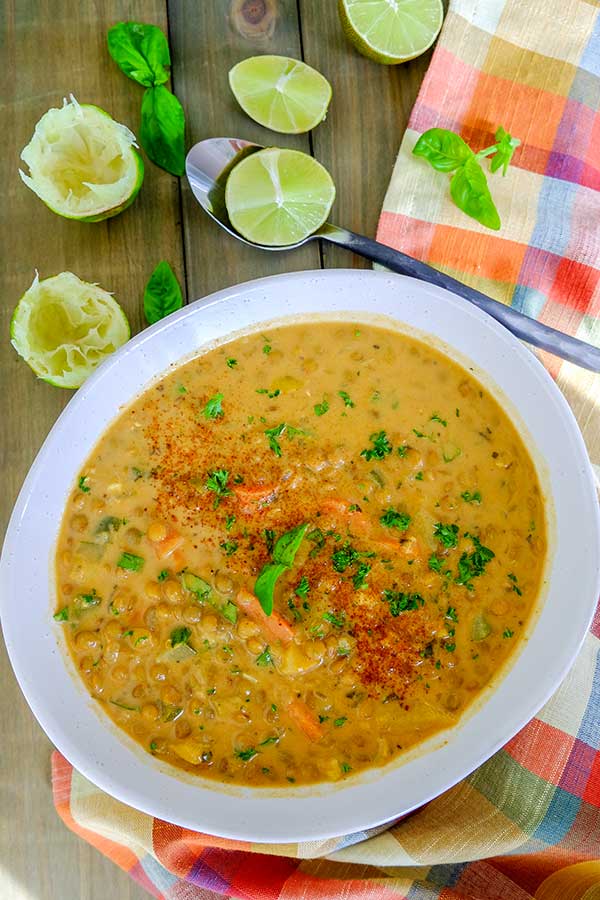 To serve this most flavourful hearty lentil soup, add a good squeeze of fresh lime juice and a sprinkle of fresh basil leaves. Enjoy as a starter or as a full-on gluten-free, vegan meal with a side of gluten-free crusty artisan rolls.
Let's Connect!
Be sure to FOLLOW US on FACEBOOK and PINTEREST.
Many thanks!
Kristina xx
Coconut Curry Lentil Soup (Vegan, Gluten-Free)
Published on Aug 29, 2018
by
Kristina Stosek
Instructions
1.

Sauté onions and peppers in coconut oil over medium heat until softened

2.

Stir in garlic, curry powder, basil, garam masala, cumin, bay leaves and hot chili pepper until combined

3.

Add tomato paste and carrots and stir to combine. Add lentils, broth and water and bring to boil. Cover and simmer for 20 - 25 minutes, until lentils are tender but not mushy

4.

Add zucchini, salt and coconut milk, bring to a boil. Remove from the heat and keep covered for 10 minutes before serving. If the soup is too thick, add a little more broth or water

5.

To serve, transfer into serving bowls and add fresh basil and a generous squirt of lime juice